My Wedding Hair and Make-Up Stylists
Mar 3rd, 2011 | By
Lindsay
| Category:
My Movie-Themed Wedding
There are still quite a few stalking-related wedding posts that I have yet to blog about and I figured I might as well get started on them today since it has already been six months since the Grim Cheaper and I tied the knot.   So here goes.  For me, the decision of whether or not to hire professional hair and make-up artists for my big day was a complete and total no-brainer, much to the GC's chagrin. 

    I have never been very adept at doing either my hair or my make-up, so I knew that for my wedding I had to bring in the big guns, so to be speak.  Martina Maina, owner of the T-Birds Hair Salon in Burbank, has been my hair stylist for over a decade now, pretty much ever since I first moved to L.A. in February of 2000, and I absolutely love the woman to death.    More than just simply my hairdresser, Martina is also my friend and I knew that there was no one else I would even fathom trusting my wedding 'do with.  Martina is an absolute hair master (she has even been dubbed the "Hair Whisperer" by her many devotees), is extremely quick and creative, does not need to work off of photographs, and is sassy beyond belief!  Simply put, the woman ROCKS.
I told Martina that for my wedding, I wanted her to put my hair in a chignon – something very simple, classic, and Audrey Hepburn-esque – and without so much as even showing her a photograph of what I had in mind, she created it perfectly – and it only took her about ten minutes to do so.  Not kidding!  The finished product is pictured above.  I have to mention here, too, that my hair stayed in perfect shape throughout the entire evening and I never even needed so much as a tiny touch-up.  It was simple, easy, and beautiful – in short, EXACTLY what I had envisioned.  And it looked great both with and without my veil.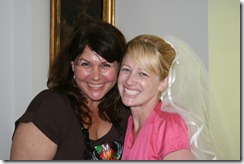 As I mentioned in the opening paragraph, this post does have a celebrity twist.  Because this is Hollywood, Martina has worked with countless stars and on quite a few television shows and movies over the many years she has been styling hair.  Just a few of the celebs Martina has worked on recently include Jake Busey, Quincy Jones, General Hospital's Megan Ward, Eric Roberts, Jennifer Tilly, Sugar Ray Leonard, Crispin Glover, The World Is Not Enough's Serena Scott Thomas, CSI: New York's Hill Harper, Cedric the Entertainer, and Scary Movie's Regina Hall.  She was also the head hair and make-up artist for the Cathy Hughes television talk show TV One on One.
For my wedding day make-up, I knew there was only one woman for the job – Rita Montanez, whom I first met through my favorite head-shot photographer Robert Kazandjian.  Robert had hired Rita to do my make-up for a set of head-shots he was taking of me back in 2007 and I fell in love with her pretty much on site!  Aside from being incredibly sweet, Rita was also insanely fun to talk to and did my make-up in a VERY natural way, which I loved.  So, when the GC finally proposed two years ago, one of the first calls I made was to Rita to ask her if she would be willing to do the make-up for my nuptials.  Because Rita works regularly now as the head make-up artist for the television series The Dog Whisperer with Cesar Millan, she sadly no longer does wedding make-up.  But she THANKFULLY made an exception in my case once she heard that I had remembered her from so many years beforehand. 

  Like Martina, Rita has been working in Hollywood for quite a long time and has done make-up for numerous big time celebrities including Angelina Jolie, Morgan Freeman, Andy Garcia, Donald Sutherland, Lisa Kudrow, Bonnie Rait, Ray Charles, BB King, Oliver Stone, Liam Neeson, Carrie Fisher, Kelsey Grammer, Dionne Warwick, Steven Spielberg, Faye Dunaway, Shirley MacLaine, James Garner, and Hugh Grant.  She has also worked on the television soap opera The Bold and the Beautiful.  I cannot tell you how much fun it was listening to Rita's many Hollywood stories.  Sigh!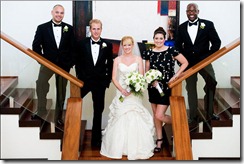 As you can see in the above photograph, I was not a traditional bride in the fact that there was only one woman in my wedding party – my best friend Kylee.  For whatever reason, my closest friends have always been male and when it came time to choosing my bridal party, I did not let a little thing like gender interfere.  I believe that your wedding party should be who your wedding party should be – regardless of gender, age, or anything else, really.    So, my wedding parting consisted of the following: my best girlfriend, Kylee; one of my closest friends from high school, Stew; my best friend, Robin, whom I have known since I was six years old; and Mike, from MovieShotsLA.
Not surprisingly, aside from Kylee (pictured above), no one else in my wedding party wanted their hair or make-up done

.
But I did have Martina and Rita do the hair and make-up for my mom.
And her best friend, Doina, who is also my best friend Robin's mom and who is also pretty much my surrogate mother.
And Robin's girlfriend, Steffi, who is also one of my closest friends.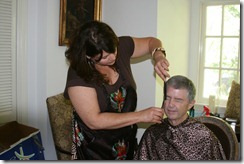 Martina even ended up giving my dad a hair-cut that morning!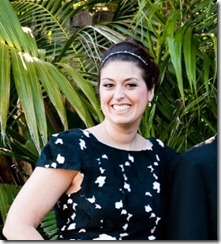 The finished results were SPECTACULAR!  Honestly so much more than I ever could have hoped they would be!  I was absolutely amazed at how Martina and Rita managed to bring out the individual beauty in each of us rather than just creating a cookie-cutter look for the whole group.  Pictured above is Kylee;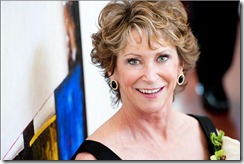 my mom;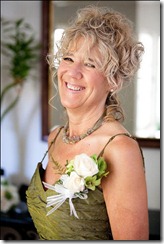 Doina;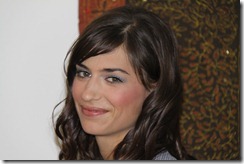 Steffi;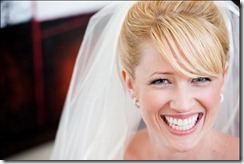 and me!
I really do not want this to come off the wrong way, but I looked absolutely amazing on my wedding day – all thanks to Martina and Rita.  Trust me, I don't normally look like that!  You should see my appearance when I roll out of bed and head to Starbucks each morning.  It is a far, FAR cry from the above photograph, which just proves that it is an absolute wonder – I'll even go so far as to say it is miraculous, in fact – what a professional hair and make-up team can do.  No wonder celebrities always look so fabulous!  I would be in heaven if I could hire Martina and Rita to come to my house each morning to make me beautiful!  If you are at all on the fence about whether or not to hire professional hair and make-up artists for your wedding day, I honestly cannot more highly recommend doing so!  It is money that you will not regret spending.  Not only that, but getting ready together, as my mom, Kylee, Steffi, Doina, and I did on the morning of my wedding, is one of my fondest memories of the entire day.
Until next time, Happy Stalking! 

Stalk It: Hair stylist Martina Maina can be reached via her salon, T-Birds, which is located at 1808 West Olive Avenue in Burbank.  You can visit the official T-Birds website here.  Make-up artist Rita Montanez can be reached via her website, Makeup by Rita, here.
30207