The 19th Annual Art of Motion Picture Costume Design Exhibition at FIDM
Mar 8th, 2011 | By
Lindsay
| Category:
This and That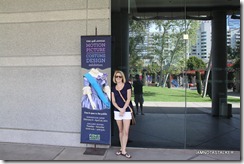 As I mentioned in yesterday's post about the Buckland Auction House from Charmed, this past weekend I dragged the Grim Cheaper out to stalk the 19th Annual Art of Motion Picture Costume Design Exhibition which is currently on display at the Fashion Institute of Design and Merchandising Museum & Galleries in Downtown Los Angeles and which features costumes from twenty of last year's most celebrated films, including Alice in Wonderland, Clash of the Titans, Coco Chanel & Igor Stravinsky, Robin Hood, The Wolfman, Burlesque, Hereafter, Inception, The Kids Are All Right, The King's Speech, The Last Airbender, Nanny McPhee Returns, Shutter Island, Wall Street: Money Never Sleeps, The Chronicles of Narnia: The Voyage of the Dawn Treader, Prince of Persia: The Sands of Time, The Tempest, True Grit, and The Young Victoria.  I had been dying to stalk the exhibition ever since first reading about it on fave website Seeing Stars a couple of weeks ago and because admission was free, the GC did not pose any objections!  Yay!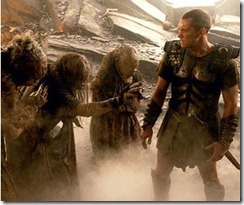 Upon arrival at the museum, we were given a 24-page booklet detailing the various costumes on display, which are on loan to FIDM for the 12-week exhibition from studio archives, wardrobe departments, and personal collectors.  The booklet also featured fascinating interviews with the twenty costume designers who created the varied cinematic looks.  Some of the tidbits shared in the pamphlet were the fact that for the movie Clash of the Titans, costume designer Lindy Hemming had to create special closed-toes shoes for the actors to wear during the fight scenes, so as to protect their feet from injury.  The tops of the custom-made shoes were painted to look like bare feet so as to appear as if the actors were actually wearing gladiator sandals onscreen.  So incredibly cool!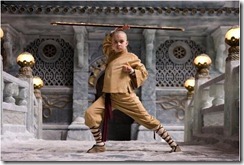 For The Last Airbender, which was filmed on location in Greenland, costume designer Judianna Makovsky created latex gloves resembling bare human hands for the actors to wear during the filming, which often took place in temperatures that dropped to well below zero degrees.   She also created special shoes with insulated platform soles for the actors to wear so as to keep their feet as far away from the snow on the ground as possible.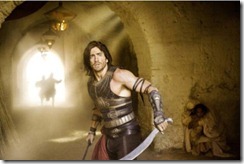 Penny Rose, the costume designer of Disney's Prince of Persia: The Sands of Time, used such varied tools as a cement mixer and a cheese grater to give her creations the weathered look that the production required.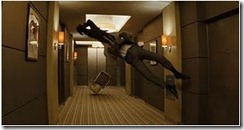 The filming of Inception's many zero-gravity scenes posed some challenges for costume designer Jeffrey Kurland.  He says, "The clothes in those scenes could not be hanging down because, without gravity, they would be floating.  We had to do things like wire shoelaces to make sure they were standing straight out and tack down the men's ties so they didn't flop around at random."  Reading the booklet about the exhibition and seeing the actual costumes in person made me realize how much thought, creativity, engineering, problem solving, and detail goes into designing costumes for the big screen – so much more than I ever before realized.  It was all absolutely FASCINATING to read about.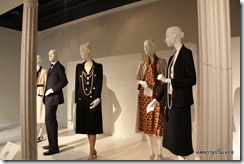 The first costumes on display that really caught my eye were those from the movie Coco Chanel & Igor Stravinsky, which were designed by Chattoune Bourrex and Fabien Esnard-Lascombe, aka Chattoune & Fab.  The costumes were incredibly detailed, yet simple and classic, much like Coco Chanel herself.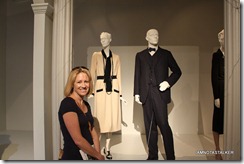 I loved, loved, loved the white dress pictured above, which was worn by Anna Mouglalis in the flick.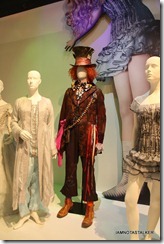 There were several costumes on display from Alice in Wonderland, which was the winner of the 2011 Academy Award for Costume Design.  Colleen Atwood, the movie's designer, says she collaborated quite a bit with actor Johnny Depp when creating the wardrobe for the character of the Mad Hatter.  She says, "Every time Johnny and I hooked up, he took it to another place.  We kept pushing it.  We talked about him having all the tools of his trade apparent, so they aren't just on a shelf but part of his costume.  So he's got his thimbles and his pincushion ring, the bandoleer of silk thread spools, the fun ribbons.  All these things help make the Hatter otherworldly and magical, but still real in a sense."  She also said it was Depp who came up with the idea of the Hatter's clothing changing color depending on his mood, an effect which was created digitally in post-production.  How incredibly cool is it that an actor of his caliber is so deeply involved in the creation of all aspects of his character, including the costumes?  Love it!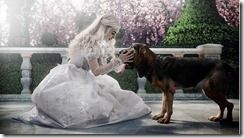 And while I was quite impressed with the Mad Hatter's costume, I was not at all impressed with the gown worn by the White Queen (aka Anne Hathaway) in the flick – which I unfortunately do not have a photograph of as pictures were not allowed in the exhibition hall, something the GC and I did not realize until we had already taken the first few photos which appear in this post.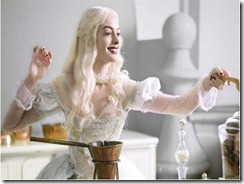 As you can see above, while the White Queen's gown is quite detailed and appeared magical and ethereal onscreen, in person it was actually a bit disappointing.  For lack of a better word, the dress appeared cheap, much like a child's Halloween costume one would find at a five-and-dime store, which only made me further realize how difficult and complex a costume designer's job truly is.  Costume designers have to be concerned with how their designs come across onscreen, which is apparently quite a bit different than how they come across in real life.  I cannot even imagine how much work it must take to determine that and my hat is definitely off to them! 
The costumes that I was most excited about seeing in person – and they did not AT ALL disappoint – were those from Burlesque, all of which were designed by Michael Kaplan.  Those costumes included the dress worn by Ali (aka Christina Aguilera) during the movie's "Show Me How You Burlesque" final dance number.  For the costumes worn in that scene, Kaplan came up with the idea of using absolutely no fabric, but rather gold chains that had been linked together.  After designing several dresses using real gold links, however, he realized that they did not have enough "give" and did not move on the dancers' bodies the way he had envisioned.  So he opted instead to swap out the gold with rubber washers that he had purchased at a local hardware store and then painted gold.  And the effect is nothing short of amazing!  Even up close, it is impossible to tell that the links are rubber!  Kaplan also used over 250,000 individual Swarovski crystals in the creation of the "Show Me How You Burlesque" costumes, which is absolutely mind-boggling to me!  Talk about some serious bling!
The pearl-chained costume that Christina wore during the "Guy What Takes His Time" dance number was also on display.   To create the "illusion of nudity" in that and other scenes, Kaplan designed a body-suit that was dyed to match the exact skin color of each individual actor.  Of the bodysuit he says, "It let us keep our rating and provided something to anchor the chain."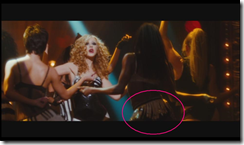 Kaplan also designed a skirt made solely out of garter belts for the "E.X.P.R.E.S.S." dance number.  Of the design, he says, "It was a lot of fun to do that one – it was one of my favorites."
For the dancers' wardrobe in the "I Am A Good Girl" scene, Kaplan went to the Western Costume Company and found costumes that had been deconstructed and taken apart.  "There was something that really attracted me to them, the history or the colors or the silhouettes," he explains.  "I talked to the people at Western Costume and told them that I wanted to take these broken-down costumes and revamp them.  I took them apart and then put them all back together again as different costumes.  We had all this beautiful, old lace and fishnet and feathers." 
Christina's outfit for the "I Am A Good Girl" number was also on display at the museum and it was by far my favorite out of the entire collection.  The outfit was nothing short of incredible and I must have gone back to look at it at least five different times.  I literally could not get enough of it, especially the shoes!  Oh, the shoes!  They were cream-colored high heels that had been emblazoned with hundreds upon hundreds of different-sized Swarovski crystals.  The detail that went into those shoes was ASTONISHING and they were breathtaking to look at!  I was absolutely SHOCKED to discover after leaving the museum that Michael Kaplan had not been nominated for an Academy Award.  All the creativity, innovation, and beauty that went into those costumes and the guy was not even nominated for an Oscar????  How is that possible??????  You can see some great photographs of the shoes, as well as some of the other Burlesque costumes on the Hollywood Movie Costumes & Props website here.
The other costumes that I was most impressed with were those of Nic (aka Annette Bening) and Jules (aka Julianne Moore) from The Kids Are All Right, which you can take a look at on the FIDM Museum blog here.  While the costumes were not especially detailed or unusual, they were extremely realistic – clothing I believed an actual 2010-era couple would be wearing.  What struck me the most, though, was the women's jewelry.  While each woman wore strikingly different jewelry, they both had matching red and gold beaded bracelets, which was a touch that I absolutely LOVED.  Those bracelets were not mentioned in the movie, but upon seeing them I conjured up a whole back-story in my mind – I could see the women purchasing them while on vacation together in some exotic locale and then wearing them daily as a reminder of that vacation.  All that thought and detail put into an accessory that I am sure was not even widely noticed onscreen.  It just goes to show how much costume can add to the backstory and history of a character. 
I honestly cannot more highly recommend stalking the 19th Annual Art of Motion Picture Costume Design Exhibit at FIDM!  It was a fabulous experience for me (although the GC did not enjoy it all that much

) and I cannot wait to do it again next year!
Until next time, Happy Stalking! 

Stalk It:  The 19th Annual Art of Motion Picture Costume Design Exhibition is open through April 30th, excluding the week of April 22nd through 25th, at FIDM's Museum & Galleries, which is located at 919 South Grand Avenue in Downtown Los Angeles.  The exhibit is open each Tuesday through Saturday from 10 a.m. to 4 p.m. and admission is free!  For more information, you can visit the FIDM Museum & Galleries official website here.
30393