Maggie Peyton's House from "Herbie Fully Loaded"
Mar 16th, 2011 | By
Lindsay
| Category:
Movie Locations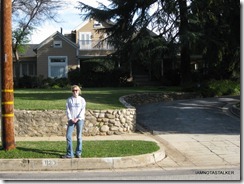 After fellow stalker Chas, from the It'sFilmedThere website, so expertly tracked down the Georgia Rule house for me last week, I asked for his assistance in locating the residence where the Peyton family – Ray Peyton Sr. (aka Michael Keaton) and his children Ray Peyton Jr. (aka Breckin Meyer) and Maggie Peyton (aka Lindsay Lohan) – lived in the 2005 movie Herbie Fully Loaded.  Now before I get y'all thinking that I am a massive Lindsay Lohan fan or something, I would like to assure you that I most definitely am not.  Nor was I a huge fan of Herbie Fully Loaded, truth be told.  What I was a fan of, though, was the Peyton family's adorable and – what I thought was – little Craftsman-style bungalow which appeared countless times throughout the movie.  And while I had a hunch that the property was located somewhere in the Pasadena area, I just could not seem to find it.  So last week I called upon Chas and, working together this past Monday afternoon, the two of us were finally able to track it down.  Yay! 
I decided to take a page out of fellow stalker Owen's book for this particular hunt and began my search by looking through various Herbie Fully Loaded message boards to see if any fans had mentioned the home or its location.   And, sure enough, several had!  I first came across this filming locations thread on the LoveBugFans website on which a real life photograph of the house was posted and, amazingly enough, an address number of 1120 was visible on the curb out in front of it.  After seeing that photograph, I became convinced that the home was located somewhere in Altadena.  So I immediately passed that information along to Chas and he subsequently started using Google Street View to search all of the 1100 blocks in the Altadena area, even though his gut was actually telling him that the house was located in South Pasadena. 
Imagine my surprise when I came across yet another thread, this time on the LoveBugCentral website, on which someone had stated that the Peyton home was located just a few doors down from Patrick Gates' house from the National Treasure movies.  And where is Patrick Gates' house located, you ask?  I am ashamed to admit that it can be found on Buena Vista Street in . . . yep, you guessed it, South Pasadena.  So, after apogizing profusely to Chas for steering him in the wrong direction, I immediately opened up Google Street View and started perusing Buena Vista Street and, sure enough, found the house in just a few short minutes.
The Herbie Fully Loaded house actually looks much different in person than it did onscreen as, for whatever reason, only a side view of the property was ever shown in the movie.
The view of the house from the street is pictured above and, as you can see, it is absolutely MASSIVE in real life – much, MUCH larger than it appeared onscreen.
 In actuality the Peyton home, which was built in 1870, boasts 6 bedrooms, 3 bathrooms, and a whopping 3,974 square feet of living space.  It is incredible to me how deceiving the home's appearance was onscreen, as while watching the movie I had been fully convinced that Maggie's house was a teeny, tiny, little California bungalow, ala Dylan McKay's home from Beverly Hills, 90210.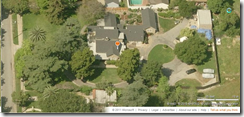 As you can see in the above aerial view, in real life the home also sits on a GINORMOUS parcel of land.
The home's real life backyard also appeared quite a few times in the movie.
Big THANK YOU to Chas, from It'sFilmedThere, for helping me find this location!  Be sure to check out his detailed Herbie Fully Loaded filming locations page here.
Until next time, Happy Stalking! 

Stalk It: Maggie Peyton's house from Herbie Fully Loaded is located at 1120 Buena Vista Street in South Pasadena.  Patrick Gates house from National Treasure and National Treasure: Book of Secrets is located just a few houses west of Maggie's at 1030 Buena Vista Street.  Lady Heather's house from the television series CSI: Crime Scene Investigation is located at 929 Buena Vista Street.  And the Liar Liar house is located just around the corner at 1004  Highland Street.
30733