Paty's Restaurant from "Desperate Housewives"
Mar 25th, 2011 | By
Lindsay
| Category:
The Office Filming Locations
To continue on with this week's restaurant theme, today I thought I would write a post about an eatery that the Grim Cheaper and I stalked back in January – the historic Paty's Restaurant in Toluca Lake, which first opened for business just a little over a half century ago in 1960.  I had become a wee bit obsessed with tracking down the restaurant a few weeks beforehand while watching the Season 7 episode of Desperate Housewives titled "Assassins".  At the very beginning of that episode, Mike Delfino (aka James Denton) is shown eating at a supposed Alaska-area diner whereupon he receives a phone call from Felicia Tilman (aka Harriet Sansom Harris) who accuses him of having shot his neighbor, Paul Young (aka Mark Moses).  While watching the scene, I had noticed a wall displaying what looked like autographed celebrity headshots in the background behind Mike and my stalking radar immediately went on high alert because, let's face it, any restaurant that has a wall full of celebrity headshots is undoubtedly my kind of place!
Because Desperate Housewives is filmed at Universal Studios, I had a hunch that the restaurant was most likely located in Universal City or in one of its neighboring communities.  So I immediately started using Google to search for diners in different areas of the San Fernando Valley, beginning in Universal City and working my way outwards.   It wasn't very long before I came to the Toluca Lake district and, amazingly enough, when I inputted the words "diner" and "Toluca Lake" into the Google search bar, Paty's Restaurant was the first item to pop up.  And, sure enough, it was the right place – celebrity headshots and all!  So I dragged the GC right on out to stalk it that very weekend.  And I have to say that we were NOT disappointed.  Paty's menu is quite extensive and the food they serve up is nothing short of EXCEPTIONAL!  I opted for the Southwest Chicken Salad entrée which featured an array of chicken strips – my favorite food – atop a large serving of lettuce and avocado.  And, let me tell you, it was A-MA-ZING!  The ranch dressing was simply out of this world, as were the chicken strips!  For a stalker like myself, finding Paty's was like a dream come true!  A restaurant that not only serves comfort food, but is a celebrity hangout AND a filming location – what more could a girl ask for?  Love it, love it, love it! 
As the headshots on the wall can attest to, Paty's Restaurant has been a major celebrity hangout pretty much from the time of its inception just over five decades ago.  A few of the stars who dined there in the early years include Bob Hope, Frank Sinatra, all of the Brady Bunch kids, James Garner, Jane Russell(!), Ed Asner, Roy Rogers, Debbie Reynolds, and Jonathan Winters.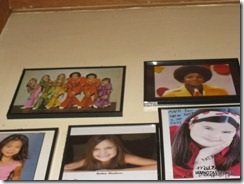 Most amazing of all, though – to me at least – was the fact that, according to the waitress that I spoke with, a young Michael Jackson, along with other members of his family, had once dined at the eatery during the heyday of the Jackson 5!  So incredibly cool!
In more recent years, such stars as Nick Jonas, Joe Jonas, Hilary Duff, Haylie Duff, Zac Efron, Miley Cyrus, Jennie Garth, Peter Facinelli, Ashley Tisdale, Jennifer Love Hewitt, Shia LaBeouf, George Clooney, Ron Howard, Kevin Costner, Lorenzo Lamas, Leah Remini, Tim Allen, John Travolta, and George Lopez have all stopped by Paty's to grab a bite to eat.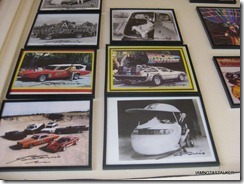 Our waitress also informed us that one of Paty's regulars is George Barris, an automobile customizer who has designed numerous cars for television shows, most notably the Batmobile from the original Batman television series.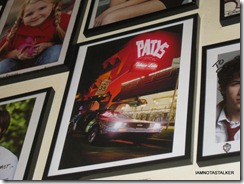 And while George did not design the DeLorean from the Back to the Future movies, he did apparently build a replica of one and often drives it to the restaurant, which is how the above photograph came to be taken.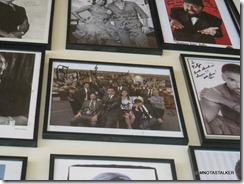 While we were dining I noticed an autographed photograph of the cast of The Office displayed on one of Paty's walls.  When I inquired about it, one of the waitresses told me that a few episodes of the series had been filmed on location at the restaurant, but she was unsure of exactly which episodes.
Because the restaurant did not look familiar to me from the show, I called upon fellow stalker David in Spain who just recently started watching the series from the beginning.  Since the show was fresh in his mind, I was hoping he might remember which episode had been filmed at Paty's and, sure enough, he did!  David emailed me back almost immediately to let me know that Paty's was the spot where Dwight Schrute (aka Rainn Wilson) sat down with Jan Levinson (aka Melora Hardin) and told her he wanted to take over management of Dunder Mifflin's Scranton branch in the Season 3 episode titled "The Coup".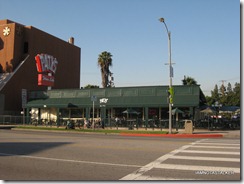 Big THANK YOU to fellow stalker David for figuring out which episode of The Office was filmed at Paty's!
Until next time, Happy Stalking! 

Stalk It: Paty's Restaurant is located at 10001 Riverside Drive in Toluca Lake.  You can visit the restaurant's official website here.
31316