Jesse James and Sandra Bullock's Former House
Mar 31st, 2011 | By
Lindsay
| Category:
Celebrity Homes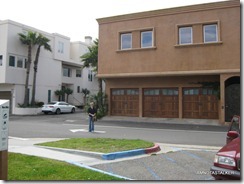 Another Orange County location that the Grim Cheaper and I stalked this past weekend while spending time in Huntington Beach was the former home of actress Sandra Bullock and her ex-husband, West Coast Choppers CEO and reality television star Jesse James.  As it was the GC's birthday weekend, I was not actually planning on doing any stalking – outside of the 90210 Beach Club, of course, which I blogged about yesterday – during our time in the South Bay, but while we were checking out, the super nice concierge we spoke with informed us that Sandra and Jesse's former home was located just a few miles north of the hotel in the beachfront community of Sunset Beach.  And even though I am not a particularly huge fan of either one of the stars, because we were in the area I immediately got to cyberstalking the residence on fave website Virtual Globetrotting and dragged the GC right on over to stalk the place on our way out of town.
And I am so glad that I did!  Despite the numerous nasty commenters on more than a few celebrity real estate websites who state how ugly the house is, I actually think it is pretty darn beautiful.  Sure, it is a bit boxy-looking, but heck I'd live in an octagon if it meant being right on the ocean. 

    Jesse James purchased the 4 bedroom, 5 bathroom Mediterranean-style home, which boasts a whopping 3,626 square feet of beachfront living space, for $3.5 million in 2003, when he was still married to adult film star Janine Lindemulder.  The residence was originally built in 1976, but was completely remodeled in 2002 shortly before Jesse purchased it.  He put the house up for sale for a cool $6.75 million in May of 2010, shortly after the news of his infidelity hit the blogosphere, and eventually sold it in mid-December of last year, after a pretty major reduction in price, for $4.5 million.
The home is situated on a fairly-large corner lot located directly on the beach . . .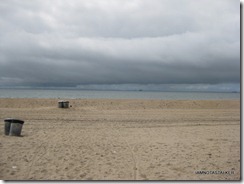 . . . and boasts pretty incredible ocean views, although, as you can see in the above photograph, the weather was fairly dreary while we were there.
Jesse and Sandra's former residence also features a glass-enclosed lanai which sports an outdoor pool with a waterfall and a waterslide and automated tiki torches, which you can sort of see in the above photographs.  According to the property's real estate website, on which you can see some great interior pictures of the house, the place also boasts a media room, a wet bar, stone floors, coved ceilings, an en-suite guest room, a master suite with a fireplace, and a three car garage with a custom tool crib.  Now I am not quite sure what a "custom tool crib" is, but I'd be willing to be that, whatever it is, the GC – and most other men on the planet – would absolutely love it. 

  In a very random turn of events, I happened to spot Jesse James and his pit bull Cinnabun on Tuesday afternoon while on my early afternoon coffee run.  Jesse did not seem to be in any way open or friendly – in fact he shot me a VERY dirty look as I walked by for some odd reason – so I did not attempt to go up to him or engage him in any way.  I was still pretty excited to see him in person, though, nonetheless. 

Until next time, Happy Stalking! 

Stalk It: Jesse James and Sandra Bullock's former house is located at 16905 South Pacific Avenue in Sunset Beach.
31671