Liam Court's House from "90210"
Apr 4th, 2011 | By
Lindsay
| Category:
90210 & Beverly Hills, 90210 Filming Locations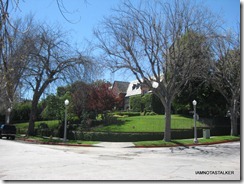 This past Thursday afternoon, while out running some errands in the Hancock Park area, I decided to do a little stalking of the residence where Liam Court (aka cutie Matt Lanter – sigh!) lives on fave show 90210.  I found this location thanks to Geoff at the 90210 Locations website who posted the information way back in October of 2009.  And even though I do seriously love me some Matt Lanter, for whatever reason it took me almost a year and half to get out to stalk the place.
Geoff actually first found this location shortly after it appeared in the Season 1 episode of the new Melrose Place titled "Windsor" in which it was used as the spot where Lauren Yung (aka Stephanie Jacobsen) caught David Breck (aka Shaun Sipos) stealing jewelry.  Geoff had an inkling that the manse was located in the Hancock Park area as he had just tracked down the house belonging to Michael Mancini (aka Thomas Calabro) on the series in that same vicinity.  Because the estate is so incredibly large and distinct-looking, it did not take him long to find it using aerial views.  Then, as fate would have it, someone emailed him a screen cap of Liam's house just a few days later and asked if he might be able to track it down.  He, of course, recognized the place immediately.  It is so funny to me that two such closely-related CW shows would use the very same house in episodes that aired within a month of each other.  But that's Hollywood for you. 

In real life, the estate is known as the Ahmanson Mansion as, during the years 1958 through 1968, it belonged to Howard F. Ahmanson Sr., the prominent Los Angeles philanthropist who founded Home Savings and Loan, which for a time was the largest savings and loan association in America.  You can see a photograph of Mr. Ahmanson standing inside the mansion on the Find A Grave website here.  The impressive property, which was originally built in 1929, boasts 7 bedrooms, 12 bathrooms, a large pool, a tennis/basketball court, a four-car garage, a carriage house, 14,071 square feet of living space, and a 1.5 acre plot of land.  It is an absolutely magnificent home and it is not very hard to see why it ended up being used on 90210.
Liam's house first showed up in the Season 2 episode of 90210 titled "To Sext or Not to Sext".
For whatever reason, though, producers chose not to use the front view of the house for the establishing shot shown on the series, but instead chose to use a view of the side of the property.
The real life interior of the house, which you can see photographs of here, was used in the episode, as well.
And the home's tennis/basketball court, which you can see a photograph of here, was also used in the "To Sext or Not to Sext" episode as the spot where Ryan Matthews (aka Ryan Eggold) and Harry Wilson (aka Rob Estes) played basketball and discussed Ryan's relationship with Jen Clark (aka Sara Foster).
The Ahmanson Mansion was also used as the residence belonging to Francis Buxton (aka Mark Holton) in 1985's Pee-wee's Big Adventure.
The real life interior of the house also appeared in the movie, as well.
Although I am fairly certain that Francis' humongous bathtub was most likely just a set.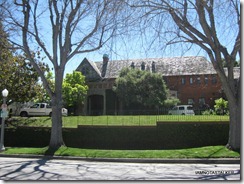 The Ahmanson Mansion was also featured in several Season 4 episodes of the television series Falcon Crest and in the 1990 Jackie Collins' mini-series Lucky Chances.
Big THANK YOU to Geoff from the 90210 Locations website for finding this location.
Until next time, Happy Stalking! 

Stalk It: The Ahmanson Mansion, aka Liam Court's house from 90210, is located at 401 South Hudson Avenue in Hancock Park.  The view of the house shown on 90210 can be seen from West 4th Street.
31846