Fred 62 from "Commander in Chief"
Apr 11th, 2011 | By
Lindsay
| Category:
Charmed Filming Locations
,
Jennifer Aniston Locations
Before I begin today's blog, I thought I would post a clip of the game I played on The Ellen DeGeneres Show last week.  I just have to say here, too, that going to see the show was a FABULOUS experience and I highly recommend doing so if you are in the area.  I would also like to thank my friend and fellow stalker, Beth, for inviting me to tag along with her to watched Ellen being filmed.  Thank you from the bottom of my heart, Beth! 

And now, on with the post!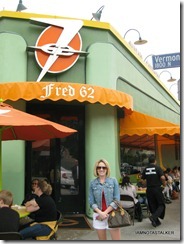 The Fred 62 menu is quite extensive and offers a selection of everything from typical diner fare like burgers and hot dogs (with homemade potato chips, no less!) to Japanese entrees like udon and soba noodle soup to Mexican favorites such as tacos and burritos.  I opted for the S.W.S. Southwestern Pacific Railroad Salad with chicken fingers (pictured above) and it was OUT OF THIS WORLD!  There was literally not one scrap of lettuce or droplet of ranch dressing left on my plate when I got done with it!  The GC had a roast beef sandwich which he also devoured.  I honestly cannot say enough good things about Fred 62  – great food, fab atmosphere!  I loved, loved, loved the place and cannot wait for a re-stalk!
As fate would have it, the GC and I ended up sitting in pretty much the exact same spot where Rebecca and Mike sat in the scene.
After finishing their meal, the two get mobbed by a crowd of people while standing on the street just outside of Fred's and wind up having to be rescued by the Secret Service.
Mike and Olivia sat in the second booth in from Fred's front door while on their date.
Nikki later takes his friend Harry (aka Sebastian Stan) to the diner and has him pretend to be his assistant in the hopes that it will make him more attractive to Heather, but he only ends up making a fool of himself and getting a parking ticket, to boot.
In the episode, Prue and Piper sat in the booth closest to Fred's front door.
And Phoebe got into a fist fight with Nicolas (aka Andrew Jackson) on the sidewalk out in front of Fred's.
Until next time, Happy Stalking! 

Stalk It: Fred 62 is located at 1850 North Vermont Avenue in Los Feliz.  The restaurant is open 24 hours a day, 365 days a year.  You can visit Fred's official website here.
32121