Skylight Books from "Joan of Arcadia"
Apr 14th, 2011 | By
Lindsay
| Category:
TV Locations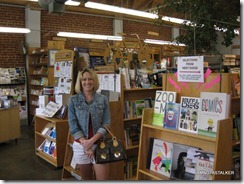 Another Los Feliz location that the Grim Cheaper and I stalked two weekends ago was Skylight Books, the bookstore where Joan Girardi (aka Amber Tamblyn) worked on the 2003 television series Joan of Arcadia.  In a very synchronicitous twist of fate, the GC and I had visited Skylight Books way back in October of last year, just a few minutes before grabbing dinner at the nearby Dresden Restaurant from Swingers.  We both fell in love with the bookstore immediately, but, because I had never seen an episode of Joan of Arcadia, I had no idea whatsoever that the place was a filming location.  Then, randomly enough, the very next day I met up with fellow stalker Chas, from the ItsFilmedThere website who was in town visiting from Indiana, and he happened to mention that he was taking his mom to Skylight Books later that afternoon because Joan of Arcadia was one of her very favorite shows.   Well, let me tell you, I just about died upon finding out that information and immediately added the store to my "To Re-Stalk" list and dragged the GC back there two Saturdays ago after eating lunch at Fred 62.
In the pilot episode of Joan of Arcadia, God (who in this particular instance was played by Kris Lemche) instructs Joan to get a part-time job at Skylight Bookstore – the store's actual name was used in the series – for reasons he does not specify.  She continued to work there throughout the series' short two-season run.
Both the interior and the exterior of the store were used regularly on the show.
Interestingly enough, according to this fantastic article about the filming of Joan of Arcadia, all of the bookstore scenes during the first season of the series were filmed on location at the actual Skylight Books.   Production designer Bill Eigenbrodt says he chose the store due to its "distinct visual personality".  And let me just say that, with its high, peaked ceilings, numerous skylights, concrete flooring, large trees, exposed ducts, brick walls, and extensive use of wood décor, the store definitely does have a unique look.  Ironically enough, while Joan of Arcadia is set in the fictional town of Arcadia, Maryland on the East Coast, to me Skylight Books has more of a Pacific Northwest feel to it.  But, then again, what do I know. 

For the second season of the series, producers had a replica of the store built on a soundstage and they changed things around quite a bit, making the shop slightly larger, dropping the ceilings, adding more brick walls, and infusing the decor with a bit of a Craftsman style.
Skylight Books, which was originally founded in 1996, is a VERY cool bookstore and I can't recommend stalking it enough!  Apparently it has been used quite often in filming, but the SUPER nice clerk that I spoke with was unsure of which other productions had been lensed there.  He did mention that some location scouts from Glee had been there that very week, so the shop might just be showing up on the show in the near future! 
Big THANK YOU to fellow stalker Chas, from the ItsFilmedThere website, for telling me about this location! 

Until next time, Happy Stalking! 

Stalk It: Skylight Books from Joan of Arcadia is located at 1818 North Vermont Avenue in Los Feliz.  You can visit the store's official website here.
32279