The Upton Sinclair House
Apr 18th, 2011 | By
Lindsay
| Category:
Celebrity Homes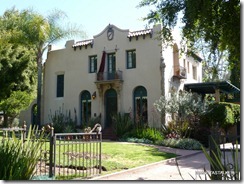 Last weekend while doing some research on the net, the Grim Cheaper discovered that a home in Monrovia where legendary author/screenwriter/movie producer/politician Upton Sinclair had once lived was currently for sale.  So, while I was in the area visiting my parents this past Friday afternoon, I just had to go stalk it.  For those who never had the pleasure of a required reading list in high school, Upton Sinclair was the Pulitzer-Prize-winning author of over 90 titles, the most famous of which was 1906's best-seller The Jungle, a fictional, but truthful account of America's meat packing industry during the turn of the century.  I read the tome during the summer before my junior year of high school and even though it was easily one of the worst books I have ever read – like in my entire life! – I will always have a very special place in my heart for it as the day I started reading it a HUGE, white Himalayan cat appeared out of nowhere on the doorstep of my then-home.  Thinking he had run away from a nearby house, my mom and I put signs all around our neighborhood announcing that we had found a lost cat.  When no one claimed him after a week my parents said we could keep him and I could NOT have been more excited.  In that weeklong interim, though, we kept him in one of our downstairs bedrooms, secluded from the rest of the house, as we had another cat and were afraid the two would not get along.  I literally spent every waking moment of those seven days in that downstairs room, all the while reading The Jungle.   I read that entire book with him by my side and even though Norman, as we came to name him, passed away six years ago, every time I see The Jungle on my bookshelf I think of him and our first week together.  So when the GC told me that Upton Sinclair's house was located just up the street from my parent's new apartment, I could not have been more excited and just had to go stalk it.
And I am so glad that I did!  The Spanish-Colonial-Revival-style property, which boasts 3 bedrooms, 1.5 bathrooms, and 2,380 square feet of living space, was originally built in 1923.  The home was designed by Frederick H. Wallis, the Los Angeles-area architect who, along with his partner Samuel Tilden Norton, constructed the Los Angeles Theatre, the William Fox Building, and the Los Angeles Financial Center.  Upton Sinclair lived in the residence from 1942 to 1966 and, in the writing studio that he had converted from a garage, penned his Pulitzer-Prize-winning novel Dragon's Teeth, as well as numerous other tomes.  That studio has since been transformed into a guest house, but according to this San Gabriel Valley Tribune article, the special fireproof vault that he had built to house his many manuscripts is still intact.  The residence is a Monrovia Historic Landmark, a National Historic Landmark, and is on the National Registry of Historic Places.  It is currently for sale for a cool $1,195,000.
Of the home, Sinclair once said that it had the "perfect peace to write in . . . a garden path to walk up and down while I planned the next paragraph".  And I have to say that he was right – the property is truly idyllic.  While I was there, all that could be heard were the sounds of birds chirping and a soft breeze rustling the trees.  There was also an owl hooting away somewhere on the property – I kid you not.  Oh, what I wouldn't give to live in this home and have my own garden path to stroll along while contemplating the next paragraph for my blog each day!  Something tells me that the GC would never go for the $1.2 million price tag, though.  I'm guessing he would make me give up my Starbucks addiction if we were to buy this place. 

Until next time, Happy Stalking! 

Stalk It: The Upton Sinclair house is located at 464 North Myrtle Avenue in Monrovia.  You can visit the home's real estate listing here.
32470