Jackie Robinson Stadium from "Never Been Kissed"
Apr 20th, 2011 | By
Lindsay
| Category:
Movie Locations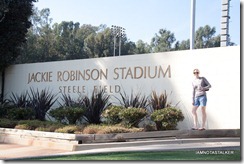 One location that I attempted to stalk far more times than I actually care to admit is the supposed Chicago, Illinois-area Municipal Stadium where Sam Coulson (aka Michael Vartan) kissed Josie Geller (aka Drew Barrymore) for the very first time during the final scene of fave movie Never Been Kissed.  Fellow stalker Owen had long ago informed me that the filming of the stadium scene had taken place at UCLA's Jackie Robinson Stadium and the GC and I had ventured out to the school several times to try to stalk the place, but unfortunately we had absolutely zero luck in finding it.  I cannot tell you how many wasted hours the two of us spent walking the campus grounds looking for that darn stadium, but I think it is safe to say that we stalked just about every stadium at the University – and there are quite a few of them! – except for the one from Never Been Kissed.  What we had failed to realize at the time was that while Jackie Robinson Stadium is a part of UCLA, it is not in fact located on the UCLA campus, but about two miles west of it on Constitution Avenue near the 405 Freeway.  It was not until Owen sent me a detailed map that denoted the stadium's exact location that I realized our mistake.  And it wasn't until a couple of weekends ago that I was finally able to drag the GC back out there to stalk it.
Jackie Robinson Stadium was named in honor of legendary baseball player Jackie Robinson who enrolled in UCLA after graduating from Pasadena Junior College, which is coincidentally just around the corner from where I live.  While studying at UCLA, Robinson became the very first student to ever letter in four sports – football, basketball, track, and, of course, baseball.  Robinson left UCLA during the spring semester of his senior year, shortly before he was to graduate, and took an assistant athletic director job with the National Youth Administration.  He, of course, went on to become one of the greatest baseball players to ever live and was the first African American to play for the Major Leagues since the 1800s.  The Jackie Robinson Stadium was originally constructed just over three decades ago thanks to a large donation from one of Robinson's former classmates at UCLA, a successful businessman and philanthropist named Hoyt Pardee.  The stadium was dedicated on February 7th, 1981 and has served as UCLA's home baseball field ever since.  In 2006, the structure underwent an extensive renovation process whereupon the field surface, lighting system, fan seating, perimeter net, and scoreboard were all upgraded and changed. 
Thankfully though, even with all of those major alterations, the place where Josie Geller waited to be kissed for the very first time still looks very much the same in person as it did onscreen.
In Never Been Kissed, the South Glen Rams' team dugout was located on the eastern side of the stadium, as were the stairs that Mr. Coulson walked down to get to Josie.
Oh, how I wanted to take a photograph standing on the pitcher's mound where Josie awaited her first real kiss in the movie, but unfortunately there was a practice game going on when we showed up to stalk the stadium, so I could not venture down there.  And believe me, I tried, but the GC did NOT think it would be a good idea AT ALL if I disturbed that game by randomly running out onto the field.  He's such a drag sometimes!  I mean, I would have waited until there was a break in play.  Geez!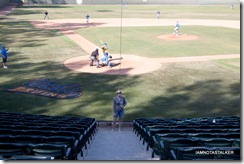 Sadly, the above photograph is the closest I got.  Ah well, it looks like I will just have to go back there and re-stalk the place again sometime in the near future.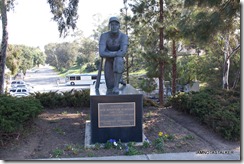 Big THANK YOU to fellow stalker Owen for finding this location! 

Until next time, Happy Stalking!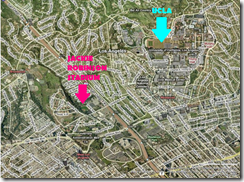 Stalk It: Jackie Robinson Stadium, aka the Never Been Kissed stadium, is located at the intersection of Constitution Avenue and Davis Avenue, one block west of the 405 Freeway, in Westwood.  Although it is a part of UCLA, the stadium is NOT located on the actual university campus, so do not make the same mistake I did by looking for it there.  The stadium's location in relation to UCLA is denoted in the above aerial view.  You can visit the Jackie Robinson Stadium official website here.
32536