Elevate Lounge from Britney Spears' "Womanizer" Music Video
Apr 21st, 2011 | By
Lindsay
| Category:
This and That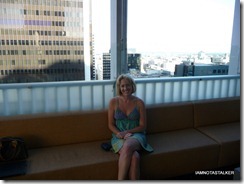 One location that has been at the top of my To-Stalk list for over two years now is Downtown L.A.'s Takami Sushi & Robata Restaurant and Elevate Lounge which were used extensively in Britney Spears' music video for her 2008 hit song "Womanizer".  I first found out about this location while watching the ultra-depressing MTV special Britney: For the Record, which aired on November 30th, 2008 and chronicled 60 days in the pop star's life, two of which were spent filming "Womanizer".  I, of course, immediately became obsessed with stalking the restaurant, but the Grim Cheaper objected every single time I suggested grabbing a bite to eat there, thinking it would be far too pricey for his tastes.  It was not until this past Saturday afternoon when the two of us found ourselves hungry while doing some stalking in Downtown L.A. that I again suggested the restaurant and the GC decided it might be worth a try.  Before agreeing completely, though, he first scoped the place out on Yelp and was absolutely DELIGHTED to discover a reviewer who had posted a comment with those three magic words – "fabulous happy hour", which of course caused him to acquiesce and we immediately headed right on over there to grab a bite to eat and do some Britney stalking.
And I am very happy to report that we were NOT at all disappointed!  Takami is one of the COOLEST restaurants that I have ever been to in my entire life!  Located in the penthouse suite on the 21st floor of a Downtown L.A. office building, the indoor/outdoor, open-air restaurant boasts INCREDIBLE, 360-degree views of the infamous L.A. skyline. 
Takami Sushi & Robata Restaurant and Elevate Lounge first opened in August of 2007 in what was a former office suite.  The space was the brain-child of former Arthur Anderson financier Emil Eyvazoff who spent over five years touring over 100 different venues looking for the right location to build his dream restaurant.  In a November 22, 2007 Los Angeles Times article, Emil is quoted as saying, "We told the two guys looking for us, 'Make sure it's jaw-droppingly unique.'  Then in April of '05 we saw [this] spot, and I think by the fourth step out of the elevator I said, 'This is it.'"  Tag Front, the design firm that was also responsible for the look of Boa, Geisha House, and Katana, was hired to design the space and, during an amazing two-year-process, gutted the 6,000-square-foot premises and brought in wood-paneled walling, a 25- by 40-foot sunken dance floor, 150 feet of sliding glass dooring, large modern couches, and a state-of-the-art DJ booth and sound system, transforming a drab office suite into the sleek, ultra-modern lounge and restaurant that it is today.  And Emil was certainly spot on in his description of the place  – it is most definitely "jaw-droppingly unique".  The food was out of this world, as well.  And the Yelp reviewer had definitely been correct in his assessment – Takami does have a fabulous Happy Hour, which is, amazingly enough, also offered on Saturday and Sunday nights.  During Happy Hour, all of the food served in the bar area of the restaurant is priced at $4 – not kidding!  And the servings are huge, to boot!  The GC and I tried almost everything on the menu and I just about died over the Japanese-style bruschetta, while the GC loved the Sushi Trio offering so much that he ordered a second serving of it immediately upon finishing the first. 
Britney's "Womanizer" music video was shot in Elevate Lounge, Takami Restaurant's nightclub section, which was closed at the time we showed up to stalk the place.  But our SUPER nice server asked the manager to take me on a private tour of the space when we finished dining.  So incredibly cool! 
Takami's manager also could NOT have been nicer and gave me a very lengthy and in-depth tour of Elevate and pointed out where the filming of "Womanizer" had taken place.  The video, which was shot on September 24th and 25th of 2008, was primarily filmed in one of Elevate's three bar areas – the one located closest to the lounge's main entrance. 
As you can see in the above screen capture and photograph, the detailed mosaic design behind the bar area which appeared in the music video is actually there in real life.  Love it!
Takami's kitchen area also appeared in "Womanizer", but I, unfortunately, did not get a chance to stalk that part of the restaurant.
Some behind the scenes images from the video shoot are pictured above.
Elevate Lounge also hosted actresses Sophia Vergara and Natasha Henstridge and hairstylist Ken Paves for a "Beauty Roundtable" article which ran in the March 24, 2008 issue of US Weekly Magazine.
And OK Magazine held a photoshoot with singer Colbie Caillat for their February 28th, 2008 issue at the lounge.  Elevate has also appeared in episodes of Keeping Up with the Kardashians, Brothers and Sisters, and Millionaire Matchmaker.  The restaurant is also something of a celebrity hot spot and such stars as Audrina Patridge, Jason Biggs, Omar Epps, Kat Von D, Brody Jenner, Frankie Delgado, and David Archuleta have all been spotted there.
Britney Spears' "Womanizer" Music Video at Elevate Lounge
You can watch Britney's "Womanizer" music video by clicking above.
Britney Spears: For the Record–with the Making of "Womanizer"
And you can watch Britney: For the Record by clicking above.
Until next time, Happy Stalking! 

Stalk It: Takami Sushi & Robata Restaurant and Elevate Lounge from Britney Spears' "Womanizer" music video is located on the Penthouse level of the building at 811 Wilshire Boulevard in Downtown Los Angeles.  You can visit the Lounge's official website here.  While Takami Sushi & Robata Restaurant is open daily, Elevate Lounge is only open on Friday and Saturday nights, from 10 p.m. to 2:30 a.m.
32604