Crumbs Bake Shop from "90210"
Apr 25th, 2011 | By
Lindsay
| Category:
90210 & Beverly Hills, 90210 Filming Locations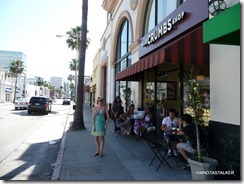 Another location that I dragged the Grim Cheaper out to see while doing some stalking in Beverly Hills two weekends ago was Crumbs Bake Shop, the popular cupcakery which appeared in the Season 2 episode of fave show 90210 titled "What's Past is Prologue".  Crumbs has been a veritable institution in the Beverly Hills area for quite some time now and, being that I do love me some cupcakes, I am absolutely shocked that it took me this long to finally stalk the place, especially since it appeared on 90210 well over a year ago.  As I have said before, though, there are just too many places to stalk and not enough hours in the day to do so!  Thankfully, Crumbs was well worth the wait!
The original Crumbs Bake Shop first opened on New York's Upper West Side in March of 2003 and was founded by former lawyer Mia Bauer and her entrepreneur husband Jason.  Mia, who grew up on a farm in Israel, first started making coconut-flavored cupcakes for her family and friends when she was just a young child in the second grade.  When she made a batch for Jason, her then boyfriend, one day in 2002, an idea was born.  Mia left her law career behind shortly thereafter and, along with Jason, opened up her first cupcakery.  It became an instant success and the couple now owns over 35 stores in six different states, including one in Washington, D.C.  Today each shop offers over fifty different flavors of cupcakes daily, each of them made by hand.  Sadly, because photographs are not allowed inside of the store, I had to settle for snapping a few pics of the exterior only.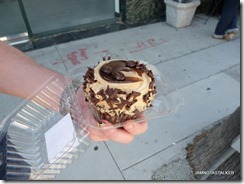 The GC and I opted to try one of Crumb's espresso-flavored cupcakes and, let me tell you, it was A-MA-ZING!  I am pretty picky about my cupcakes and I have to say that Crumbs serves up some fabulous ones!  Loved, loved, loved them!  Because the GC is a big fan of Howard Stern, he really wanted to try the Artie Lange cupcake, which was created by Artie on the air during an episode of The Howard Stern Show back in 2008 and consists of a vanilla cupcake filled with chocolate cream cheese, topped with vanilla cream cheese frosting, dipped in chocolate fondant, and then sprinkled with chocolate and vanilla sprinkles.  We thought it might just be a wee bit too rich, though. 

  Artie Lange is hardly Crumbs' only celebrity fan.  Brooklyn Dekker, Andrea Bowen, Alyssa Milano, Scarlett Johansson, Angelina Jolie, Brad Pitt, Jason Alexander (the actor from Seinfeld, not Britney Spears' ex), Tori Spelling, Selena Gomez, Jennifer Garner, Jessica Biel, Katy Perry, Russell Brand, Chace Crawford, Justin Timberlake, Lauren Conrad, and my girl Jen Aniston have all been known to sample the sweet treats.  In March of 2009, Katie Holmes and Suri Cruise stopped into the Beverly Hills Crumbs to get their cupcake on.  And in September of 2008, Crumbs unveiled a limited-edition Cosmo-flavored cupcake especially for the DVD release party for Sex and the City: The Movie.  Love it, love it, love it!
In the "What's Past is Prologue" episode of 90210, Annie Wilson (aka Shenae Grimes), Naomi Clark (aka AnnaLynne McCord), and Erin Silver (aka Jessica Stroup) meet up at Crumbs to discuss Silver's relationship with Teddy Montgomery (aka Trevor Donovan).
It is while they are enjoying their cupcakes that Annie notices her ex-boyfriend, Jasper Herman (aka Zachary Ray Sherman), sitting at a nearby table and finally realizes that he is stalking her.
Ironically enough, just around the corner from Crumbs Bake Shop is a Vietnamese restaurant named 9021Pho, which I think is just about one of the funniest names for a restaurant that I have ever heard!  The place cracks me up every single time I drive by it!
Until next time, Happy Stalking! 

Stalk It: Crumbs Bake Shop, from the "What's Past is Prologue" episode of 90210, is located at 9465 Little Santa Monica Boulevard in Beverly Hills.  You can visit the official Crumbs' website here.  9021Pho is located just around the corner from Crumbs at 490 North Beverly Boulevard in Beverly Hills.  You can visit the official 9021Pho website here.
32745