Carmine's II Restaurant from "Modern Family"
May 5th, 2011 | By
Lindsay
| Category:
TV Locations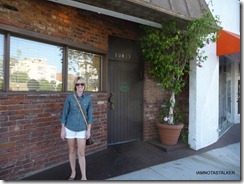 This past Saturday night, I dragged the Grim Cheaper out to stalk a historic restaurant named Carmine's II, which was featured prominently in the recently-aired Season 2 episode of Modern Family titled "Boys' Night".  Carmine's has been a virtual West-L.A.-institution for almost four decades now, having originally been founded in 1972 by New York native Carmine Competelli, Sr.  The eatery, which featured authentic Italian recipes from the "old country", became an instant success and, thanks to its close proximity to both The Culver Studios and Sony Pictures Studios (formerly MGM), was extremely popular with the showbiz set.  Just a few of the luminaries who dined there regularly during the heyday of Hollywood include Frank Sinatra, Dean Martin, Sammy Davis Jr., Peter Lawford, Linda Ronstadt, Robert DeNiro, Milton Berle, Judy Garland, Lauren Bacall, Ronald Reagan, and Governor Jerry Brown.  Carmine became such close friends with members of the Rat Pack, in fact, that according to this article written by original Saturday Night Live cast member Laraine Newman, Dean Martin drove Carmine's eldest son, Carmine Jr., to his senior prom!   When Carmine Sr. passed away in 1982 at the tender age of 52, Carmine Jr., who was then only 19 years old, took over management of the restaurant.  At some point shortly thereafter he shuttered the property and then re-opened it in 1995 under the new name Carmine's II.  And it is still going strong to this day. 
In the "Boys' Night" episode of Modern Family, Mitchell  Pritchett (aka Jesse Tyler Ferguson) and Cameron Tucker (aka Eric Stonestreet) go for a boys' night out at Carmine's II along with their friends Pepper (aka Nathan Lane), Longinus (aka Kevin Daniels), and Crispin (aka Craig Zimmerman).  While there, they run into Mitchell's dad, Jay (aka Ed O'Neill), and much to Mitchell's dismay, his friends invite Jay to join them for a few drinks.  A good time ends up being had by all, though, and Mitchell ends up seeing a whole new side of his father.
While watching the episode, I had noticed a neon sign in the window of the restaurant that read "Carmine's".
So, I wrongly assumed that filming had taken place at Carmine's Restaurant and Bar in South Pasadena (pictured above), an eatery that I had driven by countless times over the years, but had never dined at.  It was not until I walked through the establishment's front doors that I realized how wrong that assumption was!  Oh, how to put this nicely?  The Carmine's in South Pasadena is a complete and total dive!  Now I am not the type of girl who necessarily dislikes dive restaurants.  Quite the contrary, in fact.  But this was more of a duck!-cause-a-bar-fight-is-about-to-break-out-type of place than the we-serve-chicken-strips-and-ranch-dressing-in-a-casual-setting kind of establishment that I so adore.  Upon our arrival, the GC took one look at our surroundings and said, "We are SO out of here!"  It was not until I got home and did some online research later that night that I discovered that there was another, completely unrelated restaurant named Carmine's located in the West-L.A.-area.  (And yes, I am such a huge dork that I actually posed for the above photograph before realizing I was in the wrong place!  As Pinky Lovejoy, from the Thinking Pink blog, would say, "MAJOR FAIL!")
I cannot tell you how ecstatic I am that I was eventually able to track the correct Carmine's down, as it was honestly one on the BEST restaurants that I have ever had the pleasure of dining at.  Both the GC and I loved, loved, loved it!  The setting is intimate and cozy with a definite Rat-Pack-vibe, the staff is some of the friendliest I have ever encountered, and the food . . . oh, what do I even say about the food?  It was magnificent!  When our bartender found out that it was our very first visit to Carmine's, he informed us that we were not allowed to leave without first sampling some of the restaurant's famous deep-fried calamari and I can honestly say that it was, hands down, the BEST fried calamari that I have ever eaten in my entire life!  OMG!  I'm salivating right now just thinking about it!  The Chicken Milanese entrée that the GC and I split was also nothing short of incredible.  I honestly cannot say enough good things about this place!  Carmine Sr. always prided himself on the fact that he made his diners feel "at home" and Carmine Jr. has definitely upheld that tradition.  After just one meal there, I can honestly say that Carmine's II is my new favorite restaurant.    
Until next time, Happy Stalking! 

Stalk It: Carmine's II restaurant, from the "Boys' Night" episode of Modern Family, is located at 10463 Santa Monica Boulevard in West Los Angeles.  You can visit the restaurant's official website here.
33308