The Piru United Methodist Church
May 9th, 2011 | By
Lindsay
| Category:
TV Locations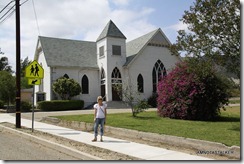 Before the Grim Cheaper and I embarked on our Heritage Valley stalking trip three weekends ago, I did some cyber-stalking of the area and came across this page on fellow stalker Gary's Seeing Stars website which detailed the Piru United Methodist Church's appearance in the Season 1 episode of True Blood titled "Sparks Fly Out".  Now I have never seen even one episode of the vampire series, but while I was looking through the screen captures Gary had posted on his site, I realized that the very same church had also been featured in the Season 7 episode of Desperate Housewives titled "Farewell Letter".  So, because I do love me some Desperate Housewives, I immediately added the place to my Piru Stalking List and dragged the GC right on over there while we were in the area.
The Piru United Methodist Church, which was designed in the Carpenter-Gothic-style, was originally built in 1888 by David Caleb Cook, the man who founded the town of Piru.  When Cook first moved to the Santa Clara Valley in 1887, after migrating from Illinois due to health reasons, he purchased a 12,000-acre plot of land, which was then known as Rancho Temescal, and began to set up a community there.  In 1888, he built a railroad depot, a school, a fruit packing house, and the United Methodist Church.  Cook's father had been a Methodist minister and Cook himself had made his fortune publishing religious books, so his faith was extremely important to him.   And while it does seem that the parish is still in operation today, it was sadly closed when we showed up to stalk it, so we were not able to venture inside.
I did sure love the sign out front, though. 

And, amazingly enough, as you can see in the historic photograph pictured above, despite having a different steeple, the structure still looks almost exactly the same today as it did when it was first built over 123 years ago!
Thanks to the church's small-town, U.S.A.-feel, it is used quite regularly for filming.  In the Season 7 episode of Desperate Housewives titled "Farewell Letter", it stood in for the supposed-Las-Colinas, Texas-area parochial school where Gabrielle Solis (aka Eva Longoria) confronted her former teacher, Sister Marta (aka Jill Larson), for not believing her when she told her she was being abused as a child.  While there, Gabrielle also gave a few high school students this sage piece of advice, "Now girls, if it were up to me, I'd say avoid math and science.  They cause serious frown lines."  When her husband, Carlos (aka Ricardo Chavira), suggests that she is just kidding, Gabrielle says, "No!  Young girls today need to know the dangers of long division."  LOL
In the Season 1 episode of True Blood titled "Sparks Fly Out", the United Methodist Church stood in for the supposed-Bon-Temps, Louisiana-area church where Bill Compton (aka Stephen Moyer) spoke to a group of Civil War enthusiasts, including Sookie Stackhouse (aka Anna Paquin) and Sam Merlotte (aka Sam Trammell), about his life as a vampire.
The church also popped up in the 2000 comedy Space Cowboys as the supposed-Oklahoma-City-area parish where Tank Sullivan (aka James Garner) was a minister.
In the Season 2 episode of Justified titled "The Spoil", the church was the site of the town hall meeting during which the citizens of Harlan, Kentucky, including U.S. Marshal Raylan Givens (aka Timothy Olyphant), discussed the pros and cons of allowing Black Pike Coal Company to mine in their area.
Big THANK YOU to Gary, from the Seeing Stars website, for finding this location!
Stalk It: The Piru United Methodist Church, from the "Farewell Letter"episode of Desperate Housewives, is located at 3875 Center Street in Piru.
33412