The "Ocean's Eleven" House
May 23rd, 2011 | By
Lindsay
| Category:
Movie Locations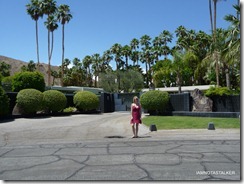 One location that I dragged the Grim Cheaper out to stalk last weekend while vacationing in Palm Springs was the supposed-Las-Vegas, Nevada-area residence where Reuben Tishkoff (aka Elliot Gould) lived in the 2001 heist movie Ocean's Eleven.  I had absolutely fallen in love with the mid-century-modern-style residence while first watching the film just about a decade ago and was shocked to discover, thanks to a free Map of the Stars' Vacation Homes that I once picked up at the Palm Springs Visitors' Center, that it was located in the Coachella Valley.  And while I had actually dragged the GC out to stalk the dwelling once before quite a few years back – long before I ever started my blog – because I had only taken one photograph of it, I decided the place was definitely worthy of a re-stalk.
Reuben Tishkoff's house popped up twice in Ocean's Eleven.  It first appeared in the scene in which Danny Ocean (aka George Clooney) and Rusty Ryan (aka cheater, cheater, pumpkin eater Brad Pitt) try to convince the millionaire hotelier to put up the money to fund their proposed casino heist.
It later showed up as the spot where Danny pitched his plan for robbing the Bellagio, the Mirage, and the MGM Grand casinos to his band of cohorts including Frank Catton (aka Bernie Mac), Livingston Dell (aka Eddie Jemison), Yen (aka Shaobo Qin), Saul Bloom (aka Carl Reiner), Linus Caldwell (aka Matt Damon), Basher Tarr (aka Don Cheadle, who, interestingly enough, had an uncredited role in the film), and brothers Virgil and Turk Malloy (aka Casey Affleck and Scott Caan, respectively).  Quite a bit of the house was featured in the movie including the front gate and the front door areas (both are pictured above);
the backyard;
. . . and the living room.
And while not a lot of the property can actually be seen from the street, this is one location that I would still definitely recommend stalking as it is just so unique. According to IMBD's Ocean's Eleven trivia page, the abode was designed in 1959 by Archibald Quincy Jones, the same architect who gave us the Palm Springs Tennis Club, Campbell Hall Episcopal School in North Hollywood (Mary-Kate and Ashley Olsen's alma mater) and the once popular, but now-defunct restaurant Romanoff's On the Rocks.  According to the Ocean's Eleven production notes, which I found online, director Steven Soderbergh and production designer Phil Messina wanted the residence of the "old school" Tishkoff character to be a "throwback to the 1950s and 60s". Messina says, "We looked for sweeping, low line, mid-century homes in Las Vegas and discovered that that architecture doesn't exist there anymore.  I had a book on modern houses in Palm Springs and that's where we ended up filming Tishkoff's house."  IMDB also states that the homeowners were paid a whopping $200,000 for the property's onscreen appearance!  Yowza, now that's what I call a paycheck!  In real life, the one-story residence boasts 3 bedrooms, 6 baths, 6,307 square feet of living space and sits on a 1.2-acre corner plot of land located just about a mile away from the heart of Downtown Palm Springs.
As you can see in the above photographs, the house also boasts some amazing views of the San Jacinto Mountains.
Until next time, Happy Stalking! 

Stalk It: The Ocean's Eleven house is located at 999 North Patencio Road in Palm Springs.  Here is a Bing map link to that location.
34118