Darryl's House from "The Office"
Jun 9th, 2011 | By
Lindsay
| Category:
The Office Filming Locations
This past weekend I dragged the Grim Cheaper out to the San Fernando Valley to do some stalking of the home belonging to Darryl Philbin (aka Craig Robinson) on fave show The Office. Fellow stalker Owen had actually tracked this location down well over a year ago and it is, ironically enough, located directly next-door to the abode where Meredith Palmer (aka Kate Flannery) lives on the series, which I blogged about a few weeks back. And even though I had the address written down in my trusty stalking notebook and even though Owen had reminded me that the two dwellings were located right next door to each other, for some reason I completely forgot that fact when I went to stalk Meredith's house in early May. Yes, I am most definitely a blonde. 😉 As soon as I realized my mistake, Darryl's house was moved to the very top of my To-Stalk list and I dragged the poor GC right on back over there this past Sunday afternoon to finally snap some pics of the place.
Darryl's house was actually only featured in one episode of The Office – the Season 6 episode titled "The Meeting", in which Dunder Mifflin paper salesman Dwight Schrute (aka Rainn Wilson) convinces human resources director Toby Flenderson (aka Paul Lieberstein) that warehouse manager Darryl is lying about his claim that he injured himself while standing on a ladder at work. In order to prove his case, Dwight persuades Toby to conduct a stakeout of Darryl's home. While on the stakeout – during which Dwight invites Toby to someday visit his "run-of-the-mill-slaughterhouse" where he is currently restoring a life-size train LOL – the two are parked in front of the residence located next door and to the west of Darryl's.
The two then spot a rather large individual wearing a sports jersey and carrying a humongous bag of dog food whom they assume is Darryl. Dwight immediately pulls his car up to the front of Darryl's house in order to confront him, while Toby yells out, "Hey you, a**hole! You gonna eat all that dog food yourself?" As it turns out, the person whom they thought was Darryl is actually his younger sister, who was played by actress Jahmilla Jackson.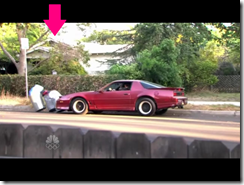 Once they realize their mistake, Dwight and Toby panic and Dwight tries to drive away quickly, but ends up plowing his car into Darryl's garbage cans. Interestingly enough, Meredith's house can be spotted in the background of that part of the scene.
I am very happy to report that Darryl's house looks pretty much exactly the same in person as it did onscreen.
Even the two blue Adirondack chairs which were situated on the front porch during the episode are there in real life!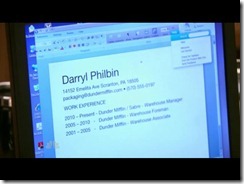 Interestingly enough, in the Season 7 episode of The Office titled "Search Committee", Darryl is shown typing up his resume, on which his home address is visible. It reads "14152 Emelita Ave, Scranton, PA 18505". In real life, the address of the house used as Darryl's is 14152 Emelita Street in Van Nuys. SO INCREDIBLY COOL!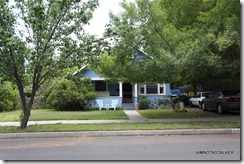 Big THANK YOU to fellow stalker Owen for finding this location!

Until next time, Happy Stalking!

Stalk It: Darryl's house, from "The Meeting" episode of The Office, is located at 14152 Emelita Street in Van Nuys. During their stakeout, Darryl and Toby are parked in front the residence located at 14156 Emelita Street. Meredith's house, from the "Michael's Last Dundies" episode of The Office, is located next-door to Darryl's at 14142 Emelita Street in Van Nuys. Toby's house from that same episode of The Office is located just around the corner at 5752 Calhoun Avenue, also in Van Nuys. And Jim and Pam's house is located just a few blocks northeast at 13831 Calvert Street in Van Nuys.
34740