Christina Aguilera's "Extra" Taping at The Grove
Jul 11th, 2011 | By
Lindsay
| Category:
Celebrity Sightings
Way back on Friday, June 3rd, Mikey, from the Mike the Fanboy website, called me up to inform me that Christina Aguilera would be appearing live that afternoon at The Grove shopping center in Los Angeles to tape a segment for the television series Extra.  And even though I have never really been a big fan of the pop singer, because I absolutely LOVED LOVED LOVED me the movie Burlesque, I was simply dying to attend.  I am so obsessed with Burlesque, in fact, that a couple of months ago I cut my hair to resemble the wig that Christina wore during the "But I Am a Good Girl" number, which you can watch by clicking above.  "The dress is Chanel, the shoes YSL, the bag is Dior, Agent Provocateur." Sigh!  I LOVE that song!  And that hair!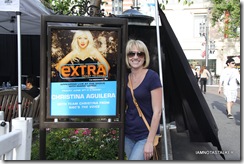 Pinky Lovejoy, from the Thinking Pink blog, had long before informed me that the Extra stage at The Grove was one of the worst venues in L.A. for celebrity photographs, so I knew that my chances of getting one with Christina were slim to none.  As I mentioned in Tuesday's post, though, I am an eternal optimist, so when the Grim Cheaper and I headed out towards the shopping center that Friday afternoon, I was armed with some pretty high hopes.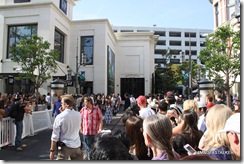 As you can see in the above photograph, the area surrounding the Extra stage was absolutely JAM PACKED with people when the GC and I arrived on the scene.  Because a large portion of The Grove's courtyard had been partitioned off for the taping, though, I did manage to secure a spot right along the fan barricade and still had pretty high hopes that I might be able to get a picture with the singer.
Christina's team from The Voice (singers Beverly McClellan, Frenchie Davis, Lily Elise, and Raquel Castro) arrived a couple of minutes before the segment was set to begin and promptly hit the red carpet to film some media interviews.
Mario Lopez arrived next and while I had presumed that he would most certainly pose for photographs, that was sadly not the case.  He walked right by the crowd, both on his way in and on his way out, without so much as signing an autograph.  Such a bummer!
Just a few seconds later, a huge limo drove right into The Grove's central courtyard and stopped in front of the fan barricades.  Needless to say, the crowd went absolutely wild at this point.
Because Christina is so darn tiny, the limo blocked her almost completely from view as she stepped from the car.  But the GC did manage to get a few pics of her by holding his camera above his head.
As soon as Christina walked onto the stage, all of the fans in attendance moved over to that part of the courtyard to get a better view of the taping.  And while the GC and I tried to find a spot in that area, it was just far too crowded for my taste.  As you can see, it was so chaotic that the GC could hardly get any photographs of the stage even though he has a high-tech, long-lensed camera.
So I dragged him right on back over towards the rear of the stage where we once again were lucky enough to snag a spot against the barricade.
While Christina spoke with Mario onstage, her Voice team walked over to where the limo was parked and started signing autographs and taking pictures with the fans.  We were standing just a bit too far away from them, though, so I was not able to get them to pose with me.
Mario invited The Voice contestants to take to the stage a few minutes later to sing a cappella for the crowd and, oh my lord, were they INCREDIBLE!!!!!!
After the four contestants sang, the segment ended and Christina came walking down the red carpet towards her limo.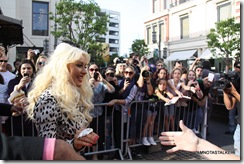 And while she sadly did not stop to sign any autographs or take any pictures, she did reach out to touch some of the fans on my side of the barricade (that's my hand in the above photograph) . . .
. . . and the GC somehow managed to magically snap some pics of Christina grabbing my hand!  NICE camera work, GC!!!!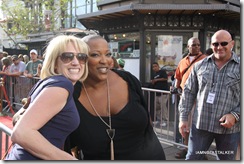 Thankfully, The Voice contestants stuck around to meet some of the fans after Christina's limo departed.  Because I had watched Frenchie Davis on Season 2 of American Idol back in 2003, I really wanted a photograph with her.  And I am very happy to report that Frenchie could NOT have been nicer and, even though her publicist was rushing her along and kept telling her that she did not have time to take pics with fans, Frenchie said, "I'm staying until everyone who wants a picture gets one.  I'm nothing without my fans!"  Love it!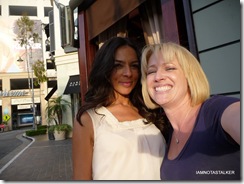 After Christina left, the GC and I headed over to the Whisper Lounge, Michael Buble's favorite restaurant which I blogged about back in November of last year, to grab a bite to eat.  And  let me tell you, I just about died when I spotted both Tajari P. Henson and Teri Seymour dining (separately) at tables near the bar.  When I saw Teri get up to leave the Lounge, I followed her outside and asked her for a picture and she happily obliged.  But the GC was in charge of watching for Tajari to leave and, of course, was not paying attention when she actually did, so I did not get to ask her for a photo.  🙁  Men!!!!  Being that he had managed to snap that awesome picture of Christina and me touching hands, though, I could not get too mad at him about it.  😉
Big THANK YOU to Mikey, from the Mike the Fanboy website, for telling me about this event.
Until next time, Happy Stalking!  🙂
Stalk It: The Grove shopping center is located at 189 The Grove Drive in Los Angeles.  Extra films on the premises on a daily basis.  You can check out their filming schedule and list of their upcoming celebrity guests here.  The Whisper Lounge is located inside of The Grove, in Suite F-90B.  You can visit the Whisper Lounge's official website here.
35888