Mary See's Former House
Jul 15th, 2011 | By
Lindsay
| Category:
This and That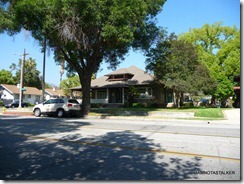 Another location that I was reminded of while taking the Scott's L.A. Audio Driving Tour of Pasadena this past week was the Craftsman-style residence where Mary See and her son Charles, founders of See's Famous Old Time Candies, lived in the 1920s during the time when the legendary chocolate company was first established.  Because I practically grew up on See's Candies – I can still remember my parents and grandparents taking me to the chain's Hillsdale Mall outpost for a treat on an almost weekly occasion – I was absolutely FLOORED to discover that the See family had once lived practically right in my own backyard.
Mary Wiseman See, who was born and raised in Ontario, Canada, first started making candy while living on Tremont Park Island where her husband, Alexander, managed a resort.  When Alexander passed away in 1919, Mary decided to start anew by moving with her son Charles, his wife Florence, and their three children to Southern California, where Charles was seeking work as a pharmacist.  The family settled into a Craftsman-style bungalow located at 462 South Marengo Avenue shortly after arriving in the area and sometime thereafter Charles decided to try his hand at selling Mary's homemade chocolates to the public.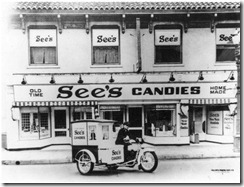 In November of 1921, the family set up their first See's Candies store in a building located at 135 North Western Avenue in Los Angeles.  That original store is pictured above and, amazingly enough, the building which once housed it is still standing to this day!  You can see a picture of how the building appeared circa April of 2011 here.  Charles designed the shop with a black and white motif and checkered floor to resemble Mary's actual kitchen at home where her now-famous candy was first baked.  That ascetic model is still used to this day, over nine decades later, for all See's locations, as is the company's original logo, which consists of a black and white photograph of Mary See.  See's Famous Old Time Candies became an instant success and by the mid-1920s, eleven more storefronts had opened.  The chain's second store was located at Grauman's Chinese Theatre in Hollywood and the third was at 356 East Colorado Boulevard in Pasadena.  Sadly, the Pasadena building that once housed that location was torn down in the 1970s to make way for the now-defunct Plaza Pasadena Shopping Center.  (In an interesting bit of trivia, according to the History, Los Angeles County blog, during the 1920s the company used custom-built Harley-Davidson motorcycles, painted with the black and white See's insignia and fitted with a side-car, to make deliveries throughout the Los Angeles area.  One of those motorcycles is pictured above.)
According to the Scott's L.A. Audio Driving Tour, the kitchen of the See's family bungalow was located toward the rear of the property, in what I believe is the area pictured above.  I am not sure if it is this kitchen that Charles modeled the design of his stores after or if it was the kitchen at the home in Canada where he grew up, but oh, what I wouldn't give to go inside and find out.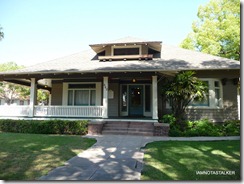 Mary See sadly passed away on July 31st, 1939 at the age of 85.  Charles continued to run See's Candies until his death in 1949, at which point his son Laurance took over the reins.  In 1972, Laurance sold the company to none other than Warren Buffett, who acquired it as part of his Berkshire Hathaway Corporation.  See's Famous Old Time Candies is still going strong to this day and now boasts over 200 stores in 11 different states, as well as locations in Hong Kong, Japan, and Macau.  It was all started right here, though, in a little bungalow in Pasadena.  The See home, which was originally built in 1903, is no longer a private residence, but now houses offices for various area professionals.
Until next time, Happy Stalking! 

Stalk It: Mary See's former house is located at 462 South Marengo Avenue in Pasadena.
36124