Le Petit Bistro from "90210"
Aug 5th, 2011 | By
Lindsay
| Category:
90210 & Beverly Hills, 90210 Filming Locations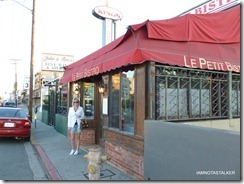 A couple of Saturday nights ago, the Grim Cheaper and I found ourselves in West Hollywood, tired and hungry after a long day of stalking.  We happened to come across an absolutely adorable little French restaurant named Le Petit Bistro and decided to pop in for a bite to eat.  Now, usually I do not like to frequent eateries that are not mentioned on my (very long and ever-growing) "To Stalk" list, but because the place was so darn cute I made an out-of-character exception.  So imagine my surprise when later that week I happened to be perusing through my friend and fellow stalker Geoff's 90210Locations website and saw that Le Petit Bistro was listed as a filming location from fave show 90210!  I literally just about fell off my chair and immediately started mentally kicking myself for not taking more pictures of the place.
In the Season 3 episode of 90210 titled "How Much Is That Liam In The Window", college student/budding writer Charlie Selby (aka Evan Ross, who I just found out is Diana Ross' son!) takes Annie Wilson (aka Shenae Grimes) out for a date at Le Petit Bistro, his favorite French restaurant.  After the waiter approaches their table and says something in French, Annie asks Charlie, "Are you sure you didn't secretly drug me and take me to Paris?"  (The menus pictured above are the eatery's actual menus, by the way! How incredibly cool is that?)
Annie's assessment of the Zagat-rated restaurant, which first opened in 1993, could NOT have been more spot-on!  Thanks to its dark red walls, French-accented waiters, wood-paneled bar, and covered patio (made complete with twinkle lights), the Grim Cheaper and I absolutely did feel like we had been magically transported to Paris!  And I am very happy to report that besides the incredible ambiance, Le Petit Bistro also serves up some out-of-this-world food!  For whatever reason, I opted for a bit of a strange order that night – a parmesan cheese salad that was one of the evening's specials, the Blue Crab Cakes appetizer, and a side of marinated wild mushrooms.  Even though it might sound odd ordered all together like that, it was an absolutely incredible meal, especially the mushrooms!  My mouth still waters just thinking about those mushrooms weeks later!  The GC ordered one of the restaurant's fish specials which was adorned with homemade mushroom risotto and it was also scrumptious!  And best of all (in the GC's eyes at least), the prices were extremely reasonable.  We both absolutely fell in love with the place and cannot wait to go back!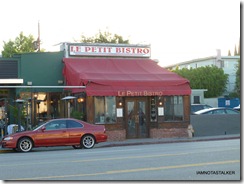 Besides being a filming location, Le Petit Bistro is also something of a celebrity hot spot. Just a few of the famous faces who have dined there over the years include Dr. Dre, Neve Campbell, Julio Iglesias, Alfred Molina, Sean Connery, Salma Hayek, Robert Forster, Denise Grayson, Suzanne Somers, director Jared Hess, and Flight of the Conchords' Jemaine Clement.
Ironically enough, the very brief exterior establishing shot of Annie and Charlie's date restaurant on 90210 was not of Le Petit Bistro, but of a different L.A.-area French eatery – Figaro Bistrot, which is located at 1802 North Vermont Avenue in Los Feliz.  While making screen captures for today's post, I immediately recognized Figaro as I have walked past the cute little French restaurant numerous times in the past and have always wanted to stalk it due to its appearance in a Louis Vuitton ad featuring Madonna (which you can see photographs of here).  And I should clarify here that while I have never been a particularly big fan of Madonna, I am a HUGE fan of Louis Vuitton. 

I also spotted Archie Panjabi, who plays investigator Kalinda Sharma on The Good Wife, dining on Figaro's sidewalk patio a couple of months back.
Until next time, Happy Stalking! 

Stalk It: Le Petit Bistro, from the "How Much Is That Liam In The Window" episode of 90210, is located at 631 North La Cienega Boulevard, just north of Restaurant Row, in West Hollywood.  You can visit the restaurant's official website here.
36551