Intelligentsia Coffee & Tea in Pasadena – One of Joel McHale's Favorite Hangouts
Aug 8th, 2011 | By
Lindsay
| Category:
This and That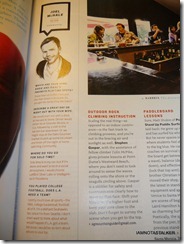 As I have mentioned quite a few times before on my blog, this stalker absolutely loves herself some Joel McHale.  So when I saw that the cutie The Soup host/Community star had been interviewed about some of his favorite SoCal haunts in the August 2011 "The Best of LA" issue of Los Angeles Magazine, I just about died of excitement!   And, being that this stalker also absolutely loves herself some coffee, when I discovered that the actor frequents a java spot right near where I live in Pasadena, I almost had a full-blown heart attack right on the spot!  In the brief blurb, which is pictured above, Joel mentions that his two young sons love visiting Travel Town at Griffith Park and the Train Shack in Burbank and that a great night out with his wife would include meals or cocktails at Harvard & Stone, Girasole, Mozza, Cut, or Varnish (all of which I will, of course, be stalking in the very near future

).  But the quote that caught my eye had to do with a recently-opened coffee bar in Old Town Pasadena that I have walked by about a hundred times in the past few months, but had yet to visit.  (I know, I know – a coffee bar that I have not yet sampled?  Did hell freeze over or something?)  When asked where Joel goes for "solo time", the actor responded, "Solo time is in my car, but if I'm alone and want to be in a social atmosphere, I would choose LaMill in Silver Lake or Intelligentsia in Pasadena."  So I, of course, immediately ran right out to stalk the place the very next day.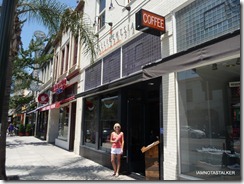 I first walked by Intelligentsia Coffee & Tea shortly after it opened in August of last year and was completely floored to discover that the place was not only a coffee house, but a restaurant and wine bar, as well.  I am of the opinion that every type of public space should house a built-in coffee bar, e.g. nail salons, laundry mats, book shops, museums, clothing stores, etc., etc., etc.  So when I saw that Intelligentsia not only served espresso, but champagne (which is my other culinary vice), as well, I was beyond excited!  I immediately called up the Grim Cheaper and told him about the place and what a fabulous idea I thought it was.  According to fave website Eater LA, of the concept owner Doug Zell says, "The neighborhood there in Old Town Pasadena reminds us of some European and South American cities where you can walk into a café or bar and be served a great espresso any time of day, but also a nice lunch, a beer after work, a glass of wine on a date."  Zell was apparently inspired to open the space after visiting an eatery in San Paulo, Brazil that served beer, wine, food, and fine coffee.  Never have I so badly wanted to visit Brazil!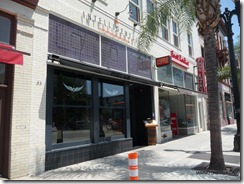 The first Intelligentsia Coffee & Tea was opened in October of 1995 on the north side of Chicago by coffee-loving couple Doug Zell and Emily Mange.   Sixteen years later, the Zagat-rated chain, which employs coffee sommeliers at each outpost (love it!), boasts nine locations in three different cities – Chicago, New York, and Los Angeles.  (The Pasadena branch is the first to offer food and wine.)  Celebrities have been flocking to the company's four L.A.-area locations since the very beginning.  Just a few of the stars who have gotten their java on at the chain include Vanessa Hudgens, Zachary Quinto, Olivia Wilde, Scarlett Johansson, Joe Jonas, Christina Ricci, Jake Gyllenhaal, and, of course, Joel McHale.  Amazingly enough, the recent Los Angeles Magazine article was not Joel's first mention of the coffee house.  He also spoke about it in a June 2011 Chicago Tribune interview in which he said, "I do drink Intelligentsia. I wish there was one slightly closer to my house. There are two of them right now. Hopefully, they'll open more. But the coffee is—no, there's three of them now, four; I don't know. There's a couple in Pasadena, one on Sunset and one in Santa Monica, which is not geographically conducive to me. But it's great coffee."  Even though it is not geographically conducive, according to the barista that I spoke with, the actor does stop by the Pasadena outpost fairly regularly.  She also told me that Joel could NOT be nicer, friendlier, or more down-to-earth, which was the exact impression I got of him when I met him at the Envelope Emmy Week Geek TV Event this past June.  (I also just got to go to a taping of The Soup this past Friday, thanks to my good friend/fellow stalker Mikey, from the Mike the Fanboy website, which was an ABSOLUTELY amazing experience that I will be blogging about soon.)
As my fellow stalkers very well know, I have long been a Starbucks girl at heart and can rarely find a coffee house that compares. But I am very happy to report that Joel McHale has some great taste in java, because Intelligentsia serves up some FABULOUS joe!  I was VERY pleasantly surprised as I find that most independent stores make a brew that is far too strong for my taste.  Intelligentsia's was a perfect blend, though, and, coming from me, that is the ultimate compliment!  And, let me tell you, I just about fell over when the girl ahead of me in line ordered a cappuccino and it came out looking like this.  SO INCREDIBLY COOL!
Until next time, Happy Stalking! 
Stalk It: Intelligentsia Coffee & Tea is located at 55 East Colorado Boulevard in Old Town Pasadena.  You can visit the chain's official website here.
36581