"The Perfect Age of Rock & Roll" Premiere
Aug 10th, 2011 | By
Lindsay
| Category:
Celebrity Sightings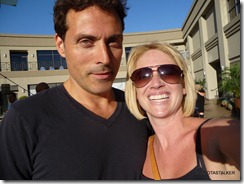 As I mentioned yesterday, I was unable to stick around to watch much of the Parks and Recreation filming at Vroman's Bookstore in Pasadena last Wednesday afternoon as I had promised Miss Pinky Lovejoy, of the Thinking Pink blog, that I would meet her at Laemmle's Sunset 5 theatre in West Hollywood that evening to do some stalking of the premiere of The Perfect Age of Rock 'n' Roll.  As fate would have it, this particular event turned out to be a pretty fortuitous one for us because Sunset 5 is located right next door to Crunch Fitness, which is apparently a big time celebrity hot spot.  So not only were we keeping our eyes peeled for stars dressed to the nines heading towards the theatre, but we were also keeping our eyes peeled for those dressed in work-out clothes entering and exiting the gym.  Pinky, who pretty much has superhero powers when it comes to spotting celebrities, caught sight of comedian/actor Dane Cook walking into Crunch while we were eating dinner a good 300 yards away.  The girl has got MAD skills, I tell ya!  And while she ended up catching Dane on his way out of the gym about an hour later, the guy was NOT nice AT ALL and not only refused to take a picture with her, but would not even make eye contact, which resulted in her bestowing him with the "Douchebag of the Day" award on her blog later that week.  Pinky also had this sage piece of advice for the surly actor, "If you don't want to be recognized, don't walk right through a movie premiere!"  LOL LOL LOL  I did not even attempt to approach Dane as he did not in any way, shape, or form seem friendly.  Truth be told, he kind of scared me.  I am very happy to report, though, that it was all uphill from there as shortly after Dane shot Pinky down, she spotted Rufus Sewell, who played Jasper Bloom in fave movie The Holiday, heading into Crunch.  Rufus could NOT have been nicer and posed for at least a dozen photographs with various fans – and even agreed to pose for a second one with me after the first one we took failed to turn out.  Rufus was so sweet, in fact, that he asked me to make sure our second picture was to my liking and even waited around while I did so, before heading off to the gym.  Swoon!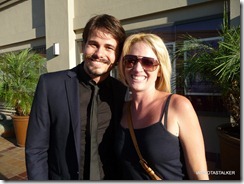 While I was posing with Rufus, Jason Ritter showed up and was absolutely mobbed by fans and the numerous "graphers" who were in attendance.  Luckily enough, Pinky has known Jason for quite a long time and is actually sort of friends with the actor, so he immediately walked through the crowd and right up to her to say hi.  I am sad to say that I had a major blonde moment while meeting him, though, as I had been planning on asking him if he happened to know where the apartment building from the opening credits of Three's Company was located.  Fellow stalkers Chas, from the ItsFilmedThere website, and Owen and I have been looking for that blasted building for quite a while now and I figured that if anyone would know its location, it would be Jason.  But I got a bit flustered while speaking with him and the whole thing COMPLETELY slipped my mind!  MAJOR FAIL!  And big apologies to Chas and Owen!  Jason could NOT have been nicer, though, and even though there were at least fifty people mobbing him, he stayed around to take pictures with and sign autographs for absolutely everyone who wanted one.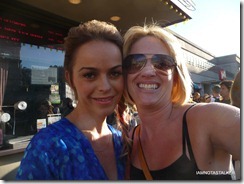 Taryn Manning arrived next and I was absolutely FLOORED to get a photograph with her as I have extremely fond memories of the actress from my time as an extra on the movie Crossroads.  Taryn was easily the nicest of all of the Crossroads stars and, for whatever reason, remembered me each day that I was on set and would go out of her way to say hi.  She also remembered me when I attended the movie's wrap party, a week after filming had been completed, and walked up to me to say, "I'm so glad you were able to come to this."  So incredibly sweet!  When I told her how nice she had been to me during the Crossroads shoot, she started laughing and said, "Aww.  Well, I haven't changed, I'm still very nice, I promise." 

We also spotted DJ Qualls, who played Kyle Edwards in 2000's Road Trip, at the premiere . . .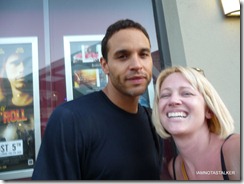 . . . and Ghosts of Girlfriends Past/Grey's Anatomy/The Devil Wears Prada star Daniel Sunjata, who was leaving Crunch Fitness – both of whom were extremely nice.
Also in attendance was Easy Rider himself, Peter Fonda, along with his much younger-looking wife, Margaret DeVogelaere.  Sadly, Peter would not take any pictures or sign any autographs due to the fact that he was running late.  And while we could have hung out and waited until the premiere was over to get a pic with Peter, I just really did not feel like doing so.  If it was Matt Lanter, Michael Buble, or Joel McHale, I would wait around all day for a photo, but Peter Fonda?  Not so much.  😉  All in all it was another FABULOUS celebrity-filled stalking adventure, though – save for the minor setback with Dane douchebag Cook. 

Big THANK YOU to Pinky Lovejoy, from the Thinking Pink blog, for inviting me to this event! 

Until next time, Happy Stalking! 

Stalk It: Laemmle's Sunset 5 is located at 8000 Sunset Boulevard, inside of the 8000 Sunset Strip shopping center, in West Hollywood.  You can catch The Perfect Age of Rock 'n' Roll in theatres now.
36649