Edith Palmer's Country Inn
Aug 16th, 2011 | By
Lindsay
| Category:
Marilyn Monroe Locations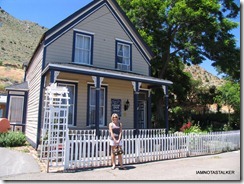 The final Nevada-area location that I stalked while visiting my grandmother in Reno last month was Edith Palmer's Country Inn in Virginia City – the spot where my girl, Miss Marilyn Monroe, stayed for a short time while filming her last completed movie, 1961's The Misfits.  I had actually stalked the exterior of the historic property once before, while vacationing at my grandmother's back in June of 2008, and had also written a short blog post about it.  As fate would have it, the inn's super-nice owner, Leisa Findley, happened to see that post and wrote a comment in which she mentioned that if I ever wanted to re-stalk the place, she would give me a personal tour of the interior.  Well, as you can imagine, I read Leisa's words and had been absolutely itching to collect on her kind offer ever since.  Because I usually visit my grandmother at Christmastime, though, when driving conditions from Sparks, where she lives, to Virginia City are a bit unfavorable, I was not able to do so until my most recent trip to the Silver State this past July.
Edith Palmer's Country Inn was originally built in 1863 as a private home/cider factory for a businessman and cider/vinegar manufacturer named Ellis Morton.  In 1948, an award-winning chef named Edith Palmer purchased the premises with the intention of using it as her residence.  Edith, who was a member of the prestigious French gastronomic society Chaine des Rotisseurs, would host frequent dinner parties in the former cider factory area of the property (pictured above) and eventually decided to turn her abode into an inn, so that those guests who did not want to drive home after eating her culinary feasts would have a place to stay.  Word of mouth traveled quickly and Edith's meals became so sought after that she wound up converting the factory into a public restaurant which she dubbed "The Cider Factory".  It did not take long for the Hollywood elite to come a-knockin' on the door of Edith's ultra-private little haven of an inn and its ambrosial eatery. Just a few of the luminaries who stayed or dined at the property include Liberace, Polly Bergen (who played grandmother Kate Allen on fave show Commander in Chief), Michael Landon, Lorne Greene, Dan Blocker, Pernell Roberts, Phil and Alice Harris, Yvonne De Carlo, Robert Goulet, and Dinah Shore.  In 2000, Leisa and her husband, Pat, purchased the inn, which had fallen into serious disrepair, from Edith's heirs and and immediately set about a three-year renovation process during which they lovingly restored the place to its former grandeur.  Today, Edith Palmer's Country Inn is comprised of three separate Victorian-style houses – the Edith Palmer House, the Silver Street House, and the Storey House – which feature eight guest rooms and two suites.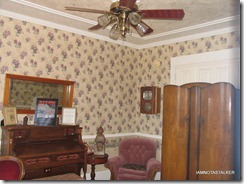 As luck would have it, the inn was vacant during our visit and Leisa was kind enough to take us through pretty much every square inch of the property.  She began our tour in the Edith Palmer House, where we were shown the sitting room area;
the Maggie Belle Room, which was named in honor of Pat's grandmother;
the Edith Room;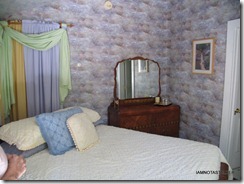 the Evelyn Room, which was named after Leisa's mother;
and the Marilyn Room, which was where the starlet stayed for a brief time while The Misfits was being filmed in nearby Dayton, Nevada.
As you can see above, the Marilyn Room is an absolutely adorable little space which is tucked away in a quiet corner of the inn's second floor and features peaked ceilings, gabled windows, and a sitting area.
It was in the Marilyn Room that Leisa showed me what I had been absolutely dying to see for more than three years – the inscription MM wrote to Edith during her stay at the historic property.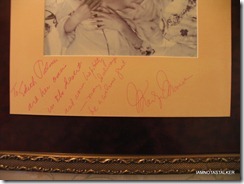 The inscription reads, "To Edith Palmer and her oasis in the desert and warm hospitality – may I always be a welcome guest.  Marilyn Monroe."  Apparently, when Leisa and Pat purchased the property, Marilyn's autograph had become extremely weathered and faded, so they took it took a restorer who made two copies of the print in which the ink was darkened.  One of the copies currently hangs in the inn's Marilyn Room and the other in Leisa's main office.  The original is safely tucked away somewhere, far from sunlight and possible sticky fingers.  And even though it was a copy, I cannot tell you how exciting it was for me to see that inscription in person.  SO INCREDIBLY COOL!
Next, Leisa took us to the famed Cider Factory, which is no longer in use as a restaurant, but is currently only available as a wedding and special events venue.  The front room of the Cider House is still set up much the way it was in Edith's day and features an adorable little bar that one former waitress dubbed "The Biggest Little Bar in Nevada".
The walls of the front room are almost completely covered with autographed headshots and messages written to Edith on pieces of paper placemats, as had become the Cider Factory custom during Edith's day.
As you can imagine, I was absolutely drooling while reading the many inscriptions.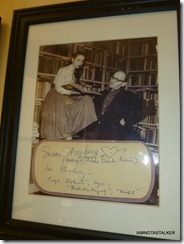 I was most excited to see the inscription from Lee Strasberg, Marilyn's beloved acting coach and founder of the Lee Strasberg Theatre and Film Institute, who accompanied the star to Virginia City.  Lee's daughter Susan also signed the placemat.
The back room of the former restaurant, which housed the original cider factory, is a beautiful rock-walled space that seems straight out of another era.
The room features a HUGE, floor-to-ceiling fireplace that was constructed completely out of rocks from the nearby hills.
We also got to walk through the inn's quaint garden area, which, as legend has it, was where Edith first met Marilyn upon the star's arrival in Virginia City.  All in all, Leisa spent over an hour showing us her lovely inn and regaling us with tales of its storied past.  My grandma, my dad, and I all absolutely fell in love with the place and my dad is already talking about booking a room there for a few days next summer.  I told him to count me in, so long as he reserves the Marilyn Room. 

Until next time, Happy Stalking! 

Stalk It: Edith Palmer's Country Inn is located at 416 South B Street in Virginia City, Nevada.  You can visit the Inn's official website here.
36920