Vitello's Italian Restaurant from "The Deep End of the Ocean"
Aug 29th, 2011 | By
Lindsay
| Category:
Movie Locations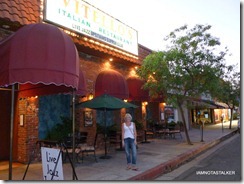 A couple of weeks ago, after doing some stalking in Beverly Hills, the Grim Cheaper and I decided to head over to the Valley to grab dinner at one of our very favorite eateries in all of Los Angeles – Vitello's Italian Restaurant in Studio City.  And even though I have blogged about the place twice before – first in June of 2008 and then again later that November –  due to the fact that it is set to undergo an extensive – and when I say extensive, I mean extensive – renovation and remodel in the near future, I figured that it was most definitely worthy of a re-post.
Vitello's was originally opened by Sal Vitello, a native New York baker, in 1964.  Ironically enough, at the time the place was not an Italian restaurant, but a modest subway sandwich shop which featured fresh, homemade bread.  In 1977, Sal sold his little eatery to brothers Joe and Steve Restivo, Sicilian natives who migrated to Los Angeles via Chicago.  The brothers added down-home, hearty Italian-style staples to the Vitello's menu, quickly turning the restaurant into a Los Angeles institution.
Thanks to its proximity to the many area movie studios, along with its fabulous fare, it was not long before Hollywood took notice of Vitello's.  As you can see above, the restaurant's main entrance is literally covered with autographed headshots.  Just a few of the stars who have been spotted dining at Vitello's over the years include Frank Sinatra, Sally Kellerman, Ana Ortiz, Tony Danza, Jason Alexander (the one from Seinfeld, not Britney Spears' ex-husband

), Life Goes On's Chris Burke, Candice Bergen, Melissa Joan Hart, Frankie Muniz, Michael Landon, Joanna Kerns, Dom DeLuise, Rick Fox, Scott Baio, Tom Smothers, and Wilford Brimley.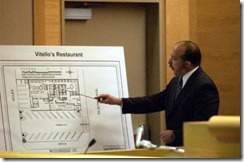 The restaurant's most famous celebrity guest, though, has to be actor Robert Blake, who used to be a regular patron of the eatery, dining there at least three times a week. On the evening of May 4, 2001, Blake notoriously grabbed dinner there with his then-wife, Bonnie Lee Bakley, in a booth that, according to the above photograph, was located in the bar area.
The actual bar area is pictured above. Shortly after the couple finished their meal, Bonnie was shot and killed just around the corner from the restaurant. And while Blake claimed that at the time of the shooting he had been walking back to the restaurant to retrieve a gun he had inexplicably left behind in his booth, he was arrested and charged with Bakley's murder on April 18, 2002. He was then acquitted of those charges in March of 2005, but a few months later was found liable for Bakley's wrongful death in a civil court.   Unlike was the case with Brentwood's Mezzaluna Restaurant, where Nicole Brown Simpson ate her last meal and which closed shortly thereafter, Vitello's association with the crime only seemed to further the eatery's fame and made the place even more of a Valley hot spot.
In 2005, Joe and Steve Restivo, seeking retirement, sold Vitello's to Matt Epstein, a Sherman Oaks real estate agent who had been a regular patron of the restaurant since childhood.  And while Epstein kept the menu and décor largely the same for quite some time, earlier this year he brought in a new chef, Tonino Cardia, and completely revamped the menu.  And I am very sad to report that it is not nearly as good as it used to be.  Gone are the vast majority of the hearty Vitello's staples that the GC and I had come to know and love and the few items that the new menu did retain have been completed made over.  The chicken marsala – which used to be my favorite entree – is a lackluster version of its former self and Vitello's famous garlic bread now tastes much like the kind that can be purchased in the frozen food aisle of your local supermarket.  Such an incredible shame!
There are also plans in the works to gut the interior of the restaurant and give it a completely new look.  Even the famous Vitello's wall mural will be coming down, as will the vintage leather booths.  The new design will apparently feature French doors in the entryway and a huge olive tree in the middle of the dining room.  And while it all sounds lovely, I am of the mantra that "if it's not broke, don't fix it".  Vitello's has been a veritable Los Angeles institution for decades, always packed to the gills whenever we have dined there.  It is widely noted that 59% of new restaurants close within three years of their opening, so for an eatery that has remained successful for over thirty-four years, you have to wonder why the owners would change a thing!  It is such a shame!  And while the super-nice manager came over to speak with us after we had expressed our disappointment with the new fare and even offered to comp our meal (which we turned down – we were not looking for a free meal, but just wanted to voice our opinion that the former cuisine was one hundred times better than the current), I am sad to say that I do not think we will ever be dining at Vitello's again – the food was that bad!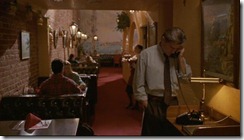 Besides being a celebrity hangout, our super-nice waitress also informed us that Vitello's has been used as a filming location!  Ironically enough, it stood in for two different locations in the 1999 movie The Deep End of the Ocean.  The interior very briefly appeared as the supposed Madison, Wisconsin-area Italian restaurant where Pat Cappadora (aka Treat Williams) worked towards the beginning of the flick.
And the exterior later popped us as Cappadora's, the supposed Chicago-area restaurant that Pat founded with his father, Angelo (aka Tony Musante), in the middle of the movie.
And while the interior was (I think) just a set, with its orange-toned walls, painted murals, and brickwork, it very closely resembles the real life interior of Vitello's.  Our waitress also informed us that the restaurant will be featured in an upcoming episode of Whitney, the yet-to-be released television series which stars Chelsea-Lately-regular Whitney Cummings.
Until next time, Happy Stalking! 

Stalk It: Vitello's Restaurant, from The Deep End of the Ocean, is located at 4349 Tujunga Avenue in Studio City.  You can visit Vitello's official website here.
37284