Figaro Bistrot from "Made of Honor"
Aug 30th, 2011 | By
Lindsay
| Category:
Movie Locations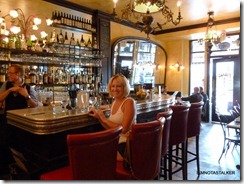 As I mentioned in my post about Le Petit Bistro back in early August, one location that I have been longing to stalk for quite some time now is Figaro Bistrot, an adorable little French cafe that has appeared in numerous productions over the years, most notably the Louis Vuitton Spring/Summer 2009 advertising campaign which featured pop star Madonna.  For whatever reason, though, the Grim Cheaper and I had just never made it out there.  Until this past Saturday evening, that is, when we found ourselves in Los Feliz and I suggested stopping by for a cocktail.  The sandwich board sign out in front of the restaurant proclaimed that Figaro offered "the very best Happy Hour in Los Feliz" and, let me tell you, it was not an exaggeration!  Not only did the GC and I absolutely stuff ourselves silly, but we managed to get out of there for under $45!
As you can see in the photographs above, Figaro Bistrot is an absolutely ADORABLE little spot.  Decorated with authentic French antiques, flower-shaped chandeliers, tiny sidewalk bistros, gilded mirrors, and a zinc-plated bar, the setting could not be more magical.  Walking through the front doors, one is immediately transported to Paris.  Not real life Paris, but a fantasy Paris – the Paris of the movies, the Paris that Bogey and Bergman so fondly reminisced about in Casablanca.  And the food!  Oh my god, the food!  It was quite simply out of this world!  The GC and I both ordered two items off of the happy hour menu, each of which were priced at around $5.  The GC opted for the Beef Carpaccio and Moules Gratinees aux Fromage (mussels gratin with parsley butter sauce), while I ordered the Mini Burger, which was quite simply the best burger I have ever had in my life, and the Croquettes de Crabe (crab cakes), which were also divine.  The GC was so insanely happy over the large portions, inexpensive prices, and fabulous fare that I can pretty much guarantee this is one spot we will be stalking again and again.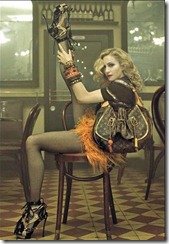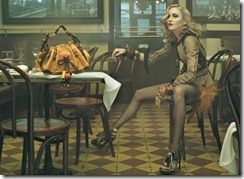 The Spring/Summer 2009 ad campaign for Louis Vuitton, which was directed by fashion icon Marc Jacobs and shot by legendary fashion photographer Stephen Meisel, featured the café quite prominently, most notably the bar area and the red leather banquettes located in the rear of Figaro's southern-most dining room.  And even though I am not a fan of Madonna – like at all – I have to admit that Meisel's pictures of her are absolutely stunning.  (The photographs above do not belong to me, but are the sole property of photographer Stephen Meisel and Louis Vuitton.)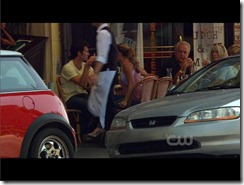 As I mentioned in my post about Le Petit Bistro in August, the exterior of Figaro was featured in a brief establishing shot in the Season 3 episode of 90210 titled "How Much is that Liam in the Window".  It was used as the exterior of the French restaurant where Charlie Selby (aka Evan Ross) took Annie Wilson (aka Shenae Grimes) on a date.  For some reason, though, the interior scenes were shot about six miles away at Le Petit Bistro in West Hollywood.
Our super-nice bartender informed us that Figaro had also made an appearance in the 2008 flick Made of Honor and I just about died of excitement.  You see, I have always had a very special place in my heart for that movie because when I first asked my non-celebrity-obsessed best friend, Robin, who is male and lives in Switzerland, to stand up for me at my wedding, he sent me an email which stated, "I would do absolutely everything to be at your wedding.  I just don't know what the best man has to do.  I'm not so familiar with the American rules of marriage.  I went to watch a really bad movie last Spring with Steffi [his girlfriend].  I, of course, don't know the name of the movie or of the actor in it, but it was with the guy who plays the doctor in Grace [his spelling, not mine – love it] Anatomy.  Anyway, he had to organize the bachelor party for women and stuff like that.  So you will have to give me a summary of the duties of the bride's best man."  So incredibly cute!  I immediately printed out that email and have carried it around in my wallet ever since. 

The "really bad" movie he was speaking about was, of course, Made of Honor, which I had actually never before seen.  So after our dinner at Figaro, the GC and I headed right on over to Blockbuster to rent it.  And I have to say that it was not half bad.  It is not great, mind you, but it is a cute, little lightweight romantic comedy.  Anyway, Figaro Bistrot was featured a few times in the flick.  The exterior first pops up as the supposed Manhattan bakery where Hannah (aka Michelle Monaghan) tries to guess what dessert her best friend Tom (aka Patrick Dempsey – the guy who plays the doctor in Grace Anatomy

) is going to order.
It later pops up in the scene in which Tom, who has since realized that he is in love with Hannah, takes a random date out for dessert and tries to get her to play the guessing game, which she fails miserably at.  While there, she also complains about the long line, to which Tom says, "This is the best bakery in the world!  That's why it's worth waiting in line."
And, finally, the interior pops up in the scene in which Tom, while eating two pieces of cake, thinks about Hannah, who is on a business trip in Scotland for six weeks.
Figaro Bistrot is also something of a celebrity hot spot.  Just a few of the stars who have been spotted there include Katherine Heigl, Josh Kelley, Isabel Lucas, Lindsay Price, Jessalyn Gilsig, and Keifer Sutherland.  The GC and I also once spotted Archie Panjabi dining at one of the restaurant's sidewalk tables while we were walking by after grabbing a bite to eat at nearby Fred 62.
Until next time, Happy Stalking! 

Stalk It: Figaro Bistrot, from Made of Honor, is located at 1802 North Vermont Avenue in Los Feliz.  You can visit the restaurant's official website here.  Figaro offers Happy Hour from 5 to 7 p.m. daily, including Saturdays and Sundays!
37338