Wattles Mansion from "Troop Beverly Hills"
Sep 8th, 2011 | By
Lindsay
| Category:
Movie Locations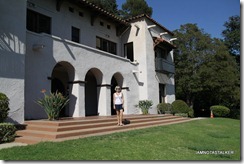 After re-watching Troop Beverly Hills a couple of weeks back and subsequently stalking the mansion where the Nefler family lived, I became just a wee bit obsessed with tracking down some of the other locales featured in the 1989 flick.  Thankfully IMDB had quite a few sites listed on its Troop Beverly Hills filming locations page, one of which was Wattles Mansion – a historic and oft-filmed at Hollywood estate that, amazingly enough, I had never before heard of.  So I immediately dragged the Grim Cheaper right on out to stalk the place the following weekend.
Wattles Mansion was originally built in 1907 by Myron Hunt and Elmer Grey, the legendary Los Angeles-area architects who were also responsible for designing the Ambassador Hotel, the Huntington Art Gallery, Pasadena's Wentworth Hotel (now the Langham), Occidental College (aka California University from fave show Beverly Hills, 90210), the California Institute of Technology, and the Beverly Hills Hotel.  The large Mission Revival-style dwelling was commissioned by a wealthy Omaha, Nebraska native named Gurdon Wallace Wattles to be used as his family's winter residence.  The estate, which sat on 49 acres and was called"Jualita", featured 6,167 square feet of living space, seven bedrooms, seven bathrooms, a wood-paneled library with a hand-painted ceiling, black-and-white checkerboard marble flooring, a terracotta tile terrace, wood-beamed ceilings, and a full basement.  The home's extensive 5-acre formal garden area consisted of a Japanese Garden, an Italian Rose garden, a Spanish garden, an American garden, a palm court, sparkling ponds, and several fruit orchards.  In an amazing show of generosity, Gurdon opened his beloved gardens to the public upon moving into his new home and it was not long before they became a wildly popular tourist attraction.
After Gurdon passed away in 1932, his widow, Julia Vance, and their son, Gurdon Wallace Wattles Jr., continued to live at the mansion.  In 1968, they sold the property to the City of Los Angeles and the Department of Parks and Recreation subsequently took over.  Sadly, the city lacked the money necessary to maintain the large estate and it quickly fell into a serious state of disrepair.  Gurdon's formerly glorious gardens were taken over by drug dealers, squatters, and vandals, and what they didn't destroy, a series of mudslides in the 1980s did.  Thankfully, in 1983 the Hollywood Heritage preservation group leased the property and began a massive restoration project before moving in and using the historic mansion as their headquarters.  It was at that time that the abode, which is a City of Los Angeles Cultural Monument, became a popular filming location.  For reasons that are not entirely clear, Hollywood Heritage was served with an eviction notice in 2008 and finally vacated the property in May of 2009.  The mansion is currently being maintained by the Los Angeles Department of Parks and Recreation once again.  (I snapped the interior pictures through one of the estate's front windows.)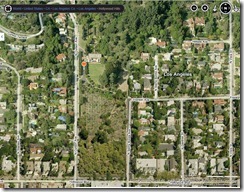 The piece of property, which you can see in the above aerial view, is now made up of three separate areas.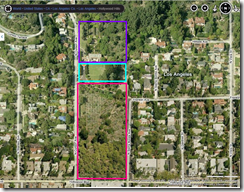 The section denoted with a pink square above, which measures 4.2 acres, was turned into a community garden in 1975 and has been continuously maintained by local residents.  It is private and not open to the public.  The middle section, which is denoted with a blue square, is a park known as Wattles Garden Park.  It is open to the public daily from dusk until dawn.  The mansion and formal garden area, which is denoted with a purple square above, is not open to the public, but is available for use as a special event and wedding venue.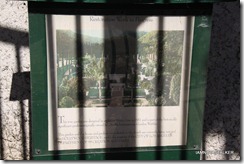 And although the formal gardens are not accessible to the public, from what was visible from the park, that area once again appears to be in a sad state of disrepair.  According to sign a posted on the premises, a restoration is currently in progress, so hopefully they will not look that way for long.
Wattles Mansion actually stood in for two different locations in Troop Beverly Hills. It first appeared as the Beverly Hills Rest Haven where Phyllis Nefler (aka Shelley Long) and her group of Wilderness Girls performed their community service requirement.
While there, Phyllis and her daughter, Hannah (aka Jenny Lewis), taught a group of senior citizens how to do the "Freddy" dance, so I, of course, just had to do a little recreation of that scene while I was stalking the place. 

In a later scene, the northern-facing side of Wattles Mansion and the formal garden area were used as the location of the "khaki" fashion show that was hosted by Robin Leach and featured cameos by Pia Zadora and Dr. Joyce Brothers.
Wattles Mansion was also used extensively as the demon-haunted home inherited by Jonathan Graves (aka Peter Liapis) in the 1985 horror-comedy Ghoulies.
The real life interior of the mansion, including the kitchen area and the formal library, appeared in Ghoulies, as well. You can check out some great interior photographs of the place here.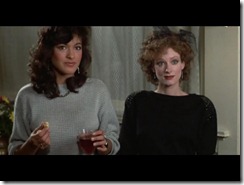 Randomly enough, Law & Order: Special Victims Unit's Mariska Hargitay made her feature film debut in Ghoulies.  She is pictured in the grey sweater above.  The actress was just 21 at the time that the movie was filmed.
Wattles Mansion also appeared in Diana Ross' ultra-weird 1985 music video for her single "Eaten Alive", which was co-written by none other than the King of Pop himself, Michael Jackson.
Eaten Alive Music Video–Filmed at Wattles Mansion
You can watch that video by clicking above.
In the 1989 movie Rain Man, Wattles Mansion stood in for the institution where the psychiatric evaluation of Raymond Babbitt (aka Dustin Hoffman) took place.
Wattles was where Jose (aka Jacob Vargas) first met Maria (aka Jennifer Lopez) in the 1995 flick My Family.
And finally, the mansion popped up in the Season 3 episode of The O.C. titled "The Man of the Year" as the supposed Montecito-area boarding school attended by Marissa Cooper's (aka Mischa Barton's) sister, Kaitlin (aka Willa Holland).
Until next time, Happy Stalking – and Happy Voting!  Don't forget to vote for me today to be the new face of About Me! 

Stalk It: Wattles Mansion, from Troop Beverly Hills, is located at 1824 North Curson Avenue in Hollywood.  The interior of the mansion and formal garden areas are not accessible to the public, but Wattles Park is open daily from dawn until dusk.  You can visit the official Wattles Mansion website here.
37866