Bob's Big Boy in Burbank from "Heat"
Sep 16th, 2011 | By
Lindsay
| Category:
Movie Locations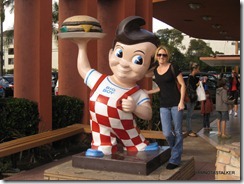 While doing some stalking in the Burbank area way back in November of last year, I dragged the Grim Cheaper out to the Bob's Big Boy restaurant on Riverside Drive to grab a bite to eat.  And even though the eatery has quite a vast Hollywood history, is a filming location, serves fried food (my favorite!), and is currently the oldest remaining Bob's in the entire restaurant chain, for whatever reason in my ten-plus years of living in Los Angeles I had yet to dine there.  But, let me tell you, the place was well worth the wait!  Both the GC and I absolutely LOVED it!
Bob's Big Boy in Burbank was originally built in 1949 by franchise owners Scott MacDonald and Ward Albert, and was designed by Wayne McAllister, the legendary Googie-style architect who also designed the Biltmore Hotel's Biltmore Bowl ballroom, the Sands Hotel and Desert Inn in Las Vegas, and the Hollywood Roosevelt Hotel's Cinegrill nightclub.  In 1993, after several changes in  ownership and a few dining room remodels, the property was purchased by the MacDonald family, who immediately set about an extensive renovation in order to restore the Streamline-Moderne-style eatery to its original glory.  The MacDonald's also added a front patio to the premises, re-fabbed the famous exterior signage, and, best of all, re-instated car-hop service from 5 to 10 p.m. each Friday and Saturday night.  So incredibly cool!  In 1993, the restaurant was also deemed a California Point of Historical Interest.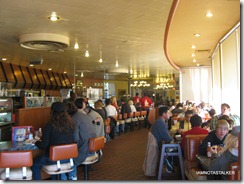 Visiting Bob's Big Boy, one is immediately transported back in time, thanks largely to its curved counter and open kitchen ;
cantilevered roof and petal-like umbrellas,
and commanding 50s-style signage –
the most impressive of which is the 70-foot-tall free-standing display sign pictured above.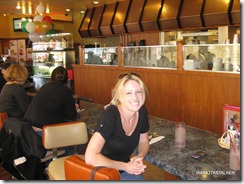 And the food!  Oh, the food!  I ordered the chicken strips and they were absolutely out-of-this-world!  And don't even get me started on the ranch dressing!  I was almost ready to start eating it by itself, soup-style, it was so good!  The GC opted for the famous "Big Boy" double-decker hamburger, which he loved.  The "Big Boy" was originally invented by Bob's Big Boy founder Bob Wian in 1937 and was the precursor to the now-legendary McDonald's Big Mac.  He created the sandwich as a joke one night when one of his regular customers asked for a "different" kind of burger.  And the rest, as they say, is hamburger history.  Amazingly, Bob was also one of the very first restaurant owners to offer his employees a profit-sharing plan and medical insurance.
Bob's Big Boy in Burbank has been a celebrity hangout since the very beginning.  Just a few of the stars who have been spotted there over the years include Bob Hope (who was a regular), James Dean, Mickey Rooney, Dana Andrews, Jonathan Winters, Alexis Smith, Debbie Reynolds, Craig Stevens, Miley Cyrus, Demi Lovato, Taylor Lautner, Tiffany Thornton, Tori Spelling, Melissa Joan Hart, David Henrie, Taylor Swift, Joey Lawrence, Cheech Marin, Selena Gomez, Jay Leno, David Lynch, Dennis Haskins, and Freddie Prinze Jr.  During the summer of 1965, all four members of The Beatles famously dined at one of the eatery's back booths, which is pictured above.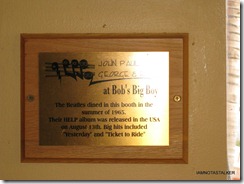 That occasion was marked with the gold plaque pictured above, which one employee told me has been stolen countless times over the years.  I cannot tell you how much I hate hearing things like that! Apparently, the owners were sick of constantly having to replace the sign, so for a time they left the wall in that area blank.  Thankfully though, the plaque was back in its proper place when I stalked the restaurant last year.
And, as I mentioned above, Bob's Big Boy in Burbank is also a filming location!  The diner was featured twice in the 1995 heist movie Heat.  It first popped us as the restaurant where a fresh-out-of-prison Donald Breedan (aka Dennis Haysbert) got hired as a janitor/cook.
Towards the end of the movie, it shows up once again in the scene in which Neil McCauley (aka Robert De Niro), Michael Cheritto (aka Tom Sizemore), and Chris Shiherlis (aka Val Kilmer) convince Donald to be the driver for their upcoming bank heist.  Apparently there was once a plaque displayed in the booth where that scene took place commemorating the occasion, but it was stolen countless times as well and had yet to be replaced in November.
In the Season 8 episode of Dancing with the Stars, Derek Hough took Lil' Kim to Bob's Big Boy in Burbank to get her into character for their upcoming 50s jive performance.  You can watch a clip of that segment being filmed here.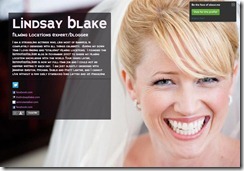 Until next time, Happy Stalking and Happy Voting – don't forget to vote for me to be the face of About Me!  There are only five voting days left – you can vote once every 24 hours now through Tuesday, September 20th. 
Stalk It: Bob's Big Boy, from Heat, is located at 4211 West Riverside Drive in Burbank.  You can visit the restaurant's official website here.  Priscilla's Coffee Tea & Gifts, from Desperate Housewives, which I blogged about back in December of 2009, is located just across the street from Bob's at 4150 Riverside Drive in Burbank.
38625