Bob's Big Boy Broiler in Downey from "License to Drive"
Sep 20th, 2011 | By
Lindsay
| Category:
Movie Locations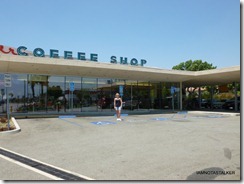 Hold onto your hats, my fellow stalkers, 'cause today's post is going to be a long one!  Another Bob's Big Boy location that the Grim Cheaper and I stalked recently was the legendary Bob's Big Boy Broiler, aka Johnie's Broiler, located on Firestone Boulevard in Downey.  I had been longing to stalk the historic restaurant ever since 1988 when it stood in for Archie's Atomic Drive-In in fave movie License to Drive.  Sadly though, shortly after I moved to Southern California ten years ago, the eatery shuttered it doors and was then later partially – and illegally – demolished.  It was not until this past year that the place re-opened and I was finally, finally able to drag the GC out there to see it in person.
Johnie's Broiler was first founded in 1958 by former Clock-Broiler-restaurant-chain-partner Harvey Ortner and his wife, Minnie.  In 1950, the couple purchased a poultry farm located at the corner of Firestone Boulevard and Old River School Road in Downtown Downey and hired architect Paul B. Clayton to design a Googie-style coffee shop on the 2-acre site.  According to Clayton's 2005 obituary in the Los Angeles Times, the architect later called the restaurant "the most important commercial design of his entire career".  Harvey's Broiler, as it was then-named, was an immediate success, sometimes attracting over 5,000 patrons in a single weekend.  Much as it was depicted in License to Drive, the spot was a popular high school hang-out where teens would come to grab a bite to eat and show off their cars.  In 1965, the Ortners retired and sold their restaurant to a man with the last name of Johnson.  He changed the eatery's moniker to Johnie's Broiler.  Shortly thereafter, a former Harvey's chef named Christos Smyrniotis purchased the property.  He still owns the restaurant to this day.   And while it continued to be successful, especially as a filming location, for whatever reason Johnie's closed its doors in February of 2002.  It was then transformed into a used car dealership and the interior was heavily remodeled to suit the needs of its new tenant.
When the car dealership's lease expired a few years later, a new tenant named Aras Yanik moved in.  Yanik immediately filed demolition permits with the City of Downey, but those permits were rejected.  Local residents and area preservations were horrified at Yanik's plans to level the historic site and quickly took action, having the property declared eligible for the California Register of Historical Places, which protected it, in theory at least, from any alterations.  But despite the historical status and the city's rejection of the demolition permits, at approximately 3 p.m. on the afternoon of Sunday, January 7th, 2007, Yanik illegally began to demolish the restaurant.  Police were called in and Yanik was slapped with three misdemeanor charges and his lease on the property was revoked.  Sadly though, the damage was done.  The beloved coffee shop had been almost entirely destroyed.
You can watch a video which features numerous photographs of the destruction by clicking above.
In April 2008, Bob's Big Boy franchise owner Jim Louder signed a lease with Smyrniotis and, along with help from Downey's Redevelopment Agency and the Downey Historical Society, set about salvaging materials from the wreckage site and rebuilt the eatery in its entirety, using the original Harvey's blueprints.  The restoration project won the Los Angeles Conservancy's prestigious President's Award and the new Bob's Big Boy Broiler opened to much fanfare on October 19, 2009.
Johnie's Broiler has been featured in countless productions over the years, many more so than I could ever dream of chronicling here.  But I will do my best to try.  In License to Drive, Les Anderson (aka Corey Haim) and his buddies, Dean (aka Corey Feldman) and Charles (aka Michael Manasseri), get into a scuffle with some punks while dining at the fictional high school hangout "Archie's Atomic Drive-In".
In 1988's My Stepmother Is an Alien, Johnie's is where Celeste Martin (aka Kim Basinger) goes to find breakfast recipes.
In 1989's She's Out of Control, Doug Simpson (aka Tony Danza) takes his daughter Katie (aka Ami Dolenz) and her boyfriend Joey (aka Dana Ashbrook) to Johnie's for a bite to eat.
In 1989's Earth Girls Are Easy, Valerie (aka Geena Davis), Candy (aka Julie Brown) and their new alien friends, Mac (aka Jeff Goldblum), Wiploc (aka Jim Carrey), and Zeebo (aka Damon Wayans), drive by Johnie's Broiler in a blink-and-you'll-miss-it scene.
In 1993's What's Love Got to Do with It, Johnie's is where Ike Turner (aka Laurence Fishburne) and Tina Turner (aka Angela Bassett) get into a fist-fight.
In 1993's Short Cuts, Johnie's is the restaurant where Doreen Piggot (aka Lily Tomlin) works.
Johnie's shows up twice in the 1994 comedy Reality Bites.  It first appears as the spot where Lelaina Pierce (aka Winona Ryder) runs into Troy Dyer (aka Ethan Hawke) after her disastrous job interview during which she is unable to define the word "irony".
It later pops up in my very favorite scene in the entire movie as the restaurant where Lelaina and Vickie Miner (aka Janeane Garogalo) discuss the television series Melrose Place.
In 1995's Heat, Johnie's Broiler is where Neil McCauley (aka Robert De Niro) tries to kill one of his crew members, Waingro (aka Kevin Gage).
In 1997's The Game, a destitute Nicholas Van Orton (aka Michael Douglas) stumbles into Johnie's to ask patrons for a ride to San Francisco.
In 1998's Can't Hardly Wait, Johnie's is where Preston Meyers (aka Ethan Embry) meets The Angel (aka Jenna Elfman) while trying to call Barry Manilow on a payphone.
In the Season 7 episode of The X-Files titled "Orison", which aired in 1999, Johnie's stood in for a supposed-bus stop/coffee shop in Harrisburg, Illinois where Fox Mulder (aka David Duchovny) and Dana Scully (aka Gillian Anderson) search for a murder suspect.
In the 1999 movie Jawbreaker, Johnie's is where Courtney (aka Rose McGowan), Julie (aka Rebecca Gayheart), and Marcie (aka a pre-Dexter Julie Benz) discover that they have accidentally killed their friend.
In my favorite scene from 2000's Bounce, the diner was where Abby Janello (aka Gwyneth Paltrow) removed toilet paper off of the shoe of an unknowing woman.
Supposedly the restaurant also appeared in Mission: Impossible II, but I scanned through the movie earlier today and did not see it anywhere.  It did however appear in Limp Bizkit's 2000 video for the song "Take A Look Around", which was featured on the Mission: Impossible II soundtrack.
You can watch that video by clicking above.
Johnie's was also used in the 2000 music video for the Bob Dylan song "Things Have Changed".
You can watch that video by clicking above.
Johnie's was also used extensively in the music video for the 2001 Staind song "For You".
You can watch that video by clicking above.
It also popped up in the 2001 Kurupt "It's Over" music video.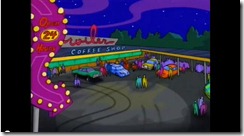 A cartoon rendering of the restaurant was even made for that video . . .
. . . which you can watch by clicking above.
The diner was featured in the 2001 music video for Madonna's "What It Feels Like For a Girl".
Which you can watch by clicking above.
It was also used in Knoc-turn'al's "The Knoc" music video in 2002.
You can watch that video by clicking above.
In the ultra-creepy 2002 movie One Hour Photo, Johnie's is the coffee shop where Seymour Parrish (aka Robin Williams) ate a late-night dinner after getting off work at the local photo lab.
Most recently, Bob's Big Boy Broiler appeared in the Season 4 episode of Mad Men titled "Tomorrowland", in the scene in which Sally Draper (aka Kiernan Shipka) spills a milkshake and her father, Don Draper (aka Jon Hamm), is shocked to discover that his girlfriend, Megan Calvet (aka Jessica Pare), is not upset by it.
That scene was shot in a booth located in Johnie's side room, which was the same room that appeared in the Melrose Place scene in Reality Bites.
There is quite a bit of erroneous information out there about Johnie's Broiler's filming history.  For instance, the 2003 flick Matchstick Men was not filmed at Johnie's, but at KJ's Diner & Restaurant near LAX; 1998's American History X was not filmed at Johnie's in Downey, but at the Johnie's Coffee Shop Restaurant located on Wilshire Boulevard in the Miracle Mile District of L.A.; 1980's Midnight Madness was also shot at Johnie's Wilshire, not at the Broiler; as was the Sean Kingston video for the song "Beautiful Girls".
Until next time, Happy Stalking and Happy Voting – don't forget to vote for me to be the face of About Me!  Today is the VERY LAST day to vote, so please get those votes in!  

Stalk It: Bob's Big Boy Broiler, aka Johnie's Broiler, aka Archie's Atomic Drive-In from License to Drive, is located at 7447 Firestone Boulevard in Downey.  You can visit the restaurant's official website here.
39034