Barney's Beanery in West Hollywood
Sep 23rd, 2011 | By
Lindsay
| Category:
Movie Locations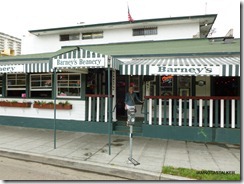 Another location that has long been stockpiled (or should I say stalk-piled?) in my ever-growing stalking backlog is the original Barney's Beanery restaurant in West Hollywood, which has been featured in numerous productions over the years and which I visited with fellow stalker Chas, from the It'sFilmedThere website, this past July.  For whatever reason, even though the eatery is a major celebrity hot spot and a veritable Los Angeles institution, in my ten-plus years of living in Southern California I had yet to stalk the place.
Barney's, which dubs itself as being the third oldest restaurant in Los Angeles, was originally founded by John "Barney'" Anthony, a Los Angeles native who got his culinary start by serving chili burgers and onion soup to his fellow soldiers during World War I.  He opened his first men's-only Beanery in Berkeley, California in 1920, but moved it to its present location on Santa Monica Boulevard in West Hollywood in 1927, after deciding that he wanted to live in a warmer climate.  The eatery started out as little more than a one-room wooden shack with a small bar, but thanks to its location, which at the time was in the middle of nowhere, on Route 66, it attracted hundreds of travelers who were making their way from the East Coast to California.  It became common practice for those patrons to leave their license plates behind at the bar in a symbol of saying goodbye to their previous life.  The Barney's of today is literally wallpapered with hundreds upon hundreds of old out-of-state license plates.  When Anthony passed away on November 25th, 1968, a man name Erwin Held purchased the restaurant and promised to keep it in its original form.  And despite a few expansions and another change in ownership (today the restaurant belongs to David Houston and Avi Fattal), the ramshackle little roadhouse-style Barney's Beanery still looks much the same today as it did when it originally opened in 1927.  In recent years, David and Avi have opened up four sister eateries and now have Barney's locations in Old Town Pasadena, Santa Monica, Burbank, and Westwood.
The restaurant's long-time popularity is largely due to its down-home food.  Unbelievably, the menu features over 1,000 items (and no, that is a not a typo!), including 45 different varieties of chili, 20 different burgers with 24 different toppings, 13 types of hot dogs, and 200 varieties of beer.  As they say at Barney's, "If we don't have it, you don't want it!"   The menu is so large in fact, containing everything from Mexican fare to pizza and calzones, that it is printed in newspaper format and boasts a whopping 12 pages!  And while I did not eat at the original location with Chas that day, the Grim Cheaper and I used to frequent the Santa Monica outpost almost weekly when he lived on the West Side and I have to say that the fare is INCREDIBLE!  The place serves up comfort food at its finest, including delectable chicken strips (my fave!) and peanut butter and jelly sandwiches (SO COOL!).  As owner David Houston is quoted as saying on the inmag website, "We're not concerned about dieting, carb counting and all that because this is where you go to get away from it all."  LOVE IT!
As I mentioned above, several productions have been filmed at Barney's.  The restaurant appeared almost weekly on the television series Columbo, as the regular hang-out of the show's eponymous chili-loving Lieutenant Columbo (aka Peter Faulk).  It first showed up in 1971 in the the Season 1 episode titled "Ransom for a Dead Man", in which filming took place at the actual eatery. It next popped up in the Season 1 episode titled "It's All In The Game" and in numerous later episodes as well, but only the exterior of the restaurant was actually used. The interior was just a set that had been based on the real Barney's interior.
In 1984's Body Double, Jake Scully (aka Craig Wasson) grabs a drink at Barney's Beanery after discovering his girlfriend in bed with another man.
in 1985's Real Genius, Barney's stood in for Purgatory, the burger joint where Chris Knight (aka Val Kilmer) and his friends met up with Lazlo Hollyfeld (aka Jon Gries).
Val Kilmer returned to Barney's in 1991 to shoot a rather disgusting scene for The Doors, in which Jim Morrison relieves himself on the bar.  What is odd is that while Barney's today still looks much the same as it did in Body Double, it does not look the way it did in The Doors, which was filmed some seven years later.  I am guessing that producers had the bar dressed for the filming of The Doors to make the place appear as it did back in the days when Jim Morrison actually did hang out there.
In 2003's Stuck on You, Barney's Beanery was where conjoined twins Bob Tenor (aka Matt Damon) and Walt Tenor (aka Greg Kinnear) discuss undergoing surgery to separate themselves.  The restaurant was also featured in the 1986 flick Out of Bounds, which unfortunately I could not find a copy of anywhere. Fail!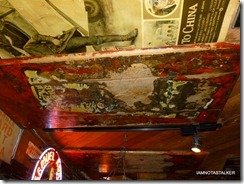 As I mentioned above, Barney's has long been a celebrity hot spot.  Just a few of the stars who have dined there over the years include Clara Bow (Hollywood's first "It Girl"), Jim Morrison, John Barrymore, Clark Gable, Errol Flynn, Judy Garland, Lou Costello, Charles Bukowski, Marlon Brando, Bette Davis, Jack Nicholson, Elliot Gould, Bette Midler, Mel Gibson, Emilio Estevez, Demi Moore, Drew Carey, Rob Lowe, Keefer Sutherland, Charlie Sheen, John Cusack, Andrew McCarthy, Liza Minnelli, Matthew McConaughey, David Arquette, Chace Crawford, Lauren Conrad, my girl Jen Aniston, my other girl Marilyn Monroe, Ashton Kutcher, Courteney Cox, Josh Stewart, Wilmer Valderrama, Ed Westwick, Jessica Szohr, Adam Sandler, Billy Idol, James Dean, Ronald Regan, and Jean Harlow.  Supposedly Quentin Tarantino wrote much of Pulp Fiction while sitting in his favorite booth at Barney's.  And Janis Joplin famously ate her last meal at the restaurant shortly before midnight on October 3rd, 1970.  Janis apparently carved her name into the tabletop pictured above which is currently affixed to Barney's ceiling.  Unfortunately though, we could not find that carving anywhere, but the FindaDeath website has a great picture of it, which you can take a look at here.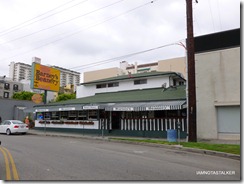 Big THANK YOU to Chas, from the It'sFilmedThere website, for taking me to this location.
Until next time, Happy Stalking! 

Stalk It: Barney's Beanery, from Body Double, is located at 8447 Santa Monica Boulevard in West Hollywood.
39236