Tom Cruise and Katie Holmes' Former Mansion
Sep 30th, 2011 | By
Lindsay
| Category:
Celebrity Homes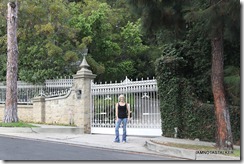 I recently finished reading Tom Cruise: An Unauthorized Biography which was written by Andrew Morton, the legendary celebrity biographer who also penned Diana: Her True Story in Her Own Words, and I have to say that it was absolutely FABULOUS!  I honestly cannot more highly recommend it.  Not only was the book, which became a 2008 bestseller, a fascinating read, but it also got me completely obsessed with Dawson's Creek once again and I just started re-watching the series from the beginning last week.  SUCH a great show and one of these days I have GOT to get myself to Wilmington, North Carolina to do some stalking of the locales, but I digress.  Anyway, one of the locations talked about in Tom Cruise: An Unauthorized Biography was the Beverly Hills manse that the actor called home when he first started dating Katie Holmes and which Katie also later moved into.  So I, of course, just had to drag the Grim Cheaper right on out there to stalk the place as soon as I finished reading the book.
Sadly though, as you can see above, virtually no part of the mansion is visible from the street.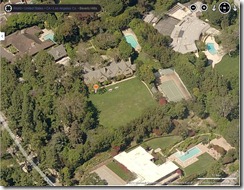 But, as I've said before, that's why God created aerial views.  As you can see above, Tom and Katie's former house is absolutely gargantuan.  In fact, it would be more appropriate to call the place a "compound" rather than a "house".  The English-Country-style abode, which was originally built in 1927, features a 6,685-square-foot main house with five bedrooms and five baths, a guest house which is comprised of three separate apartments, each with their own kitchen and bath!, a screening room, formal gardens, a sunken tennis court, a pool, a spa, and almost three full acres of secluded land.  According to the Berg Properties website, Tom Cruise first leased the residence in 2001, shortly after his separation from then-wife Nicole Kidman.  TomKat moved out of the home sometime in 2007, at which point it went on the market at a rental rate of $100,000 per month.  Not kidding!  According to fave website The Real Estalker, Russell Crowe may have lived there for a time after the Cruises left.  And it appears that the property is once again available for lease.  You can check out the real estate listing – and see some fabulous interior photographs of it – here.
And, amazingly enough, not only was the abode once the home of one of the world's biggest movie stars, but the place is also a filming location!  In 2001's Blow, the mansion was where George Jung (aka Johnny Depp) lived with his wife, Mirtha (aka Penelope Cruz).  It was featured in the memorable scene in which George shows his father, Fred (aka Ray Liotta), his extensive collection of cars.  The home was also where George was arrested by the FBI during his 38th birthday party.
The interior of the house was also used in the filming.
In the Season 3 episode of Californication titled "Wish You Were Here" the mansion was the residence of Dean Stacy Koons (aka The O.C.'s Peter Gallagher) and his wife, Felicia (aka Embeth Davidtz), where Hank Moody (aka David Duchovny) attended a dinner party.
The real life interior of the mansion also appeared in that episode.
And the mansion also shows up each week on the ABC Family series Switched at Birth as the residence of the Kennish family – Bay (aka Vanessa Marano), Toby (aka Lucas Grabeel), John (aka D.W. Moffett), and Kathryn (aka Lea Thompson) – and the Vasquez family – Daphne (aka Katie Leclerc), Regina (aka Constance Marie), and Adrianna (aka Ivonne Coll).
Although the interior is, I believe, just a set.  As you can see in the screen captures above, it does not look at all like the real life interior of the former Cruise home.
But the backyard, pool, and guest house scenes all take place at the actual house.
Until next time, Happy Stalking! 

Stalk It: Tom Cruise and Katie Holmes' former house is located at 918 North Alpine Drive in Beverly Hills.
39815