The "Doppelganger" Apartment Building
Oct 6th, 2011 | By
Lindsay
| Category:
Haunted Hollywood
,
Movie Locations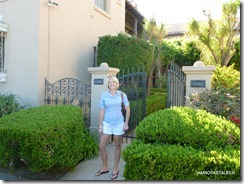 Last week, while perusing through my friend and fellow stalker Tony's Flickr photostream – which is comprised of an absolutely AMAZING collection of pictures of hundreds upon hundreds of filming locations – I came across his photographs of the apartment building that was used in the thriller Doppelganger. And while I had absolutely loved me some Doppelganger when it first came out way back in 1993, I had not seen the movie in such a long time that I had somehow forgotten Drew Barrymore was even in it!  So I decided it was most definitely time for a re-watch and ran right out to rent the flick that very night.  Unfortunately, it was not nearly as good as I had remembered it to be, especially the ending which I did not understand at all.  But I, nevertheless, still had to drag the Grim Cheaper right on out to stalk the apartment building that very same weekend – especially since it fit in so perfectly with my Haunted Hollywood theme!
In Doppelganger, Holly Gooding (aka Drew Barrymore) migrates from New York to Los Angeles after being cleared of a murder charge, whereupon she moves into an apartment building with a struggling mystery writer named Patrick Highsmith (aka Father of the Bride's George Newbern).
In the movie, the idyllic little building, which has a central courtyard, a two-tiered fountain, and a communal birdcage, is named "Angel's Court" and it is supposedly located at 1167 North Orange Grove Avenue in the Hollywood area.
In reality, the building is located just east of Hollywood and south of Thai Town and is, sadly, not nearly as inviting or picturesque in person as it appeared to be in Doppelganger.  Don't get me wrong, the building is by no means unattractive, but the neighborhood where it is located is, unfortunately, a bit on the iffy side and the courtyard that seemed so charming onscreen is rather bare in real life.  I am guessing that the fountain and birdcage that appeared in the movie, along with the archway that was situated over the front gate, were just props that were brought in solely for the filming as they are no longer there.
In Doppelganger, Patrick and Holly lived in Apartment #2 and I am guessing that the real life interior of that particular unit was also used in the filming.
And, according to my buddy E.J. over at The Movieland Directory website, the building, which was originally constructed in 1922, was once also home to a few celebrities – cinematographer Harry Zech lived there during the 1920s and silent film actress Frances Deamer lived there in the 30s.
Big THANK YOU to fellow stalker Tony for finding this location!   You can check out Tony's FANTASTIC Flickr photostream, which features countless filming locations, here.
Until next time, Happy Stalking! 
Stalk It: The Doppelganger apartment building is located at 1165 North Hobart Boulevard in Los Angeles.  In the movie, Patrick and Holly lived in Apartment 2 and FBI Agent Stanley White (aka Dan Shor) lived in Apartment 6.
40120