The "American Horror Story" House
Oct 12th, 2011 | By
Lindsay
| Category:
Haunted Hollywood
,
TV Locations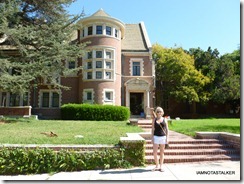 Last week, fellow stalker Owen sent me an email with a tip, as well as this Curbed LA article, about a Haunted-Hollywood-type location that he thought I might be interested in stalking – the imposing brick and marble abode which figures as the focal point of the new television series American Horror Story.  And right he was!  I had just TiVo-ed the premiere episode of the show the previous night and could hardly wait to sit down and watch it.  And I was not disappointed – American Horror Story is absolutely riveting!  The fact that Owen had already tracked down the main location used in it was like icing on the cake!  Randomly enough, another fellow stalker named August sent me an email this past Thursday evening in which he also tipped me off to the location of the American Horror Story house, along with a link to the exact same Curbed LA article that Owen had also sent!  I figured the universe was most definitely trying to tell me something, so I dragged the Grim Cheaper right on out to stalk the place this past weekend.
The American Horror Story house was originally built sometime during the early 1900s (the home's official website says it was built in 1902, but Curbed LA and various other sites state that it was most likely constructed in 1908) by Alfred F. Rosenheim as his personal residence.  The prominent Los Angeles architect also designed the Majestic Theatre on Broadway, the Herman W. Hellman Building in Downtown Los Angeles (L.A.'s very first first ten-story building), the Doheny Mansion's glass conservancy and palm house in West Adams, and the Second Church of Christ Scientist, also in West Adams.  The Rosenheim residence, which in 1999 was declared Los Angeles' Historic-Cultural Monument Number 660, features a 9,660-square-foot, three-story main house, 7 bedrooms, 7 baths, Tiffany stained-glass windows, as well as Tiffany glass doors and light fixtures, maid's quarters, a library, a hand-painted Japanese gold- and silver-leafed ceiling, a formal dining room, six different Batchelder fireplaces, a solarium, and a 1,600-square-foot basement.  According to the Paradise Leased blog, upon its unveiling, the Los Angeles Times stated that the mansion was "magnificently appointed" and featured "almost every conceivable modern convenience and luxury" – including an intercom system that is still in working condition to this day!
In 1918, Rosenheim sold his self-designed abode to a mining tycoon named A.J. McQuatters, who used the mansion as his winter home.  The property went through a succession of different residents in the following years, including character actor Edward Everett Horton, who leased the home for a short while, and the Sisters of Social Service, who converted the dwelling into a convent.  In 1954, the Sisters also built a 50-foot-long, 4,500-square-foot detached chapel on the premises. That chapel has since been transformed into a recording studio.  According to Curbed LA, the Rosenheim house has been on and off the market since 1999 and is currently for sale for a cool $4.5 million.
As you can see above, the residence, which sits on a 3/4-acre, corner plot of land and is truly magnificent in person, is actually much larger than its façade would lead you to believe.  The place is absolutely GINORMOUS!
American Horror Story House–For Sale
You can watch the home's real estate video by clicking above.
The pilot episode of American Horror Story opens up in the year 1978 and shows two twin boys wreaking havoc on a dilapidated old mansion.
The real life interior of the property, which you can see pictures of here, was used in the filming of those scenes, although it was dressed considerably to appear neglected and run-down.
The episode then switches to the present day where it begins to follow the story of the Harmon family – mother Vivien (aka Connie Britton), father Ben (aka Dylan McDermott), and daughter Violet (aka Taissa Farmiga, who, in real life, is the younger sister of Up in the Air's Vera Farmiga) – who has moved from Boston to Los Angeles in order to start a new life after suffering a considerable series of misfortunes.  The family purchases the old mansion, which has since been fixed-up, despite being told about the previous owners' murder-suicide, which took place shortly beforehand.
The real life interior of the house, in its actual state, is used extensively as the interior of the Harmon residence.  You can see more interior photographs of the property here.
Oddly enough, though, the series does not make use of the property's kitchen, which you can take a look at here.  As you can see, it looks nothing like the kitchen that is shown on TV.
Thanks to fellow stalker Robert, from the Movie Locations and More website, I learned that the Rosenheim home was also used in the Halloween-themed Season 4 episode of Buffy the Vampire Slayer titled "Fear, Itself",  as the Alpha Delta fraternity house where Buffy Summers (aka Sarah Michelle Gellar) and her friends attended a Halloween party.
The interior scenes look to have been shot at a different location, though.
Except for the scene in which Oz (aka Seth Green) turned into a werewolf, which was filmed inside of one of the property's real life bathrooms.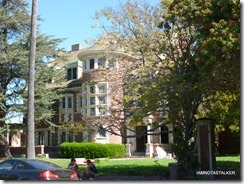 There seems to be quite a bit of erroneous information about the home's filming history floating around online.  According to the property's official website,  it appeared in a 1950's movie named Old Blue Eyes which starred Frank Sinatra, although I can find no such production listed on Frank's IMDB page.  And according to this website, the house was also used in 2002's Spiderman and 2007's Because I Said So, but I scanned through both of those movies earlier today and did not spot the place anywhere.  That same website also states that the residence appeared in Seabiscuit, but because I do not own the film and could not find it to rent or stream anywhere, I was not able to verify that.
Big THANK YOU to fellow stalkers Owen and August for telling me about this location! 

Stalk It: The American Horror Story house is located at 1120 Westchester Place in the Country Club Park section of Los Angeles.
40437