The "What Ever Happened to Baby Jane?" House
Oct 25th, 2011 | By
Lindsay
| Category:
Haunted Hollywood
,
Movie Locations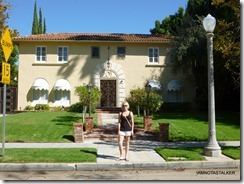 A couple of weeks ago, while perusing through Chris Epting's Marilyn Monroe Dyed Here: More Locations of America's Pop Culture Landmarks in order to get a little inspiration for my Haunted Hollywood postings, I came across an entry about the home used in What Ever Happened to Baby Jane? I had actually never before seen the 1962 classic and, up until reading the blurb in Epting's book in which he described it as being "creepy", did not realize the movie was of the thriller/horror genre.  So I ran right out to rent it that very same night and, let me tell you, it was fabulous!  Because What Ever Happened to Baby Jane? was made almost five decades ago and is almost always referred to as being "campy", I did not have very high hopes for the flick, but, boy, was I off-base!  Not only was the acting of both Joan Crawford and Bette Davis absolutely phenomenal in it, but I was also on the edge of my seat for the entire two-hour-and-twenty-minute run-time.  Why I had waited so long to watch it is beyond me!  Anyway, after seeing the movie, I, of course, could NOT wait to stalk the house and dragged the Grim Cheaper right on out there to do just that later that same week.
In What Ever Happened to Baby Jane?, former child star "Baby Jane" Hudson (aka Bette Davis) holds her paralyzed sister, movie legend Blanche Hudson (aka Joan Crawford), hostage in the mansion pictured above.  According to fave book Hollywood: The Movie Lover's Guide, only the exterior of the house was used in the flick.  All of the interior scenes were filmed at nearby Raleigh Studios, which was then named Producers Studios Inc., in Hollywood.  Apparently, because Joan and Bette were famous long-time rivals, filming of the flick was racked with some pretty outlandish diva-ish behavior. According to IMDB's What Ever Happened to Baby Jane? filming locations page, just a few of the shenanigans that took place included Bette installing a Coca-Cola machine on the set (at the time Joan was on the board of Pepsi-Cola and was the widow of one of the company's high-ranking CEO's); Bette kicking Joan so hard in the head during one of the fight scenes that she required stitches; and Joan putting weights in her pockets during the scene in which Bette had to drag her across the floor.  Perhaps most awful of all, though, was the fact that when Bette was nominated for an Academy Award for her performance in the film, Joan not only campaigned against her, but told fellow nominee Anne Bancroft, who was starring in a play in New York at the time, that she would accept the award on her behalf should she win.  Anne did indeed win and when her name was announced, Joan took to the stage to accept the award, while Bette stood stunned in the wings.  Talk about a celebrity feud!!!
Amazingly enough, the What Ever Happened to Baby Jane? house still looks EXACTLY the same today as it did back in 1962 when the movie was filmed!  Even the address number plaque located next to the front door is still the same!  LOVE IT, LOVE IT, LOVE IT!
The home located next door, where Mrs. Bates (aka Anna Lee) and her daughter, Liza Bates (aka Barbara Merrill, who is Bette Davis' real life daughter), lived in What Ever Happened to Baby Jane?, also still looks much the same as it did in the movie, although the driveway area and carport were the only portion of it ever shown.
The Bates residence also just so happens to be the abode where Peter Sanderson (aka Steve Martin) lived in the 2003 movie Bringing Down the House.
Thanks to The Worldwide Guide to Movie Locations website, I learned that the absolutely horrible 1991 television remake of What Ever Happened to Baby Jane?, which starred real-life sisters Vanessa and Lynn Redgrave, was filmed at a home just a few blocks southeast of the original, so I, of course, ran right out to stalk that location as well.  And I was shocked to discover how similar the two residences looked – which leads me to wonder why producers did not just film the remake at the mansion that was used in the movie.
Unfortunately, I could not find any copies of the cringe-worthy remake with which to make screen captures of the house for this post, but you can check out some clips of the flick on YouTube here or by clicking above.  Trust me, they are definitely good for a laugh!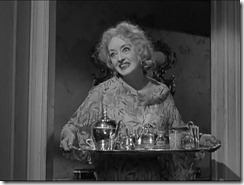 On a What Ever Happened to Baby Jane? side note – according to her autobiography, This 'N That, Bette Davis decided that her make-up in the film should appear to be caked-on as she imagined that Jane would be the type of person who never took her make-up off at night and would apply new layers of it each and and every day.  You can see that caked-on make-up in the screen capture above.  Coming from an acting background, I have always been fascinated hearing about actors' character choices and I think Bette's was an absolutely brilliant one and added so much to the persona of Jane.  In the September 2009 issue of Elle Magazine, when describing her process of creating a character, my girl Jen Aniston said, "I'll never forget my high school acting teacher, Anthony Abeson, who said, 'It starts with the shoes.'  When I think about a character, it does start with the shoes: What kind would she wear?  How would she walk in them?  If I'm going to put on a dress for a role – I don't care if it's the hardest dress to put on – I have to put the shoes on first.  The physicality leads me to the character . . . Like Justine in The Good Girl: She was so disconnected from how she looked, that's what led to the discomfort of who she was."  Sigh!  That is the kind of tidbit that I just eat up with a spoon! But I digress!
Until next time, Happy Stalking! 

Stalk It: The What Ever Happened to Baby Jane? house is located at 172 South McCadden Place in Hancock Park.  The Bates residence, which appeared in both What Ever Happened to Baby Jane? and Bringing Down the House, is located next door at 166 South McCadden Place in Hancock Park.  And the home used in the 1991 What Ever Happened to Baby Jane? television remake is located at 501 South Hudson Avenue in Hancock Park.
41504