The "Mommie Dearest" House
Oct 31st, 2011 | By
Lindsay
| Category:
Haunted Hollywood
,
Movie Locations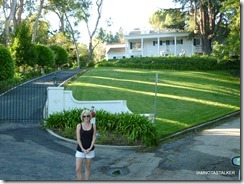 Before I get started, I would like to wish all of my fellow stalkers a VERY happy Halloween!  And while I will, of course, be posting pics of me and the Grim Cheaper in costume, because I always write my blogs at least one day ahead of time, I will not be able to do so until later this week.  It is for that reason that I will be extending my Haunted Hollywood postings through Wednesday, which is a good thing as I am having an absolute blast writing them!  But for now, on with today's post!  Another older movie that I watched in preparation for my Haunted Hollywood theme was 1981's Mommie Dearest, the alleged true story of the abuse of Christina Crawford at the hands of her mother, screen legend Joan Crawford.  While watching the flick, I immediately recognized the house where Joan and Christina lived, as not only had it appeared in the pilot episode of Beverly Hills, 90210, but several tour books had also long ago incorrectly identified it as the Fresh Prince of Bel Air mansion.  I had stalked and blogged about the Bel-Air-area property way back in April of 2008, but it was not until later that same year that I discovered that the actual Fresh Prince house was located in Brentwood (at 251 North Bristol Avenue – just a block and a half away from Christina Crawford's actual childhood home, ironically enough).  Anyway, because my 2008 write-up on the house was incredibly brief, I decided that it was most definitely worthy of a re-post.  So here goes!
In Mommie Dearest, the huge Colonial-style house pictured above is where Joan Crawford (aka Faye Dunaway) teaches her adopted daughter Christina (aka a phenomenal Mara Hobel) the perils of using wire hangers.  And while the movie and Faye's performance have largely been described as "camp", I did not find them to be so at all.  I thoroughly enjoyed the movie and all of the performances and became so fascinated by the story that I ran right out to my local library to check out the book on which it was based.
In real life, the Mommie Dearest house, which was originally built in 1942, boasts 5 bedrooms, 6 baths, 6,077 square feet, and a 1.5-acre corner plot of land.  And, amazingly enough, as you can see above, it still looks almost exactly the same today as it did in 1981 when the movie was filmed!  Only the front of the property appeared onscreen, though.
For all of the backyard scenes, producers chose to film at a different colonial-style mansion located in Beverly Hills.  Remarkably, the backyard where filming took place looks almost identical to Joan Crawford's real life backyard, which you can see a photograph of here.
I found the backyard location thanks to an old real estate listing which mentioned the property's appearance in Mommie Dearest, so I, of course, just had to run right out to stalk it, as well!
And, as you can see in the above photographs from the listing, the backyard still looks EXACTLY the same today as it did onscreen in Mommie Dearest Even the backyard furniture is still the same!  LOVE IT!  LOVE IT!  LOVE IT!
I am fairly certain that the interior scenes were all filmed on a soundstage and not at either of the actual homes.
As I mentioned above, the Mommie Dearest house was also used in the pilot episode of Beverly Hills, 90210 as the home of Marianne Moore (aka Leslie Bega), where the Walsh twins, Brandon (aka Jason Priestley) and Brenda (aka my girl Shannen Doherty), attended their very first Beverly Hills party.
The home's hot tub area also appeared later on in the episode in the scene in which Marianne invited Brandon over for a date.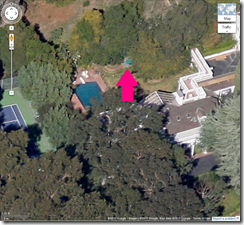 You can see that hot tub in the above aerial view.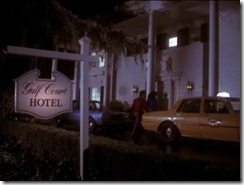 And, oddly enough, a very brief establishing shot of the residence was used in another episode of Beverly Hills, 90210 – the Season 7 episode titled "All That Jazz", in which it was used as the New Orleans hotel where David Silver (aka Brian Austin Green) took Donna Martin (aka Tori Spelling) for the night.
Until next time, Happy Stalking! 

Stalk It: The Mommie Dearest house is located at 417 Amapola Lane in Bel Air.  The home used for all of the movie's backyard scenes is located at 355 South Mapleton Drive in Beverly Hills.
42015