Joan Crawford's Former Home
Nov 1st, 2011 | By
Lindsay
| Category:
Celebrity Homes
,
Haunted Hollywood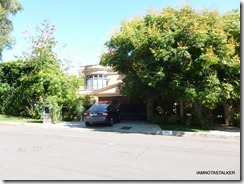 As I mentioned in yesterday's post about the house where Joan Crawford (aka Faye Dunaway) lived in Mommie Dearest, I have become just a wee-bit obsessed with the 1981 film as well as the 1978 autobiography of Joan's daughter, Christina Crawford, on which it was based.  The book is a fabulous, fabulous read, by the way – whether you believe the abuse allegations or not, and apparently many people do not – and after finishing it, I decided I just had to stalk the actual home where Christina grew up and where the alleged events of her tumultuous childhood took place.  I, of course, found the address of Joan's former mansion in fave book James Dean Died Here: The Locations of America's Pop Culture Landmarks by Chris Epting and while in the Brentwood area a few weeks ago, ran right out to stalk it.  Sadly, the Grim Cheaper was not with me at the time so I was not able to get a photograph of myself out in front.  Ah well, I guess that just means I will have to go back sometime soon for a re-stalk.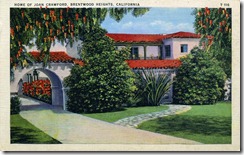 When Joan first purchased the 9-bedroom, 7-bath, 8,103-square-foot mansion in 1929, while married to first husband Douglas Fairbanks Jr., it was Mediterranean in style, as pictured above.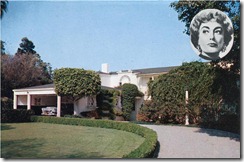 The couple, who dubbed their new home "El DoJo" – a combination of both of their names – immediately set about gutting the property in order to turn it into a New-England-style dwelling, the result of which is pictured above.  And while Joan supposedly again remodeled the residence's interior after divorcing Fairbanks in 1933, and after each subsequent divorce as well (there were three in total), the exterior was left largely unchanged.  It was at the home that Joan not only kept her famous and extensive doll collection, but also accepted her 1946 Academy Award for Best Actress in a Leading Role for Mildred Pierce.  Apparently, Joan did not want to face the possibility of losing, so she stayed home on the evening of the ceremony, feigning the flu.  When it was announced that she had won, the award was immediately delivered to her house and the actress invited the press inside to take photographs of her with it in bed.  Joan lived at the Brentwood residence for over 26 years, until 1956 when she married Pepsi Cola CEO Alfred Steele and moved to New York City.  When Alfred passed away in 1959, he left the actress with a large accumulation of debt and she was forced to sell the property.  You can see some interior photographs of the abode at the time that Joan owned it on the Legendary Joan Crawford website here.
Sadly, Joan Crawford's former home was extensively remodeled by some new owners beginning in 2003 and is no longer recognizable from the days when the screen legend lived there.  Not that it matters much, though, because as you can see above, due to a massive amount of foliage which currently surrounds the property, barely any of it can be seen from the street.
Only a small portion of the garage area and a second-story window are visible.
And it appears from looking at aerial views that even the backyard of the home was given a facelift.  As you can see above, the kidney-bean-shaped pool appears to be have been just recently built.  You can catch a glimpse of what the backyard looked like in Joan's day here and you can also check out some great pictures of the property being remodeled on the Find A Death website here.
Until next time, Happy Stalking! 

Stalk It: Joan Crawford's former home, aka the real life Mommie Dearest house, is located at 426 North Bristol Avenue in Brentwood.  The Fresh Prince of Bel Air house is located just two blocks south at 251 North Bristol Avenue, also in Brentwood.
42081