Eveleigh Restaurant from "Gossip Girl"
Nov 7th, 2011 | By
Lindsay
| Category:
TV Locations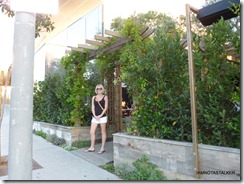 Fellow stalker Geoff, from the 90210Locations website, emailed me a few weeks back to let me know that he had tracked down the open-air-patio-ed restaurant where Serena van der Woodsen (aka Blake Lively) and Charlie Rhodes (aka Kaylee DeFer) ate lunch in the Season 4 episode of Gossip Girl titled "Beauty and the Feast".  And while that lunch was supposed to have taken place in Los Angeles and some scenes from that episode were actually filmed in the SoCal area, I had been absolutely convinced that Serena and Charlie's restaurant was located in New York.  Not only did the place just look like a Manhattan-style eatery to me, but in the previous episode, which was titled "Yes, Then Zero", Colonie, a restaurant in Brooklyn Heights, had been made to appear as if it was located in L.A.  So when I received Geoff's email alerting me to the fact that Eveleigh Restaurant in West Hollywood had been used in the "Beauty and the Feast" episode, I practically jumped for joy and dragged the Grim Cheaper right on out to stalk it.  Because I was in the thick of my Haunted Hollywood postings at the time, though, I had not been able to blog about the place until today.  So here goes!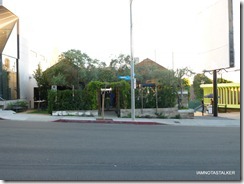 I can honestly say that Eveleigh, which opened on November 1st, 2010 in a space that used to house a Kenneth Cole shoe store, is easily one of the coolest places I have ever been!  From the outside, the restaurant does not look like anything out of the ordinary.  In fact, with its large hedges, unmarked doorway, and sidewalk street sign that screams "Sunset Blvd", the eatery could not seem any more "Hollywood".  But when you step inside, it is a different story entirely.
From Eveleigh's airy front patio . . .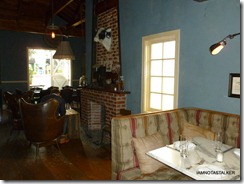 . . . to its cozy fireplace, complete with armchairs . . .
. . . to its central bar and wood-beamed ceilings . . .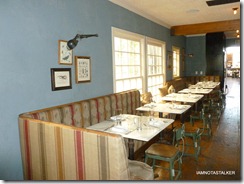 . . . to its couch-like and antique school-chair seating . . .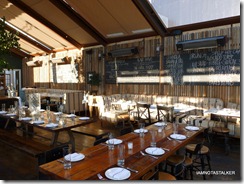 . . . to its exposed wood tables and chalkboard menus . . .
. . . to its sweeping views . . .
. . . to its large, tented back patio – all I can say is, we are certainly not in Los Angeles anymore, Toto!  As you can see in the twenty-some-odd pictures I took while there, Eveleigh, named for a suburb in Australia, is entirely unique.  It is a little bit country, a whole lotta New York, with a dash of California thrown in for good measure.  And I absolutely fell in love with the place on site.  The GC and I ended up only having cocktails while there, though, as the menu was a bit too extravagant for my low-brow tastes.  The offerings are definitely geared toward "foodies" and not this stalker, who much prefers hot dogs, mac & cheese, and chicken strips to the upscale culinary feasts served at Eveleigh, which include duck rillettes, jidori chicken liver pate, roasted natural bone marrow salad, and crisp sonoma pork belly.  We will definitely be stalking the place again, though, and if I am feeling more epicurean-ly brave, I will surely branch out and sample some of the fare.
In the "Beauty and the Feast" episode of Gossip Girl, Serena and Charlie, a fraud who is posing as Serena's cousin, meet up at Eveleigh and discuss life in California and possibly living together.
In the scene, the two sit on the restaurant's tented patio, near the back bar.
After their meal, they walk past Eveleigh's main bar, through the front patio area, and out onto Sunset Boulevard.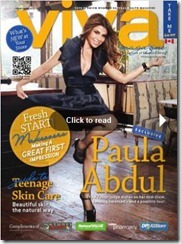 And our super-nice bartender informed us that the cover shoot for the Fall 2011 issue of Viva Magazine, which featured Paula Abdul, also took place at Eveleigh.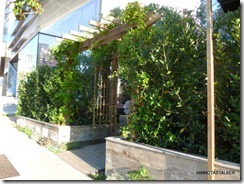 Besides being a filming location, Eveleigh is also something of a celebrity hot-spot.  Just a few of the stars who have been spotted there over the past year include Ashley Greene, Paula Patton, Nicky Hilton, Nicole Richie, Emmanuelle Chriqui, Dakota Fanning, Kimora Lee Simmons, Lisa Edelstein, Marcia Cross, Rebecca Romijn, Jerry O'Connell, Robin Tunney, Ashley Simpson, Ali Fedotowsky, Sasha Alexander, Jordana Brewster, Pete Wentz, Samantha Ronson, Amy Smart, Rachel Leigh Cook, Dianna Agron, Jamie King, Jessica Capshaw, Busy Phillips, Elisha Cuthbert, Mindy Kaling, Nia Vardalos, Idris Elba, Pierce Brosnan, and Armie Hammer.  And the restaurant also has one more celebrity connection.  While researching this post, I discovered that back when the place was a Kenneth Cole shoe store, the front patio area was the site of the Kenneth Cole Walk of Fame – a take-off of the iconic Grauman's Chinese Theatre forecourt in Hollywood.  At the KC Walk of Fame, such stars as Elizabeth Taylor (and her dog Sugar), Richard Gere, Matthew Modine, Patricia Arquette, Elizabeth Glaser, Rosie O'Donnell, Julianne Phillips, and Leeza Gibbons all placed their bare feet into blocks of cement outside of the store, with Kenneth Cole promising to donate a portion of sales on the day of each participating star's birthday to AIDS research.  Sadly, when the store closed, the footprints were removed and I can find no information whatsoever about where they are now located.  I cannot tell you how said I am that I never got to see them!
On a side-note, I would like to wish my mom a VERY happy 60th birthday today!  I love you, Mom! 

Big THANK YOU to Geoff, from the 90210Locations website, for finding this location!
Until next time, Happy Stalking! 

Stalk It: Eveleigh Restaurant, from the "Beauty and the Feast" episode of Gossip Girl, is located at 8752 West Sunset Boulevard in West Hollywood.  You can visit the restaurant's official website here.
40539