Diana Payne's House from "Gossip Girl"
Nov 8th, 2011 | By
Lindsay
| Category:
TV Locations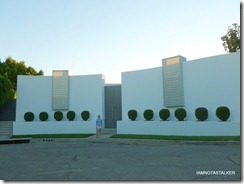 Another Los-Angeles-area location from fave show Gossip Girl that fellow stalker Geoff, from the 90210Locations website, tracked down recently was the home belonging to Diana Payne (aka Elizabeth Hurley) in the Season 5 episode titled "Yes, Then Zero".  Because Gossip Girl is primarily filmed on the East Coast, I was beyond excited when the cast and crew descended upon Tinseltown in early August to lens a few scenes and was positively itching to stalk absolutely everything and anything from the New-York-based series that I could.  And being that I had fallen in love with Diana's Mid-Century-modern-style abode at first sight while watching the episode, I just about died of excitement when Geoff emailed me to let me know that he had somehow managed to track the place down.  So I, of course, promptly dragged the Grim Cheaper right on out to the Hollywood Hills to stalk the dwelling the very next day.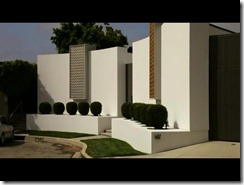 In the "Yes, Then Zero" episode of Gossip Girl, recent Los-Angeles-transplant Serena van der Woodsen (aka Blake Lively) invites her visiting friends Nate Archibald (aka Chace Crawford) and Chuck Bass (aka cutie Ed Westwick – sigh!) to attend a show biz party at the hilltop home of media mogul Diane Payne.  And I just have to say here that the "Yes, Then Zero" episode featured one of my very favorite lines ever uttered on the series – when Serena's boss, Marshall (aka Ethan Peck), speaks to her in a condescending manner, Nate says, "Well, the zip codes may be different, but douchebags are the same no matter where you go!"  LOVE IT!  But I digress.  Anyway, several areas of Diana's abode were featured in the Hollywood party scene, including the front exterior;
the amazing backyard;
. . . and some of the property's interior.
I am fairly certain, though, that the bedroom that was shown in the episode was just a set (most likely built on a soundstage at Silvercup Studios in New York where the series is filmed) as it does not match up to any of the bedrooms featured on the home's real estate website.
It, in fact, even reminds me a bit of Serena's former bedroom at her mother's house (which you can see more pictures of here) where Cousin Charlie (aka Kaylee DeFer) is now living, which makes me wonder if the same space was redressed to be used for the filming of the scene at Diana's house.  But who knows.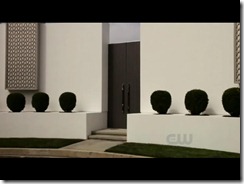 Diana's home pops up a second time in the "Yes, Then Zero" episode, in the scene in which Nate returns to the residence in order to retrieve his phone, which he accidentally left behind the previous evening.  The areas featured in that scene include the front exterior;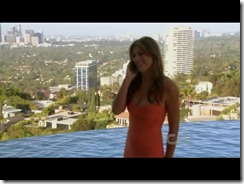 the backyard;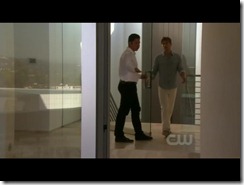 and the main entrance.
I am very happy to report that Diana's house is just as cool in person as it appeared to be onscreen.  In fact, it is exactly the type of place I imagine Frank Sinatra used to hang out at back in the heyday of Hollywood.  I can so picture Ol' Blue Eyes kicking back there, looking out at the view, listening to LP records, and mixing up martinis for the rest of the Rat Pack.  Ironically enough, the property, which was first built in 1972, was not originally designed in the Mid-Century-modern-style you see pictured above, but as a French-ranch-style abode!
As you can see in the aerial views pictured above, Diana's abode was given an extensive facelift in recent years, whereupon it was transformed into the Mid-Century modern marvel that it is today.   Bonura Building Architects & General Contractors, along with CTW Engineers and Mark Schomisch Design, handled the remodel, during which an infinity edge pool was added, walls were taken down, and an open floor plan was created.  As you can see in these pictures, the result was nothing short of spectacular!  The home, which boasts 3 bedrooms, 4 baths, and approximately 3,300 square feet of living space, currently features cantilevered stairs, travertine flooring, and floor-to-ceiling glass walls.  And, according to fave website The Real Estalker, the property also has a celebrity connection!  In February of 2007, American-Idol-creator Simon Fuller purchased the dwelling for a cool $7,650,000 to use as an interim residence while his Beverly Hills manse was being renovated.  He then sold the place in May of 2008 for $8.5 million.
There is an ABSOLUTELY amazing home visible from the front of Diana's house that the GC and I became just a wee bit obsessed with while there.  The home is located at 1474 Blue Jay Way and it was apparently only built just recently.  Oh, what I wouldn't give to live there!
You can watch a video which showcases that house by clicking above.
Big THANK YOU to Geoff, from the 90210Locations website, for finding this location.
Until next time, Happy Stalking! 

Stalk It: Diana Payne's house, from the "Yes, Then Zero" episode of Gossip Girl, is located at 1407 Tanager Way in the Hollywood Hills.
40778