The Grill on Main from "The Real Housewives of Beverly Hills"
Nov 16th, 2011 | By
Lindsay
| Category:
TV Locations
Last month, while watching the Season 2 episode of The Real Housewives of Beverly Hills titled "Game Night Gone Wild", I just about fell over when sisters Kim and Kyle Richards (neither of whom I can actually stand) walked into The Grill on Main – a La-Quinta-area eatery that I had been to just a few weeks prior while visiting my parents for the weekend in the Coachella Valley.  Well, been to and walked out of, I should say. 

My parents, the Grim Cheaper, and I had headed to The Grill on Main one night to grab cocktails before dinner, but, unfortunately, the only champagne (my mom's and my drink of choice) that the restaurant served was seriously terrible, so we ended up leaving and going to the nearby Hog's Breath Inn instead.  But I digress.  Anyway, for my mom's 60th birthday, which was last Monday, her very best friend, Doina, flew out – from Switzerland – to surprise her and we all spent the week together in the Desert.  One morning during our stay, after grabbing coffee at the Old Town Coffee Company (which has recently replaced Starbucks as my favorite coffee house – I know, gasp!), I dragged my mom and Doina across the street to stalk The Grill on Main.
The Grill on Main, which first opened in December of 2010 and serves American-style fare, is a super cute little eatery.  And, despite its lacking in the champagne department (which is odd being that the manager is a certified sommelier), my parents, who have dined there several times since, report that the food is quite excellent and reasonably-priced.
In the "Game Night Gone Wild" episode of The Real Housewives of Beverly Hills, Kim and Kyle head over to the The Grill on Main to grab lunch while they are on vacation in the Coachella Valley.  During their meal, Kyle, as usual, tries to boss Kim around by telling her that she needs to move into a home that is closer to hers.  Little does she know that Kim is actually planning to move in with her secret boyfriend of over a year.  Ah, the drama!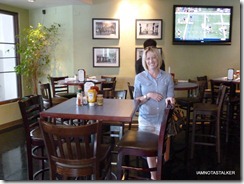 While stalking the restaurant, I had incorrectly thought that Kim and Kyle had dined just to the left of the restaurant's bar area and even took a picture in that spot.
But the sisters had actually dined outside, on The Grill on Main's patio area, right in front of the fireplace.  Ugh, I can be such a blonde sometimes!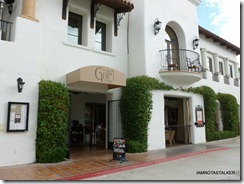 Until next time, Happy Stalking! 
Stalk It: The Grill on Main, from the "Game Night Gone Wild" episode of The Real Housewives of Beverly Hills, is located at 78065 Main Street in Old Town La Quinta.  You can visit the restaurant's official website here.
42381