Mansion Adena – The "A Haunting in Salem" House
Dec 2nd, 2011 | By
Lindsay
| Category:
Movie Locations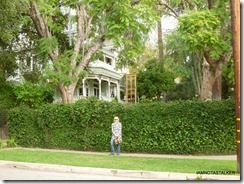 As I mentioned back in October during my Haunted-Hollywood-themed-month, while doing research on the Strode house from Halloween I came across a post on fellow stalker Lisa's Midnight in the Garden of Evil website about Dick Van Dyke's annual Halloween extravaganza, which I later had the incredible good fortune to stalk. Lisa's post also featured some information about a movie named "A Haunting in Salem" that Dick's grandson Shane had recently directed. I was shocked to discover that the straight-to-DVD horror flick had been filmed almost in its entirety at an 1800s-era Pasadena mansion, that, for whatever reason, I had not been previously aware of. I immediately became intrigued with the gargantuan Queen Anne structure and even though Halloween had long since passed, I just had to drag the Grim Cheaper right on out to stalk it.
In real life, the 3,098-square-foot property is known as Mansion Adena and it is one of Pasadena's oldest surviving homes. The abode was built sometime during the years 1885 to 1887 for a dentist named Dr. R.K. Janes and was designed by architect Eugene Getschell. At the time, Pasadena had yet to be incorporated, so the mansion has the unique distinction of being older than the city itself! The recently-restored home, which was declared a Pasadena Historical Landmark in 2006 and is currently available as a vacation rental, features four bedrooms, four baths, two parlors, six fireplaces, a quarter-acre gated lot, a cook's kitchen, a formal rose garden, a spa, two sunrooms, three wrap-around porches, and a three-story mansard tower. In the book At Home: Pasadena, the property is described as one of the city's "finest homes" and Elizabeth McMillian, a former Architectural Digest editor, called it "the finest example of Victorian architecture in Southern California." Sadly though, as you can see above, not much of it can be seen from the street.
In A Haunting in Salem, Mansion Adena stood in for the supposed Salem, Oregon-area haunted abode that new town sheriff Wayne Downs (aka Bill Oberst Jr.) and his family – wife Carrie (aka Courtney Abbiati), daughter Alli (aka Jenna Stone) and son Kyle (aka Nicholas Harsin) – moved into upon arriving to town.
The real life interior of the home (as well as all of the actual furniture!), which you can see photographs of here, here and here, was also used in the flick.
Thanks to fave website OnLocationVacations, I learned that Mansion Adena was also featured in an episode of Parks and Recreation. Since I do not watch the series, I enlisted the help of fellow stalker/Parks-and-Recreation-fan Owen, from the When Write is Wrong website, to discern which episode it had appeared in. As it turns out, Mansion Adena stood in for The Quiet Corn Bed and Breakfast in the Season 3 episode titled "Camping", in the scene in which the Parks Department gang ditches out on a staff camping trip in order to spend the evening in more comfortable quarters. Both the interior and the exterior of the property were featured in the episode. And Owen even managed to dig up this Wikia article about the fictional Pawnee, Indiana-area inn.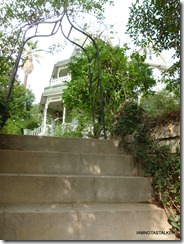 Big THANK YOU to fellow stalker Lisa, of the Midnight in the Garden of Evil website, for finding this location and to fellow stalker Owen, of the When Write is Wrong website, for letting me know which episode of Parks and Recreation it appeared in.
Until next time, Happy Stalking!

Stalk It: Mansion Adena, aka the A Haunting in Salem house, aka The Quiet Corn Bed and Breakfast from the "Camping" episode of Parks and Recreation, is located at 341 Adena Street in Pasadena. You can visit the property's rental website here.
42897