The El Torito Grill from "Crazy, Stupid, Love."
Dec 13th, 2011 | By
Lindsay
| Category:
Movie Locations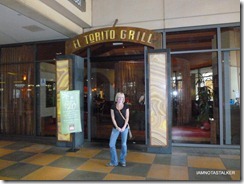 As I have mentioned numerous times before on this blog, this stalker has absolutely obsessed herself silly over the movie Crazy, Stupid, Love. So when I discovered, thanks to the flick's exceedingly extensive production notes, that a couple of scenes had been filmed at the El Torito Grill in the Sherman Oaks Galleria, I immediately added the place to my "To-Stalk" list and dragged the Grim Cheaper right on out there to grab some lunch this past weekend.  And I could not have been more excited to do so because if there is one thing this stalker loves more than Crazy, Stupid, Love., it's Mexican food!  And I would just like to mention here how much I appreciate the abundant efforts the author (or authors) of the CSL production notes put into writing them.  I am currently searching for the gorgeous bar that was featured in the opening scene of 2003's Bad Santa and am having absolutely no luck whatsoever in finding it.  If only the filmmakers had followed Crazy, Stupid, Love.'s example and published some decent production notes, I would have been able to stalk the place in time for Christmas.  Hmph!  But I digress.
Oddly enough, when the Grim Cheaper and I first ventured into the El Torito Grill, it did not look familiar to me at all.  In Crazy, Stupid, Love., the place appeared to be fairly small and intimate, but, as you can see above, in real life it is very large and consists of one huge open room with a smaller anteroom off to the side.  The restaurant was so unrecognizable, in fact, that I had to ask the bartender to pinpoint the exact area where filming took place so that I could take the proper photographs.  It was just slightly disheartening – I mean, am I losing my touch here? 

And while unrecognizable from Crazy, Stupid, Love., I am very happy to report that the El Torito Grill serves up some FABULOUS food!  I ordered the Tableside Grilled Fajitas Salad, which was mixed right in front me, and, ohmygod, was it delicious!  Honestly one of the best salads that I have ever had in my entire life!  Yum, yum, yum!  And contrary to what has been reported in numerous Yelp reviews, El Torito Grill does in fact serve chips and salsa, both of which are also fantastic!  Man, I am in love with this place!  And I am not the only one – such stars as Paula Abdul, Nicole Kidman, Keith Urban, and Miley Cyrus have all been spotted dining there at one time or another.
The El Torito Grill in Sherman Oaks, which is made to seem as if it is located inside of the Westfield Century City Shopping Mall, shows up twice in Crazy, Stupid, Love. It first pops up in the scene in which Richard (aka Josh Groban) takes his girlfriend "Hannah Banana" (aka Emma Stone) and her friends and co-workers out for a pre-bar-exam dinner.  It is during this scene that one of my very favorite lines from the entire movie is uttered.  When Richard announces that he is also going to host Hannah's post-bar-exam celebratory dinner at the El Torito Grill and that it is going to be a "special night", Hannah turns to her best friend Liz (aka the hilarious Liza Lapira) to ask if she thinks Richard is planning on proposing to which Liz responds, "At the El Torito Grill?  God, I hope not!"  LOL LOL LOL  LOVE it!
The El Torito Grill next appears in the scene featuring the aforementioned post-bar-exam celebratory dinner, during which Richard does not, in fact, propose, leaving Hannah in a hilarious state of shock.
The exterior of the restaurant is also shown in that scene.
Both of Hannah's dinner scenes were shot in the very front of the El Torito Grill, just behind the main entrance, at a large table that is, for some odd reason, usually surrounded by a sheer circular curtain.  I would say that the curtain contains a VIP section of some sort, but because it is completely transparent and VIP sections are usually private, that would not make much sense.  Anyway, for the filming, which according to the Before the Trailer website took place on April 26th and 27th of 2010, producers removed the curtain and also attached some multi-color sombreros to the walls.
Until next time, Happy Stalking! 

Stalk It: The El Torito Grill from Crazy, Stupid, Love. is located at 15301 Ventura Boulevard, inside of the Sherman Oaks Galleria, in Sherman Oaks.  You can visit the chain's official website here.
43500