Charles W. Eliot Middle School from "The Mentalist"
Jan 9th, 2012 | By
Lindsay
| Category:
TV Locations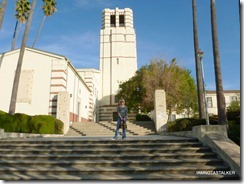 Located directly across the street from the Larry Crowne apartment building in Altadena, which I blogged about last Friday, is Charles W. Eliot (not Elliot) Middle School – a very unique and arresting structure that looms over the neighborhood thanks to its large fortress-like bell tower.  My veterinarian is located just up the street from Eliot and I had driven by the school countless times during my ten-plus years of living in Pasadena, and whenever my mom happened to be with me, she would comment, "That school is just so picturesque!  I can guarantee you that it has been in a movie!"  Well, as it turns out, she was right!  I never did much research on the place, though, or even thought to stalk it, until January of 2010 when it popped up in the Season 2 episode of The Mentalist titled "Rose-Colored Glasses", at which point I recognized it immediately.  So, two weekends ago, after stalking the Larry Crowne apartment building, I dragged the Grim Cheaper across the street (and I say "drag" because even though it was located less than 10 yards away from where we were then standing, he complained about having to walk over to it) so that I could finally stalk the place.
Charles W. Eliot Middle School was originally founded in 1931 and, at the time, was known as Eliot Junior High School.  It was named in honor of Charles William Eliot – a professor who, with a term of 40 years, became Harvard University's longest-running president and transformed the institution into a premiere research college.  Surprisingly, even though Eliot Middle School is extremely unique, I could find no information whatsoever about its architecture or its history.  Hmph!  I was able to dig up the names of a couple of the school's famous alumni, though.  As it turns out, not only did actor Edward Furlong attend Charles W. Eliot Middle School, but, in an unfortunate twist, so did Sirhan Sirhan, the Jordanian nationalist who assassinated presidential hopeful Bobby Kennedy on June 6, 1968.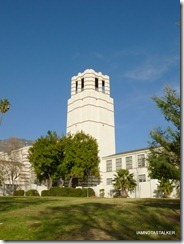 As you can see above, the most recognizable and striking aspect of Charles W. Elliot Middle School is its tower.  It is that tower that has also captured the imagination of the many location scouts who have returned time and time again to film on the school grounds.
In the "Rose-Colored Glasses" episode of The Mentalist, Charles W. Eliot Middle School stood in for the supposed Northern-California-area Rancho Rosa High School where Patrick Jane (aka Simon Baker) and the rest of the CBI team investigated the murder of a married couple which took place at a 15-year high school reunion.  In the episode, several areas of the school were used, including the rear blacktop;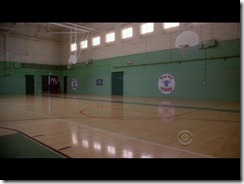 the gym;
and the boy's locker room.
Fellow stalker Allyn let me know that Charles W. Eliot Middle School was also featured prominently in the 1998 flick Devil in the Flesh. In the movie, Eliot was the school where Debbie Strand (aka Rose McGowan) was transferred to after her mother and her mother's boyfriend were killed in a fire.
The real life interior of the school was also used in the production.
In the 1998 film Apt Pupil, Charles W. Eliot Middle School stood in for Santa Donato, the high school attended by Todd Bowden (aka Brad Renfro).  And yes, that is none other than Ross Gellar himself – aka Friends' star David Schwimmer – pictured in the last screen capture above!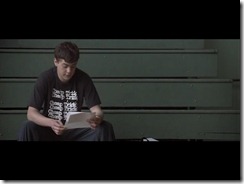 I was pleasantly surprised to discover that cutie Joshua Jackson, aka Dawson's Creek's Pacey Witter, had a minor role in the flick, as well.  Sigh.  Love him!
The school's interior was also featured in Apt Pupil.  And, in an odd twist, a lawsuit was actually filed against the filmmakers for a scene that took place on location in the Eliot Middle School locker room.  Three teenaged extras hired to act in a shower scene alleged that director Bryan Singer had forced them to strip naked for the shoot against their will.  The lawsuit was ultimately dropped due to insufficient evidence, but you can read more about it on the Entertainment Weekly website here.
The interior of Charles W. Eliot Middle School also stood in for the interior of Haddonfield Elementary, the school attended by a young Michael Meyers (aka Daeg Faerch), in the 2007 Rob Zombie-directed Halloween.
The school's library was also used as the library of the fictional Haddonfield High School, where Michael Meyers spied on his younger sister, Laurie Strode (aka Scout Taylor-Compton).
And, according to a March 1987 Los Angeles Times article, Charles W. Eliot Middle School was also set to be used as a location in a low-budget movie titled Night School.  Unfortunately though, I could find no such movie listed on IMDB, so I am guessing that it was not ever completed.
Until next time, Happy Stalking! 

Stalk It: Charles W. Eliot Middle School, from the "Rose-Colored Glasses" episode of The Mentalist, is located at 2184 North Lake Avenue in Altadena.  Please remember that this is an active learning institution and you should not trespass or visit the grounds during school hours.  The Larry Crowne apartment building is located directly across the street from Eliot at 906 Boston Street in Altadena.  And Thalia's store from Larry Crowne is located at 2104 North Lake Avenue in Altadena.
44634