The "Larry Crowne" Cul-de-sac
Jan 13th, 2012 | By
Lindsay
| Category:
Movie Locations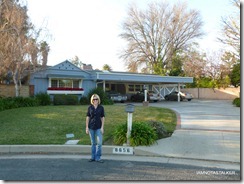 The last Larry Crowne location that I stalked recently – and there will be more coming, believe me, because Mike, from MovieShotsLA, has found quite a few others –  is the cul-de-sac where Larry Crowne (aka Tom Hanks) and his garage-sale-hosting neighbors, Lamar Johnson (aka Cedric the Entertainer) and wife B'Ella Johnson (aka Taraji P. Henson), lived.  Mike tracked down this locale quite a few months back, long before I had ever even seen the movie, in fact.  Thanks to the flick's production notes, he knew that the cul-de-sac was located somewhere in Northridge, so he searched aerial views of the area and, sure enough, it was not long before he found the right place.  Whoo hoo!  So, last weekend, before heading to West Hollywood to grab some cocktails at Nobu, aka the Ferris Bueller Day's Off restaurant which I blogged about yesterday, I dragged the Grim Cheaper out to the San Fernando Valley to stalk the Larry Crowne houses.
Larry's one-story, ranch-style residence, which he eventually gives back to the bank due to a foreclosure, shows up countless times throughout the movie.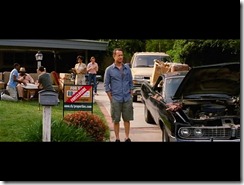 I absolutely love the outfit Larry wore on moving day, by the way.  I am so gonna have to get something similar for the GC! 

But I digress.
In real life, Larry's house is pretty darn huge, although its appearance from the street is somewhat deceiving.  While its façade seems to be rather small, the dwelling actually boasts 4 bedrooms, 4 baths, a whopping 3,900 square feet of living space, and a .52-acre plot of land.  I am very happy to report, though, that aside from a change in paint color, the place looks pretty much the same in person as it did onscreen.  For some reason, producers covered over the front window and window-box with a large amount of foliage during the filming, though.  I am guessing that was done to make the home appear more masculine, 'cause nothing screams "a single man lives here" like a window box full of red annuals. 

His garage also seems to have been covered over for the movie, most likely to make the residence appear to be smaller than it actually is.
According to the Larry Crowne production notes, the interior of Larry's house, where he learned the benefits of feng shui, was a set that was built inside of a soundstage at what, I believe, was Universal Studios.
Lamar and B'Ella's house also shows up numerous times throughout the movie.
And it, too, looks much the same in person as it appeared onscreen.
What I was not expecting, though, was that the Larry Crowne houses were not both located at the end of the cul-de-sac, as they seemed to be in the movie.  As you can see above, while Larry's house is located at the end, Lamar and B'Ella's is actually on the side.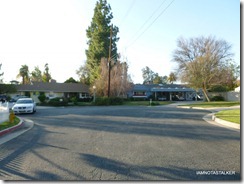 I had originally envisioned the properties to be situated in the same manner that the two houses are situated above and was a bit thrown off when I got there and realized that they were actually located kitty-corner to where they had seemed to be onscreen.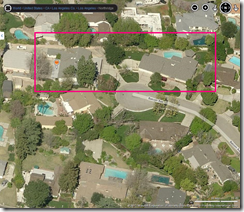 You can see where the homes are situated in the aerial view pictured above.
And while Larry and Lamar's street name was referred to as "Derby Court" in the movie, producers did use both of the properties' real life address numbers.
Big THANK YOU to Mike, from MovieShotsLA, for finding this location! 
Until next time, Happy Stalking! 
Stalk It: Larry Crowne's house from Larry Crowne is located at 8656 Balcom Avenue in Northridge.  Lamar and B'Ella's house is located next door at 8642 Balcom Avenue.
45142