The Painted Nail from "Nail Files"
Jan 17th, 2012 | By
Lindsay
| Category:
TV Locations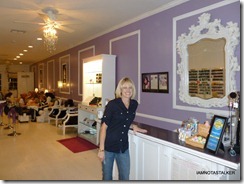 Back in November, when my good friends, fellow stalkers Lavonna, Melissa, Beth, Kim, and Sandy, came out to Los Angeles from Ohio for a little stalking vacay, Lavonna booked them all a pampering session at The Painted Nail in Sherman Oaks – the salon that is featured regularly on the TV Guide Network's reality series Nail Files.  And while Lavonna had invited me to join them for some medi/pedi action, because I knew that the Grim Cheaper would be having none of that, I, unfortunately, had to say no.  I did stop by the salon for a brief visit that evening, though, so that I could take some photographs of the place and hopefully blog about it.  Well, imagine my surprise when, a few days later, Lavonna, being the incredible sweetheart that she is, gave me a gift card for an Ice Cream Sundae pedicure, The Painted Nail's specialty, so that I could experience the salon for myself.  How awesome is that!?!?  I finally used my gift card last Friday morning and I have to say that it was an incredible experience!  Thank you, Lavonna!!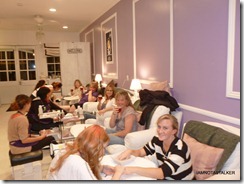 Before learning about The Painted Nail from Lavonna, I had actually never before heard of the place, or of Nail Files for that matter.  I have said it before and I will say it again – Lavonna is a FAR better stalker than I am.  She somehow manages to have her hand firmly on the celebrity pulse of Los Angeles, despite living thousands of miles away in Cincinnati.  (That's Lavonna and the gang, in manicure and pedicure heaven, pictured above.)
As you can see, The Painted Nail is an absolutely darling place.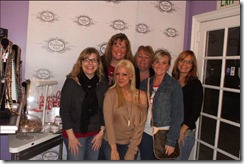 The salon was founded by Katie Cazorla, the self-proclaimed "Queen of Nails" (that is her pictured above with Lavonna and Company), who moved to Los Angeles from Elmira, New York in 2000 in order to pursue a career in acting.  One evening, after receiving an overpriced, shoddy manicure at one of Southern California's run-of-the-mill, cookie-cutter salons, Katie went home and decided to take matters into her own hands by opening up her very own nail bar.  That dream was realized in March of 2009 when The Painted Nail first opened its doors.  The place was an immediate success, attracting celebrities and locals alike, and in 2010 Citysearch named The Painted Nail "the Best Mani/Pedi".
The Painted Nail was so successful, in fact, that it was not long before Katie decided to expand, building a private party room upstairs from the salon (pictured above) and The Hair and Make-Up Bar next door.   (Katie is currently engaged to music producer Walter Afanasieff, which explains the numerous multi-platinum records which decorate the party room's walls.  I cannot tell you how incredibly cool it was to see those records in person!)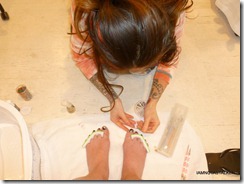 During her November visit, Lavonna had gotten her nails done by manicurist Lisa Person and had insisted that I do the same on my visit.  And I am so glad that she did, because Lisa was nothing short of UH-MA-ZING!  Not only does the woman give an incredible massage, but she also has to be one of THE nicest people I have ever met in my life.  I had so much fun just hanging out with her and dishing about Tinseltown that the pedicure almost seemed to be beside the point.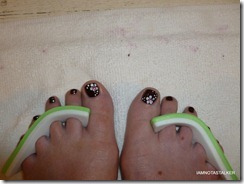 And she even painted these amazing little flowers on my toes, which I am in love with.  I do have to note, though, that when I walked in the door, the GC took one look at my feet and said, "Your toes look ridiculous!"  LOL LOL LOL  Ah, men!  Gotta love 'em!
The first episode of Nail Files premiered in June of last year and was an immediate hit, drawing in almost 1.6 million viewers.  And while a series about a nail salon does not sound like it would be very interesting, I watched an episode while doing research for this post and can honestly say that it was riveting!  And the fact that celebs regularly drop-in only adds to the allure.
In the episode I watched, which was titled "Let's Do The Oscars!", Dean McDermott stopped by to pick up some gifts for his wife, Tori Spelling.
The Painted Nail was also featured in the Season 1 episode of The Real Housewives of Beverly Hills titled "Payback's a Bitch . . . Just Ask Your Husband" in the scene in which Kim Richards and Taylor Armstrong try to mend their volatile friendship over Ice Cream Sundae manicures.  And the salon was also supposedly featured in an episode of Kimora: Life in the Fab Lane, but I was not able to figure out which one.
Besides being a filming location, The Painted Nail is also a celebrity hot spot.  Just a few of the stars who have gotten their mani and pedi on there include Vanessa Hudgens, Ashley Tisdale, singer Tiffany, Sarah Chalke, Lisa Rinna, Debbie Gibson, Vanessa Williams, the Jersey Shore girls, Paula Abdul, Candace Cameron, Teri Hatcher, Haylie Duff, Hilary Duff, Melina Kanakaredes, Nicole Eggert, and Brooke Burke.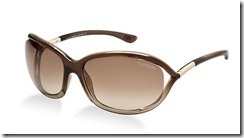 On an AMAZING side-note – For Christmas, fellow stalker Lavonna gifted me with a pair of Tom Ford "Jennifer" sunglasses, the very same sunglasses that my girl Jen Aniston wears on an almost daily basis.   As you can imagine, I almost had a full-blown heart-attack upon opening the box!  I have been coveting those sunglasses for about three years now and the fact that I now have a pair . . . well, let's just say that I am still pinching myself over it!  Best!  Present!  Ever!  Thank you, Lavonna!
Now we're twins!

(And yes, I do realize I am a total dork!)
Big THANK YOU to fellow stalker Lavonna for telling me about this location and for the fabulous gift card!  (And for the amazing sunglasses!)
Until next time, Happy Stalking! 

Stalk It: The Painted Nail, from Nail Files, is located at 13327 Ventura Boulevard in Sherman Oaks.  You can visit the salon's official website here.  I highly recommend requesting manicurist Lisa Person – she is incredible!
45296