Villa Sophia from the Final Episode of "Entourage"
Jan 27th, 2012 | By
Lindsay
| Category:
TV Locations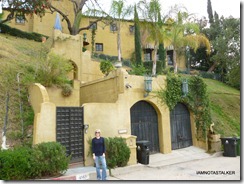 A couple of weeks ago, while the Grim Cheaper and I were out doing some stalking in the Hollywood area, I received an email from Constantine Vlahos, the owner of a Los Feliz mansion named Villa Sophia.  Constantine was writing to let me know that his home had been featured in the final episode of Entourage and that I might be interested in stalking it.  Now, I just have to say here that that was most definitely a first – a homeowner not only seeking me out to inform me of his property's filming history, but also encouraging me to stalk the place!  Oh, how I wish more people would do the same!  And interested in stalking it, I surely was, so I dragged the GC right on out there later that same day.
In real life, Villa Sophia is quite breathtaking.  And while the Mediterranean-revival-style mansion, which was originally built in 1927, appears to be absolutely gargantuan from the street, in reality it "only" boasts 3 bedrooms, 4 baths, and 4,525 square feet – which is large, don't get me wrong, but from the looks of the exterior, I expected the place to be a whole lot bigger.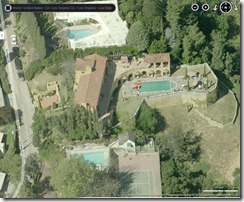 As you can see in the above aerial view, the residence seems to be massive!
Villa Sophia was originally designed by Henry Harwood Hewitt, the L.A.-area architect who also gave us The Ebell Club of Los Angeles (an oft-used filming location that I really should have already blogged about being that I have stalked it twice!), the L.A. County Hall of Justice (also an oft-used location that was featured in the television shows Dragnet and Get Smart), and Bob Hope Patriotic Hall (yet another filming location that appeared in the movies Patton and Flashdance).  Villa Sophia was commissioned by Clement E. Smoot, an Olympic-gold-medalist golfer turned industrial lighting manufacturer, and his wife, Margaret Miller Smoot.  During the 1930s, the property became home to James Whale, the famed British film director who made Frankenstein, Bride of Frankenstein, The Invisible Man, Show Boat, and The Man with the Iron Mask, and who was also the subject of the 1998 flick Gods and Monsters.  In the late 90s, the dwelling was purchased by Constantine, my new favorite homeowner
, who had spent years fantasizing about owning the place and who immediately began a massive renovation and restoration process, during which he added on a 15-foot retaining wall, a pool, a pool house, upper and lower rear terraces, a loggia, and a dining pavilion.  Constantine even rents the 750-square-foot pool house out to vacationers, so if you are in the area and would like to stay at an Entourage filming location, you can book a reservation here.  And you can see some fabulous close-up pictures of the home here.
In the final episode of Entourage, which was appropriately titled "The End", Villa Sophia was featured in the very last, post-credits scene in which Ari Gold (Jeremy Piven) and his wife, Mrs. Ari (Perrey Reeves), are shown living their new life in Florence, Italy.  It is at the home that Ari receives a phone call from Time Warner chairman John Ellis (Alan Dale), who announces that he is retiring and wants Ari to take over his job.  Dun-dun-dun!  As you can see above, the landscape of Florence was digitally added to the background of the scene.
Villa Sophia was also the site of a Victoria's Secret "Bombshell Summer" commercial starring Candice Swanepoel, Chanel Iman, and Erin Heatherton that was filmed in May 2011.
Victoria's Secret Bombshell Summer commercial filmed at Villa Sophia
You can watch a behind-the-scenes video of that shoot by clicking above.
Constantine also informed me that the home will be featured in the near future in a yet-to-be-released movie starring Kate Bosworth.
Until next time, Happy Stalking! 
Stalk It: Villa Sophia, from "The End" episode of Entourage, is located at 4565 Dundee Drive in the Los Feliz section of Los Angeles.  You can visit the mansion's official website here.  The Lovell Health House, aka Pierce Patchett's home from L.A. Confidential, is located just up the street at 4616 Dundee Drive.
46331