The Redbury Hotel from "Entourage"
Feb 16th, 2012 | By
Lindsay
| Category:
TV Locations
Last July, while doing some cyber-stalking, I came across an article on the USA TODAY Travel website about the numerous Southern California hotels and restaurants featured in the eighth and final season of the hit television series Entourage.  One of the spots mentioned in the blurb was Tinseltown's newly-opened The Redbury Hotel, which appeared in the episode titled "The Big Bang", and, thanks to its dark crimson walls, unique architecture and old Hollywood vibe, I immediately became enamored of the place.  I, of course, added the locale to my "To-Stalk" list right then and there, but, for whatever reason, did not make it out there to actually do so until three weekends ago.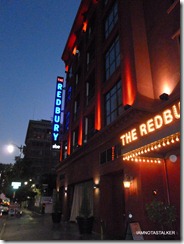 And I am very happy to report that the place did not disappoint!  To say that I am in love with The Redbury would be a gross understatement.  The 57-room boutique hotel, which first opened in November of 2010, was the brainchild of sbe Entertainment Group founder/CEO Sam Nazarian and photographer/music video director Matthew Rolston.  The 5-story structure was originally conceived as a high-end, $50 million condominium project by the Palisades Development company, but that venture was forced to be scrapped during the real estate downturn.  In February of 2010, at which time the building was about 80-percent complete, it was purchased by the CIM Group, who re-envisioned the locale as an upscale hotel and hired Nazarian and Rolston to manage and design it, respectively.
The name Redbury comes from a combination of "red", the hue that Palisades Development had already painted the building, and "bury", in honor of San Francisco's Haight-Ashbury district.  According to an August 2010 Los Angeles Times article, the hotel's eclectic style is a mix of "bohemian, 1960s flower power and old Hollywood".  Apparently, Rolston wanted the locale to feel "'theatrical', a little bit like actually being in one of my photographs or music videos".  And, as you can see above, he succeeded with that vision – in spades!  The Redbury is honestly like nothing I have ever seen before and absolutely does feel like a movie set come to life.  I so loved it that I was even tempted to book a room while we were there for a spontaneous little stay-cation, but the Grim Cheaper was, of course, having none of that.
The Redbury staff was BEYOND friendly and, even though none of the hotel's restaurants were open while we were stalking the place, I was allowed to go inside to take a peek at each of them and told that I could snap "all of the photographs you want" – six little words that I absolutely LOVE to hear.  The areas of the hotel that we visited included the Library Bar – which honestly feels more like the ultra-cozy living room of a very stylish friend's house than a public bar;
The Glade courtyard lounge – a huge terrace garden complete with teak decking, Moorish-style lanterns and outdoor couches and daybeds;
and Cleo – an ultra-hip Middle-Eastern-style restaurant that is dominated by a large 1917 movie poster of actress Theda Bara dressed as Cleopatra.  The Library Bar, Glade and Cleo are all major celebrity hotspots.  Just a few of the stars who have been spotted at the one of the three watering holes include my girl Kristin Cavallari, my man Matt Lanter (sigh!), Drew Barrymore, Matthew Lillard, Jamie Foxx, Hilary Duff, Joe Jonas, Ashley Greene, Audrina Patridge, Emma Roberts, Hayden Panettiere, Sam Trammell, the entire Kardashian/Jenner family, Courteney Cox, Josh Hopkins, Anna Paquin, Stephen Moyer, Adam Brody, Neve Campbell, Carla Gugino, Nia Vardalos, Jesse Williams, Lauren Conrad, Lo Bosworth, Whitney Port, Busy Phillips, Stacey Keibler, David Beckham, Kirstie Alley, Cheryl Burke, Emmanuelle Chriqui, Jessica Lowndes, Gillian Zinser, Sarah Hyland, Salma Hayek, Mila Kunis, and Ali Fedotowsky.
In "The Big Bang" episode of Entourage, Cleo restaurant was where Vincent Chase (Adrian Grenier) ambushed Vanity Fair reporter Sophia Lear (Alice Eve) and tried to convince her that he was not a womanizer.  And while the USA TODAY Travel article stated that the series had filmed scenes "throughout the hotel, including its Library lounge", I did not spot any other areas of the property in "The Big Bang" or in other episodes from Season 8, so I believe that information is incorrect.
The yet-to-be released movie Between Us, which stars Julia Stiles, Melissa George and Taye Diggs, also did some filming at The Redbury.
Until next time, Happy Stalking! 

Stalk It: The Redbury Hotel, from "The Big Bang" episode of Entourage, is located at 1717 Vine Street in Hollywood.  You can visit the hotel's official website here.
47517