The Interior of the "Bruce Almighty" Party House
Feb 22nd, 2012 | By
Lindsay
| Category:
Movie Locations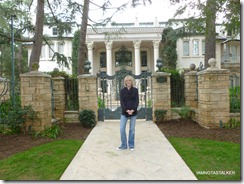 In honor of my girl Jen Aniston receiving the 2,642nd star on the Hollywood Walk of Fame today (a ceremony that I will actually not be attending because, after the debacle that was the Horrible Bosses premiere this past summer, I have a severe aversion to any event that has the potential of being too crowded or too chaotic), I thought that I would blog about a location from her 2003 romantic comedy Bruce Almighty.  As I mentioned this past July in my post about the Stern House in Pasadena, which stood in for the exterior of the supposed Buffalo, New York-area Vanderbilt Estate where the Channel 7 news team threw a party in honor of Bruce Nolan (Jim Carrey) in the flick, I was fairly certain that a different property had been used for the interior.  And for the past seven months or so, I had been just a wee-bit obsessed with tracking down that interior.  Unfortunately though, while I searched through countless real estate listings and location websites during my hunt, I had come up completely empty-handed.
The most memorable aspect of the interior of the Bruce Almighty party house was the two-story front entrance foyer and its dual curving staircases.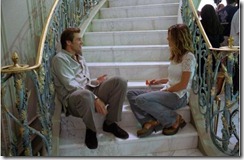 Back in July, while researching the Stern House, I had come across a picture of Jen sitting at the foot of one of those staircases on IMDB's Bruce Almighty photo page and, it will come as no surprise, that it soon became embedded in my memory.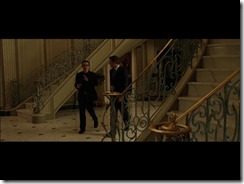 So when I spotted that very same staircase pop up in the mansion belonging to wealthy steel businessman Henry Rearden (Grant Bowler) in the 2011 movie Atlas Shrugged: Part I a couple of weeks ago, I just about died!  I, of course, immediately started doing research on Atlas Shrugged filming locations (in fact, I did not even finish watching the film, I became so obsessed!) and fairly quickly found an article in which a commenter had stated that Frank's residence was located in La Canada Flintridge, across the street from the 2011 Pasadena Showcase House of Design.  And while it would seem that it would be fairly easy to track down the 2011 Showcase House, for whatever maddening reason, I could not find it anywhere!  Fortunately, after spending countless hours searching by myself, I decided to enlist the help of fellow stalker Mike, from MovieShotsLA, who texted me back a few minutes later with an address.  THANK YOU, Mike!  So, this past Monday afternoon, while the two of us were out doing some stalking in the San Gabriel Valley, we ran right over there to take some pics.
In real life, the estate, which was originally built in 1993 by architect Wayne Siggard, boasts 5 bedrooms, 7 baths, a whopping 11,700 square feet of living space!!!, and an almost 2-acre plot of land.  The mansion, which, as you can see above, is pretty darn spectacular, is currently listed on MLS for a cool $7,950,000, although it does look like a sale might be pending.  You can visit the home's real estate website here.  Oh, what I would not give to see the inside of that place in person!
In Bruce Almighty, the interior of the mansion was used extensively during the party scene and the master bedroom area was where Grace Connelly (Jennifer Aniston) caught Bruce in a passionate embrace with his "Spanish-accented" co-anchor, Susan Ortega (Catherine Bell).
The estate was also used extensively in Atlas Shrugged: Part I. Both the exterior . . .
. . . and the interior of the property appeared in the movie.
And the very same bedroom where Bruce and Susan kissed in Bruce Almighty was also featured as the bedroom of Henry and his wife, Lillian Rearden (Rebecca Wisocky), in Atlas Shrugged.
Photographs of the magnificent stairwell that I spent over seven months searching for are pictured above.  Sigh!  What I wouldn't give to sit on them to pose for a photograph like Jen did!
Big THANK YOU to Mike, from MovieShotsLA, for finding this location! 
Until next time, Happy Stalking! 
Stalk It: The interior of the Bruce Almighty party house, aka Henry Rearden's mansion from Atlas Shrugged: Part I, is located at 4158 Commonwealth Avenue in La Canada Flintridge.
48043