Casbah Café from "A Lot Like Love"
Mar 13th, 2012 | By
Lindsay
| Category:
Movie Locations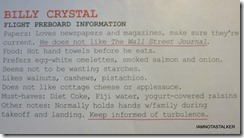 Today's blog is going to be a short one as I am heading out to the eye doctor in a bit to have my eyes dilated, which, second to being on an airplane, is my least favorite activity in the entire world. Speaking of flying, US Magazine recently published an article about celebrity riders which featured actor Billy Crystal's "Flight Preboard Information". The "Other notes" section of Billy's rider states, "Normally holds hands w/ family during takeoff and landing. Keep informed of turbulence." Um, LOVE IT! Like Billy, I, too, hold my parents' hands during takeoff, and I am absolutely PETRIFIED of turbulence! Oh, how I wish I were a celebrity so that I could submit my very own flight rider in which I demanded that the crew keep me informed of any upcoming turbulence.

But I digress.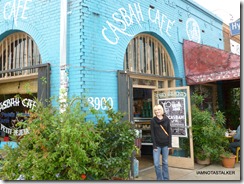 Anyway, just down the street from Bar Keeper – the store that stood in for Upon Gallery in fave movie A Lot Like Love, which I blogged about yesterday – is Casbah Café, a French Moroccan-style coffee shop that was also featured in the 2005 flick. And, even though I have already blogged about this location once before very briefly, I just had to drag the Grim Cheaper right on back over there to snap some pics – and grab some coffee, of course! – while we were in the area doing our Christmas shopping last December.
The Casbah Café, which first opened in 1997 and currently serves breakfast, lunch, and dinner, is a very unique and quirky independent coffee house/gift boutique that sells clothing, jewelry and home furnishings collected from various locales around the world, including India, Mexico, Morocco, and Argentina. The shop's eccentric interior features blue- and orange-painted walls covered in large framed tapestries, a French-inspired chalkboard mirror menu and exposed ductwork. In the March 2004 issue of Toro Magazine, journalist Stephen Hunt hit the nail on the head when he described the Casbah as follows: "On first glance, the café evokes one of those places where Indiana Jones hung out in Cairo. An almost too perfectly shady establishment in which to exchange letters of transit, or a Maltese falcon . . ." The place also has a definite hipster vibe to it. The GC always jokes that he is not cool enough to hang out there because he does not own a pair of skinny jeans.

And he is right – the Casbah Café is a place where skinny jeans abound.
Thanks to its fabulous coffee and free Wi-Fi, the Casbah Café has become insanely popular over the years – so popular, in fact, that curbside service has recently been added to provide for the many customers who cannot find a vacant table. Celebrities have even been known to pop into the eatery from time to time. Just a few of the stars who have gotten their caffeine fix there include Madonna, Mia Kirshner, Gwen Stefani, Sofia Coppola, Courtney Love, Patricia Arquette and clothing designer Diane von Furstenberg.
In A Lot Like Love, Oliver Martin (Ashton Kutcher) and Emily Friehl (Amanda Peet) stop by the Casbah Café to grab coffee after their "silent" New Year's Eve dinner. It is while there that Emily tries to pay for Oliver's coffee, to which he says, "No. I appreciate the reach – the acting classes are really paying off – but I got it." LOL
In a very brief scene in the Season 4 episode of Southland titled "Wednesday", Officer Ben Sherman (cutie Ben McKenzie – sigh!) eats breakfast at the Casbah Café – and checks out some girls on their way to a yoga class while doing so.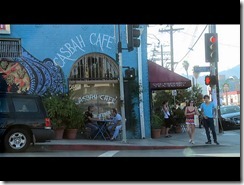 The exterior of the Casbah Café shows up very briefly in The Freebie. According to a September 2010 Los Angeles Times article, Katie Aselton wrote the six-page outline for the 2010 indie flick while at the eatery and it even inspired one of the movie's main storylines in which married man Darren (Dax Shepard) develops a crush on a barista at his local coffee shop. The Casbah will also be featured in the upcoming movie L!fe Happens, which stars Kate Bosworth, Rachel Bilson, and Krysten Ritter.
Until next time, Happy Stalking!

Stalk It: Casbah Café from A Lot Like Love is located at 3900 West Sunset Boulevard in Silver Lake. You can visit the café's official website here.
49060