The "Teen Wolf" Liquor Store
Apr 23rd, 2012 | By
Lindsay
| Category:
Movie Locations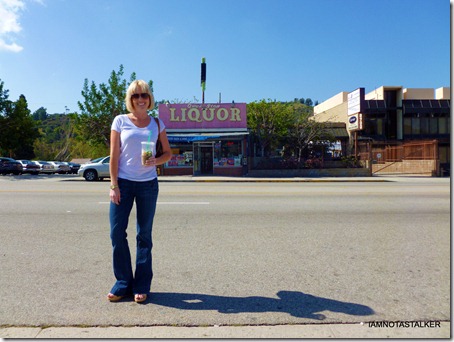 While out stalking in the San Gabriel Valley three Thursdays ago, on our way to visit Clark Magnet High School where Kris Witherspoon (my girl Shannen Doherty) went to school in the 1986 television series Our House (which I have yet to blog about), Mike, from MovieShotsLA, made a quick (pardon the pun) detour to Quick Stop Liquor, the very same liquor store that appeared in 1985's Teen Wolf.  Mike had found this location years beforehand, while searching for locales from the 1986 thriller River's Edge, which was also filmed in the area.  And even though I live fairly close to Tujunga, where the liquor store is located, for whatever reason I had never ventured out to stalk it.  So, since we were just around the corner, Mike insisted we stop by.  (On a side-note – I have been playing around with the colors and sizes of my photographs lately.  Would love to hear what my fellow stalkers think!
)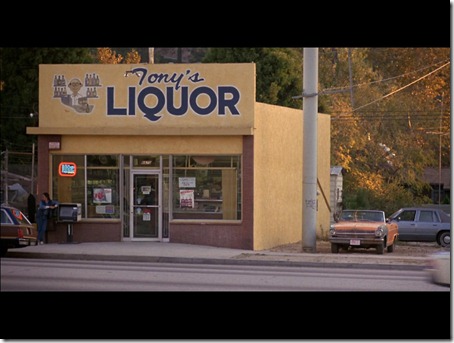 Quick Stop Liquor, which was named Tony's Liquor in the flick, shows up twice in Teen Wolf.  It first pops up in the scene in which Stiles (Jerry Levine), donning a trucker hat, sunglasses and a shirt that says "Obnoxious: The Movie", tries to purchase a keg of beer from the store's curmudgeonly owner (Harvey Vernon) before heading to a house party, the location of which I blogged about here.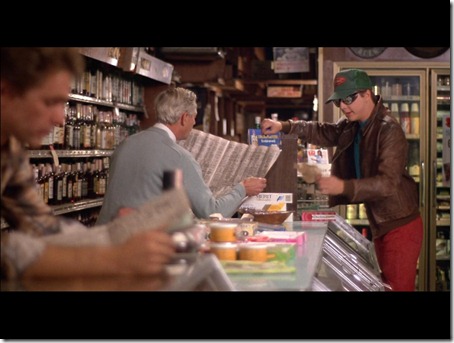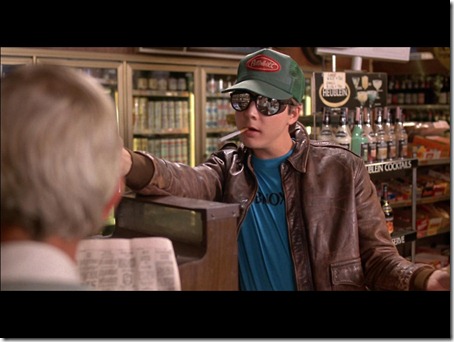 The liquor store's real life interior also appeared in that scene.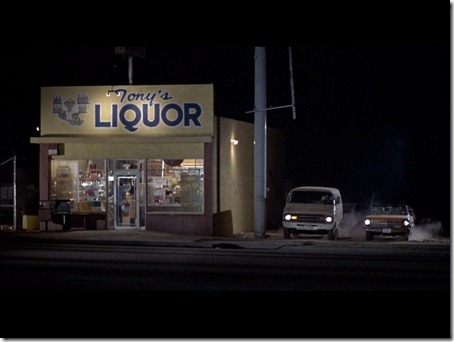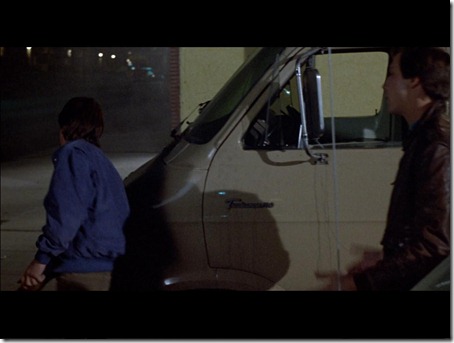 Quick Stop Liquor shows up once again a few scenes later when Stiles convinces his best friend/teen werewolf, Scott Howard (Michael J. Fox), to attempt to buy a keg, using a water gun as intimidation, from the same curmudgeonly shop owner.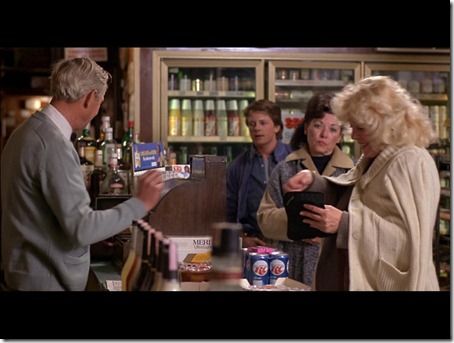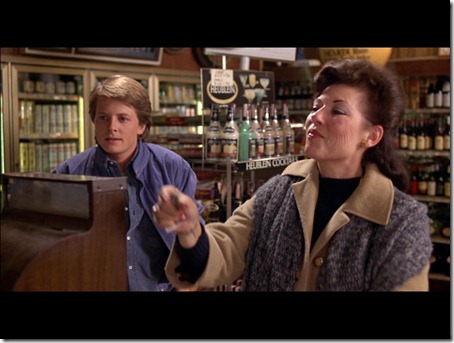 The shop's real life interior was also used in that scene, as well.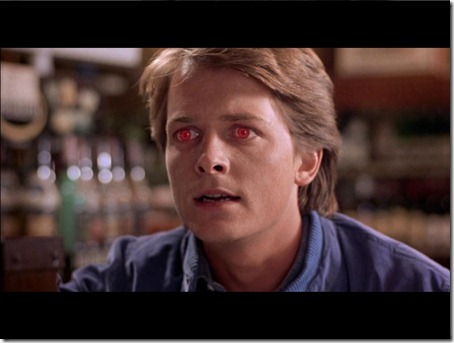 It is while there that Scott has one of his very first experiences as a werewolf.  After being denied the keg and being chewed out by the shop owner, Scott gets just a wee bit angry, his eyes turn red, his voice deepens quite a few octaves, and he utters the film's famous line, "GIVE ME.  A KEG.  OF BEER!"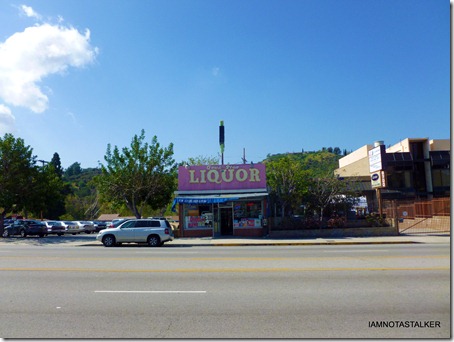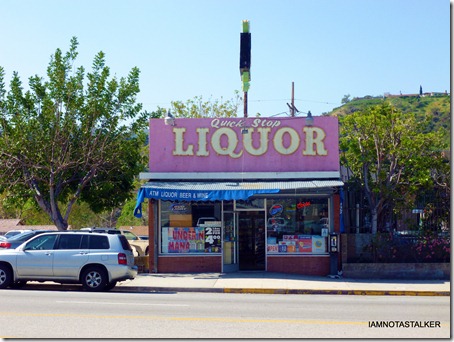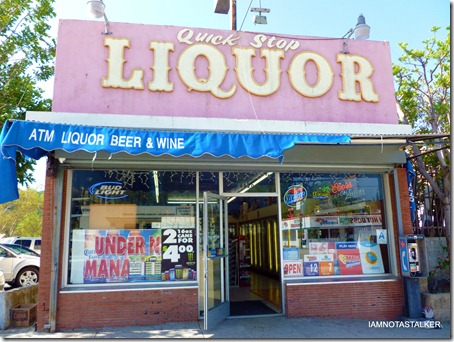 While the exterior of Quick Stop Liquor is now pink (although I am not typically a fan of change, pink is my favorite color, so I have to say, "Yay!") and the sign and store name have since been altered, the place looks pretty much the same as it did in Teen Wolf, despite the fact that almost three full decades have since passed.   So incredibly cool!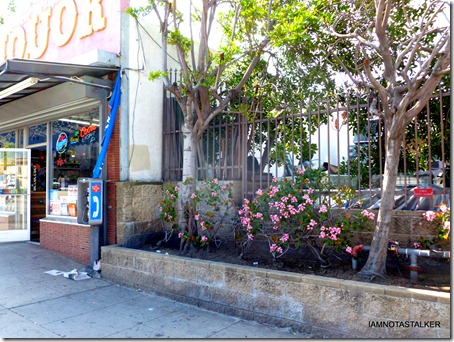 Sadly though, a building has since been constructed in the area directly next to the liquor store, where Stiles and Scott parked their cars in Teen Wolf.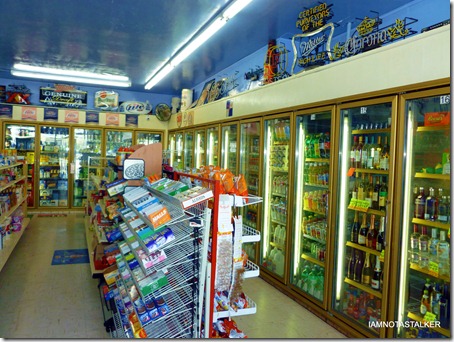 While stalking the place, Mike and I ventured inside to ask the woman working if we could snap some pictures.  And while she was reticent at first, once Mike showed her his Teen Wolf page on MovieShotsLA and she realized that Quick Stop had appeared in a film, she got pretty excited.  I so love it when that happens! 

As you can see above, while the interior of the store has changed a bit over the years, it is still pretty recognizable from the movie.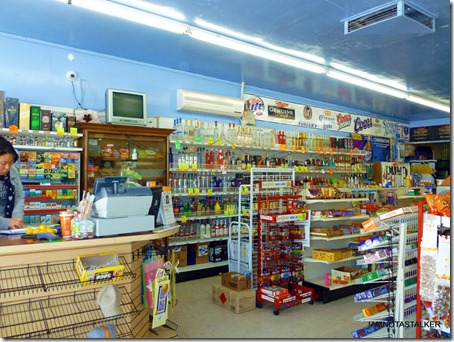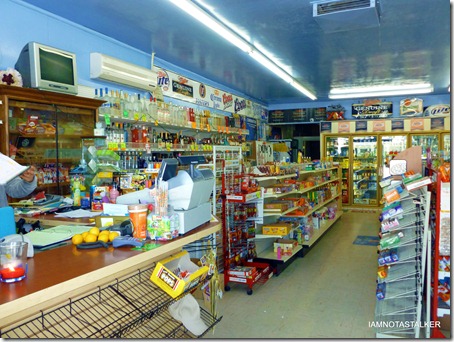 The woman also confirmed for us that the store's front counter had been shortened in recent years, which is such a shame!  I so would have loved to have seen the place in its original form!
"Teen Wolf" Liquor Store Scene Filmed at Quick Stop Liquor in Tujunga
You can watch the Teen Wolf "GIVE ME A KEG OF BEER" scene by clicking above.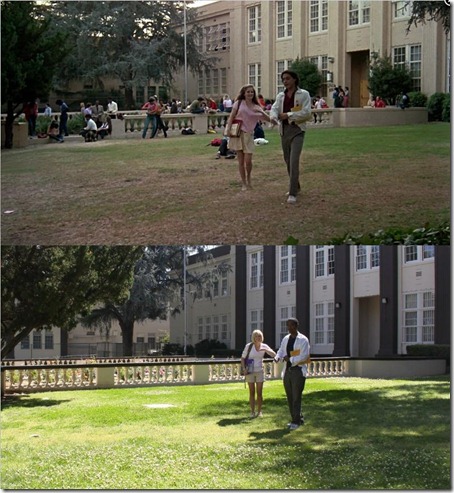 On a stalking side-note – fellow stalker Allen Fuqua, of the Movie Mimic website, recently contacted me to ask if I would like to reenact a scene from Fast Times at Ridgemont High with him.  I, of course, readily agreed and this past Sunday afternoon, the two of us, Grim Cheaper in tow, ventured out to Van Nuys High School to attempt a Movie Mimic.  The result is pictured above.  I had an absolute blast movie-mimicking and getting to meet Allen and the photograph he created far exceeded my expectations.  I highly recommend checking out Allen's fabulous site, in which he travels to places ALL OVER THE WORLD (the guy has been EVERYWHERE, including London where he reenacted stills from my favorite movie of all time, Love Actually) and recreates iconic scenes from iconic movies.  Love it!  And, in an AMAZING twist, this past weekend The Academy of Motion Picture Arts and Sciences/The Oscars posted our Fast Times pic on their Facebook page.  PINCH ME!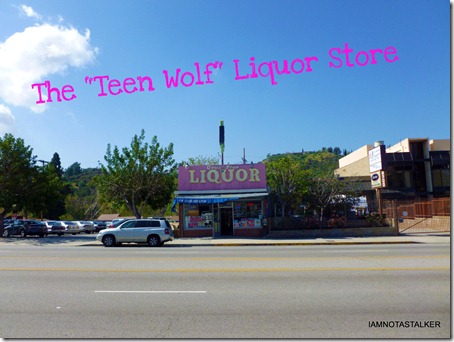 Big THANK YOU to Mike, from MovieShotsLA, for finding this location! 

Until next time, Happy Stalking! 

Stalk It: Quick Stop Liquor, aka the Teen Wolf liquor store, is located at 6670 Foothill Boulevard in Tujunga.
52073