The Romanesque Villa Apartments – Marilyn Monroe's Former Home
May 1st, 2012 | By
Lindsay
| Category:
Marilyn Monroe Locations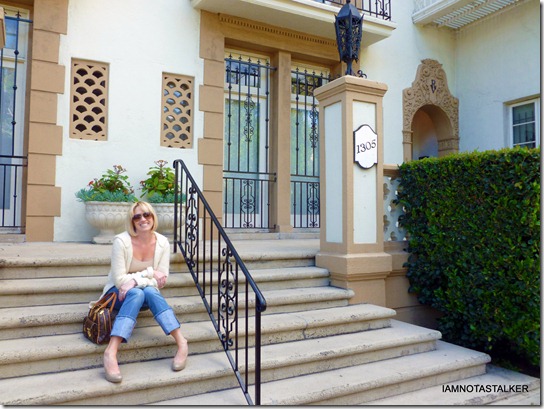 While doing research on the Harper House from Scream 3, which I blogged about in mid-April, I came across some information about an apartment complex – located on the very same street and designed by the very same architect – where my girl Miss Marilyn Monroe once lived.  I was, of course, beyond ecstatic to learn about a previously-unknown Marilyn location and immediately added the building, which is named Romanesque Villa or Romanesque Villa Apartments, to my "To-Stalk" list.  It was not until I dragged the Grim Cheaper out there just a few days later that I realized the complex is located directly across the street from Villa Primavera, the In a Lonely Place apartment building that I stalked last October.  How I had been standing less than 20 feet away from Marilyn's former home at the time without even realizing it is absolutely beyond me!  The GC keeps saying that all of the blonde hair dye I use is starting to affect my brain and, in cases like this, I can't really argue with him. 

On a side note – I am switching things up a bit today as the GC recently suggested that I post the descriptions of my photographs above the actual photographs themselves.  And, even though he is almost never right

, I thought I would try out his idea for a few days.  Let me know what you think.  And now, on with the post!
The Romanesque Villa Apartments were originally constructed in 1928 and were commissioned by Michael and Isaac Mann. As I mentioned above, the garden courtyard complex was designed by none other than Leland Bryant, the very same architect who also gave us the Harper House and the Sunset Tower Hotel.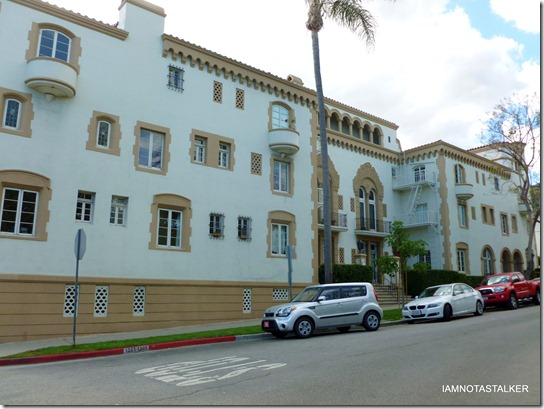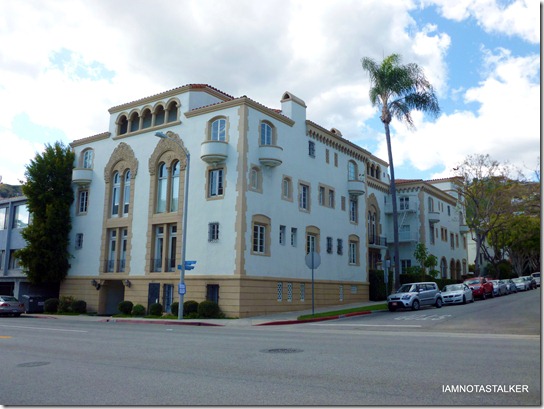 As you can see below, the architectural detailing of the Spanish Colonial Revival/Churrigueresque-style building is nothing short of spectacular. I literally could not take my eyes off the place while I was there.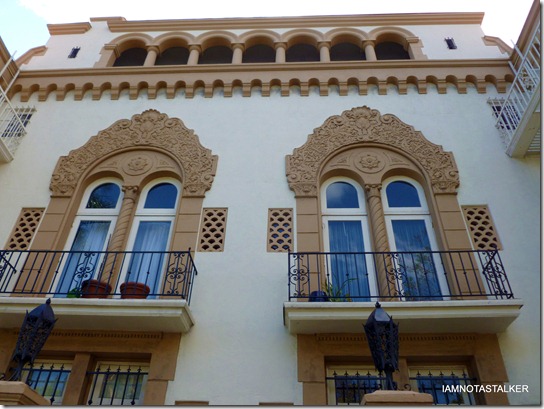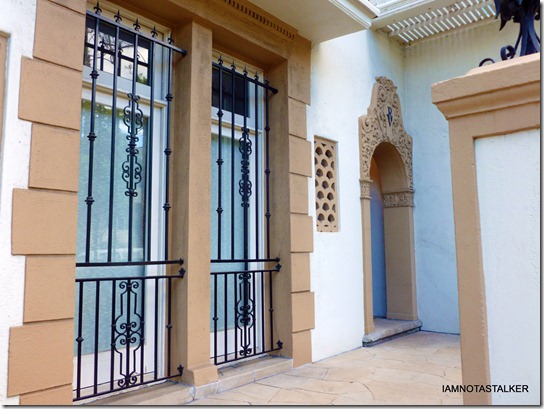 And while the exterior of Romanesque Villa does not bear much of a resemblance to that of the Harper House, the interiors of the buildings' actual units are almost identical, especially the bathroom areas.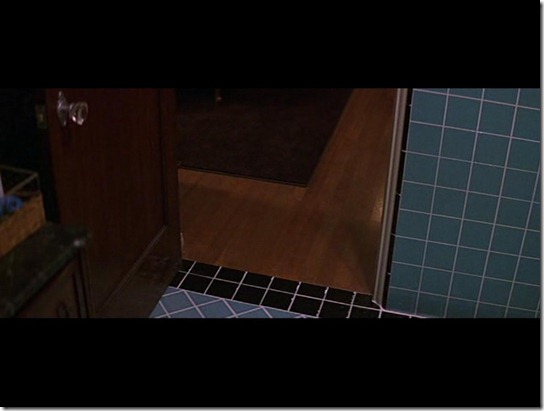 You can watch a video tour of one of the Romanesque Villa apartments (in which the building is incorrectly identified as the "Harper House") from the West Hollywood Patch website by clicking below. As you can see, the bathroom is pretty much an exact match to Cotton Weary (Liev Schreiber) and Christine Hamilton's (Kelly Rutherford) bathroom in Scream 3.
Marilyn Monroe reportedly lived off and on at Romanesque Villa Apartments from 1950 to 1951.  The starlet had previously been residing with her agent/purported lover Johnny Hyde, but when he passed away on December 18th, 1950, she decided to move in with her beloved acting coach Natasha Lytess, whom she had been studying with since the filming of Columbia Pictures' Ladies of the Chorus in 1948.  There seems to be a bit of confusion over Marilyn and Natasha's exact apartment number, though.  You can see a photograph on the icollector.com website here of a check written by MM on December 23, 1950 in which she lists her address as "1301 N. Harper Ave."  That same address is written on a photograph release form that Marilyn signed on April 26th, 1949, which you can take a look at here.  But the very cool Marilyn and the Camera website has a check signed by the actress in which she notes her address as 1309 N. Harper Avenue.  Despite the many conflicting reports, most written in the actress' own hand, the majority of publications agree that MM lived in Unit 1309, which is pictured below.  Legend has it that Marilyn, fraught with despair over Johnny Hyde's death, also attempted suicide during her tenure at Romanesque Villa.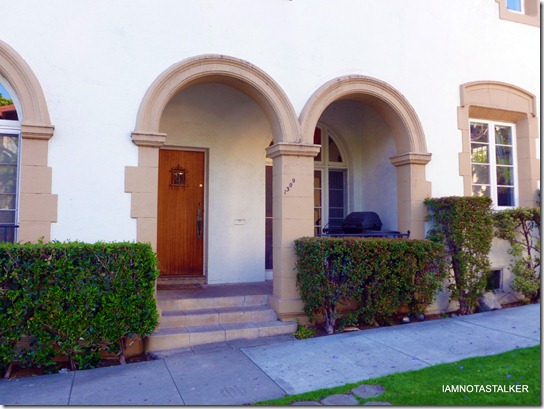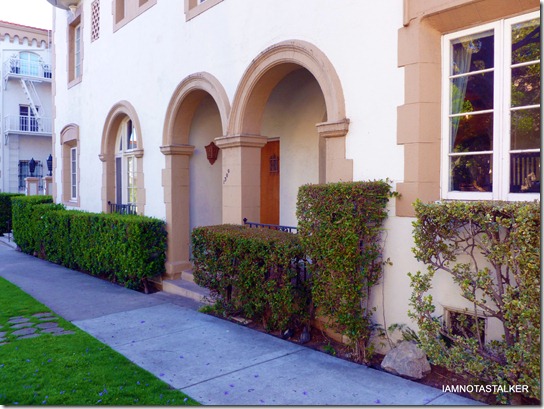 According to my buddy E.J. over at The Movieland Directory website, Zsa Zsa Gabor, Anita Stewart, and John Welch also all lived at Romanesque Villa at one time or another.  And fave book Hollywood: The Movie Lover's Guide states that upon first arriving in Hollywood, actress Marlene Dietrich moved into an apartment at the Villa thanks to some advice from the man who had discovered her, director Josef von Sternberg, who also lived on the premises with his then wife, Riza Royce.  Rumor has it that an affair between Marlene and Josef heated up shortly thereafter.  Josef eventually filed for divorce from Riza and she, in turn, slapped Marlene with two lawsuits, one for alienation of her husband's affections and the other for libel.  Both lawsuits were later dropped and Josef and Marlene went on to collaborate in a total of seven films.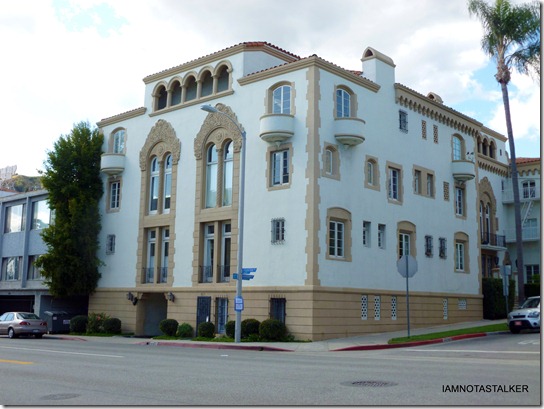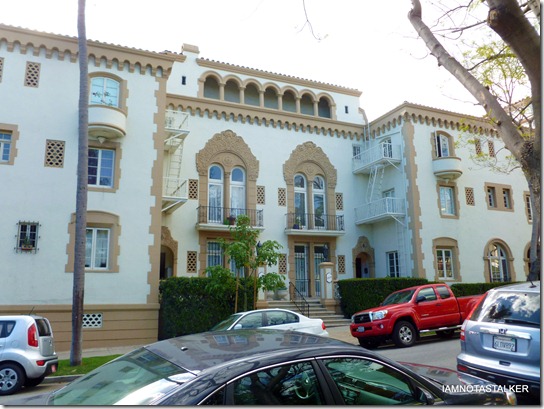 Until next time, Happy Stalking!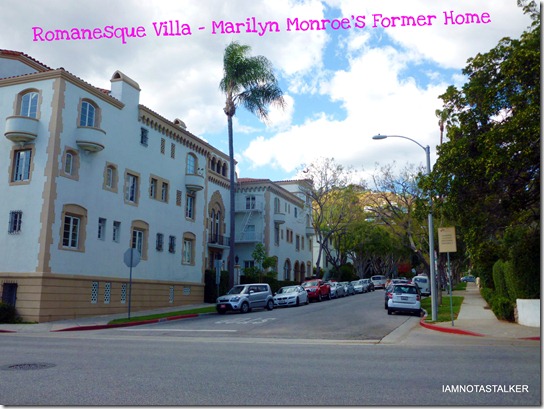 Stalk It: The Romanesque Villa Apartments, where Marilyn Monroe once lived, are located at 1301-1309 North Harper Avenue in West Hollywood.  Villa Primavera, the In a Lonely Place apartment building, is located directly across the street at 1300-1308 North Harper Avenue.  The Harper House, from Scream 3, is located just up the street at 1334-1336 North Harper Avenue.  Pink Taco, aka the former site of the Roxbury, is also located just up the street at 8225 West Sunset Boulevard.  And Pinches Tacos, from the "It's On Bitch" episode of The Hills, is located just around the corner at 8200 West Sunset Boulevard.
52355