#Fail!
May 11th, 2012 | By
Lindsay
| Category:
This and That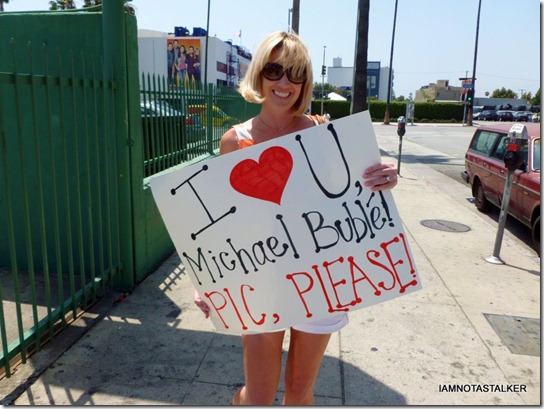 A couple of weeks ago, I found out, thanks to my friend Marie, that the love of my life, Mr. Michael Buble, would be in town on May 10th to sing at a benefit concert at the Hollywood Palladium.  So yesterday morning I headed out to Sunset Boulevard bright and early, armed with the above sign, in the hopes of catching the cutie crooner on his way into the soundcheck.  Unfortunately though, he never showed up to the soundcheck and when he arrived for the actual event, he entered through the front door while I waited (breath bated) in the back.  As my girl, Miss Pinky Lovejoy, of the Thinking Pink blog, would say, "Fail!"  Such a bummer!  All I have to show for my efforts (which lasted NINE hours) yesterday is a really bad sunburn. 

If I don't manage to get a pic with him the next time he is in town, I just might cry!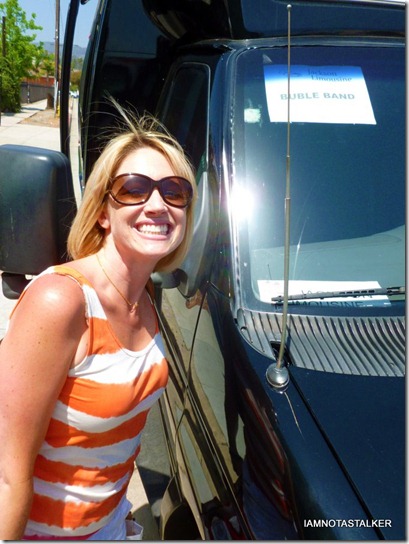 I did manage to snap the above photograph with the "Buble Band" bus, though, so at least there's that. 

Anyway, because I was standing outside of the Hollywood Palladium for the entire day yesterday, I did not have time to write a post for today.  But I do promise to be back on Monday with a whole new location.  I hope all of my fellow stalkers have a fabulous weekend and a fabulous Mother's Day!
Until next time, Happy Stalking! 

52808