John O'Groats Restaurant from "New Girl"
May 22nd, 2012 | By
Lindsay
| Category:
TV Locations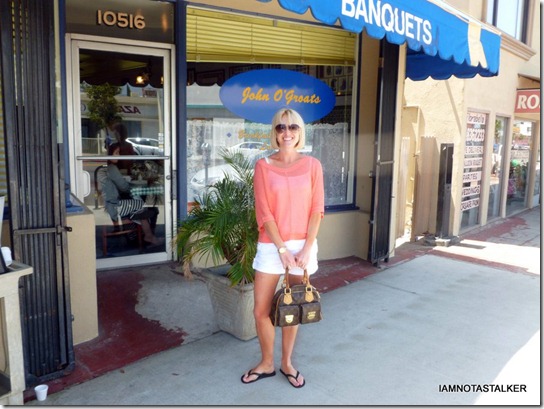 Another restaurant that appeared on fave show New Girl that I stalked recently was John O'Groats, a tiny breakfast and lunch café in the Rancho Park area of West Los Angeles.  As fate would have it, a few years back I attended a weekly acting class at the Pico Playhouse, which is located directly next door to John O'Groats, and, on occasion, my actor friends and I would venture on over to the diner to grab a bite to eat before class.   So when it popped up in the Season 1 episode of New Girl titled "Kryptonite", I recognized the place and its darling interior immediately.  Because I had not been there in years, though, and had no photographs of it, I added John O'Groats to my ever-growing To-Stalk list and dragged the Grim Cheaper right on out there this past Sunday morning for breakfast.
John O'Groats was originally opened on February 26th, 1982 in a tiny, 750-square-foot space on the corner of Manning Avenue and Pico Boulevard.  The eatery was the second culinary endeavor of Angelica and Robert Jacoby, who first founded Bit O'Scotland in Westwood seventeen years prior.  After deciding that they no longer wanted to work nights, as they missed eating dinner regularly with their two sons, the Jacobys closed their pioneer restaurant and opened a coffee shop that served only breakfast and lunch.  Their new café, which was named for a village in Scotland, enjoyed immediate success thanks to its homemade American-style comfort food, created with only the freshest and finest ingredients.  After two years, the couple moved John O'Groats to a larger location where it still remains to this day, almost three decades later.  Due to its immense popularity, the Jacoby's have since expanded twice – first in 1995 and then again in 2000 – but, even so, it is still quite common to see large crowds standing outside waiting for a table.  Thanks to its fabulous food and proximity to 20th Century Fox Studios, the restaurant has also become a magnet for celebrities over the years.  Just a few of the stars who have been spotted there include Julia Roberts, Debra Messing, Jessica Alba, Cash Warren, Ed O'Neill, Billy Baldwin, Danica McKellar, Josh Brolin, and Diane Lane.
John O'Groats has received countless culinary accolades in the press, including Zagat's "Best Breakfast", Esquire Magazine's "Best Breakfast in America", and USA Today's "Best Power Breakfast in L.A." – all of which are incredibly well-deserved!  I am not a big breakfast person, but John O'Groats serves up some spectacular grub!  The homemade biscuits, which the restaurant is famous for, are fabulous, as is the French-press coffee.  The café also serves both sausage patties and sausage links, which I appreciate as I do not like links, but LOVE me some patties and most eateries only serve one or the other.  Love it!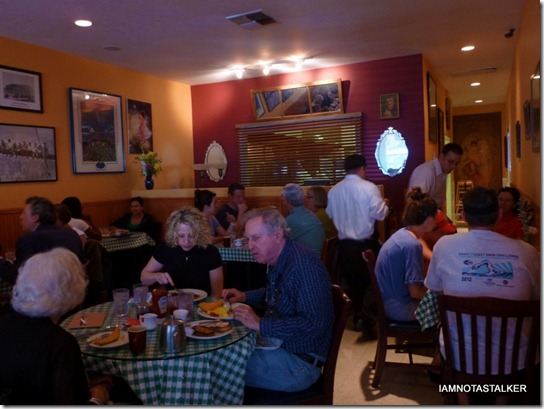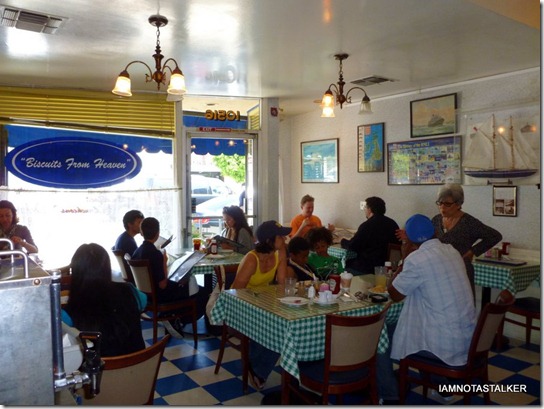 In the Season 1 episode of New Girl titled "Kryptonite", John O'Groats was the eatery where Nick (Jake M. Johnson), Schmidt (Max Greenfield) and Winston (Lamorne Morris) discussed who was the "Top Dog" in their apartment.  Our waitress informed us that the series had actually filmed on the premises twice, but I am guessing that the second taping wound up on the cutting room floor because I scanned through each of the show's other 23 episodes and did not see it pop up anywhere.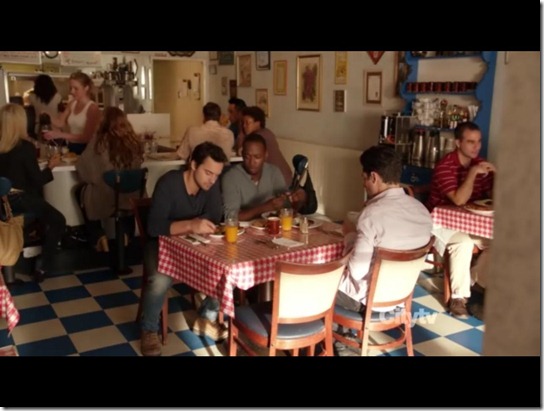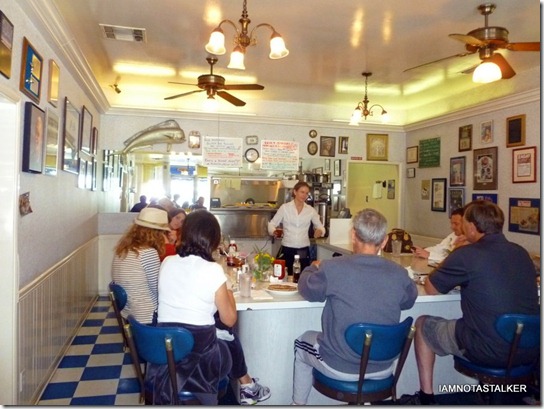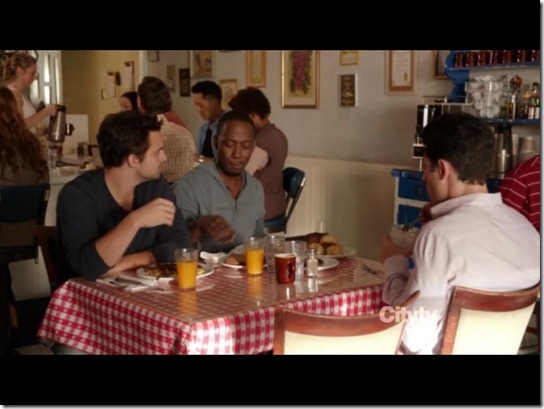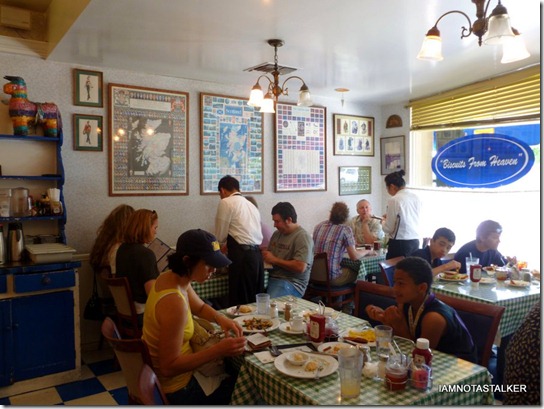 Oprah Winfrey also taped an interview at John O'Groats with actor Jonah Hill for her 2012 Oscar Special in February of this past year.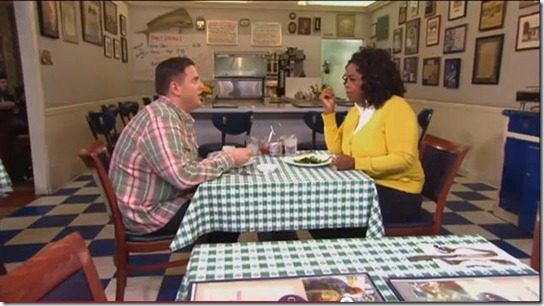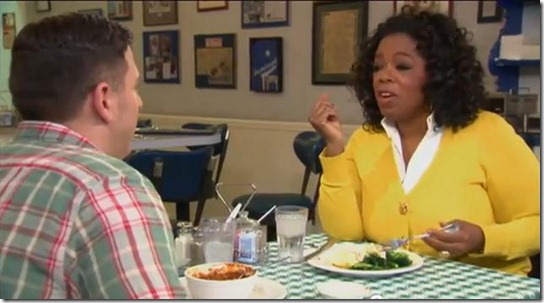 You can watch a clip of the interview by clicking below.
Oprah Winfrey Oscar Interview with Jonah Hill at John O'Groats
And a BIG belated HAPPY BIRTHDAY goes out to Miss Pinky Lovejoy, of the Thinking Pink blog!  I love you more than Matt Lanter, Michael Buble and Kristin Cavallari put together, girl! 

Be sure to "Like" IAMNOTASTALKER on Facebook here and "Friend" me on my personal page here.  You can also check out the IAMNOTASTALKER About Me page here.  And you can follow me on Twitter at @IAMNOTASTALKER.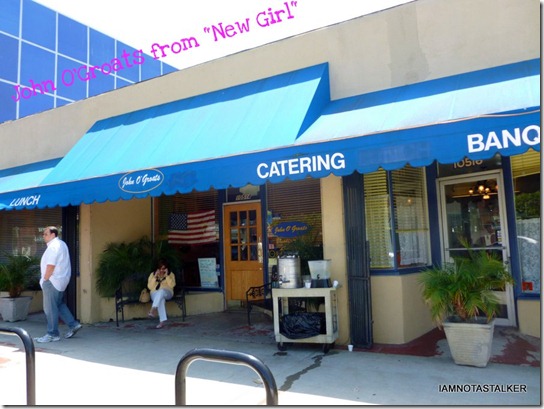 Until next time, Happy Stalking! 

Stalk It: John O'Groats restaurant, from the "Kryptonite" episode of New Girl, is located at 10516 West Pico Boulevard in the Rancho Park neighborhood of West Los Angeles.  You can visit the eatery's official website here.
53105